Type
Level
Duration
1 hour, 2 hours, Half Day, Full Day
Our short horseback trail rides in the Luberon nature park, in the heart of Provence, leave from Mas de Recaute near Lauris. 

1 hour, 2 hours, half day, full day with picnic are offered.

Lauris is half an hour drive from Aix-en-Provence, Salon-de-Provence, Cavaillon, Pertuis; 1 hour drive from Marseille and Avignon.

We also offer rides from our equestrian center at Pont Royal holiday resort, between Mallemort and Charleval, 20 minute drive from Lauris.
PRICES:
Up to 8 riders grouped together on a ride, price per person::
2 hours: 60 € 
Half day: 75 €
Full day: 100 € - Picnic: 15 €
Optional insurance: 10 €

Private rides for 1-4 people, price per person:
1 hour: 100 € / person
2 hours: 120 €  / person
Half day: 140 €  / person
Full day: 200 €  / person - Picnic: 15 €  / person
Optional insurance: 10 €

Insurance: 
Our center is covered for its civil liability. You must have your own personal liability and accident insurance. We offer:
Short term insurance: 10 € (valid for 1 month)

Booking:
Check availability by email preferably: availability request form
By phone 7 days a week, from 10 a.m. to 6 p.m .: 04 83 43 12 34 - Standard: Type "2".
To reserve: payment is requested upon reservation, by bank card on our secure server: https://jepaieenligne.systempay.fr/CAP_RANDO
Full refund guaranteed in case of cancellation up to 48 hours in advance.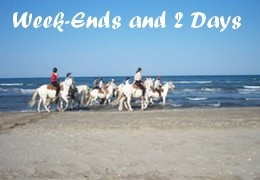 Spend a weekend or 2 days on horseback in Provence in the Luberon, the Alpilles, the Camargue !
Whether you are a beginner or an experienced rider, take advantage of the calm and beauty of the Luberon to unwind. Accommodation in our gite and bed and breakfast at Mas de Recaute or in the Gargoulettes superior guest house (with swimming pool, jacuzzi, hammam) at the foot of the southern slope of the Petit Luberon, in an equestrian farm in the Grand Luberon or the Alpilles.
For experienced riders, in the Camargue in a Camargue guest house.