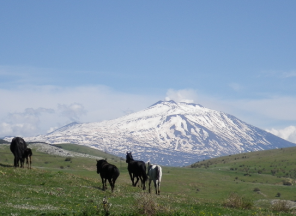 Sicily is the largest island in the Mediterranean and occupies a central and strategic position midway between Gibraltar and the Suez Canal, creating a bottleneck between Italy and Cape Bon in Tunisia. The Sicily coast is golden with orchards of orange and lemon trees. In the north-east of Sicily, you will find lush forests. In the central area of Sicily, you will encounter rugged terrain and hills. Vineyards, olive groves, almond orchards and wheat fields complete this picture. Summer is a land of amber under a blue sky. Winter finds palm trees sprinkled with snow in a surreal symphony. Spring is a rainbow of wildflowers contrasting with the green fields. Just over one-third the size of Ireland, Sicily manages to keep the illusion of a small continent. Sicily is home to majestic mountains and the largest natural wonder in Europe, Etna at 3342 meters. Etna is the highest peak and the largest active volcano in Europe. This is where we offer our wonderful horseback trips.
Sicily has a perpetually sunny climate with coastal temperatures rarely going below 15 ° C. The sea warms up relatively early, usually around mid-April, and stays warm until October. Inland, the weather remains cool during the months of July and August when the coastal temperatures exceed 30 ° C, which makes it pleasant to practice horseback riding in Sicily all over the year.
Sicily is also home to the wild horse of Sanfratellani. Black or bay, only a few hundred remain on the northern slopes of the Nebrodi Mountains, in the province of Messina. These wild horses are now a protected species. In winter and spring, it is one of the greenest regions of Sicily, a rugged landscape with seasonal streams, high woodlands and meadows: ideal for grazing and riding.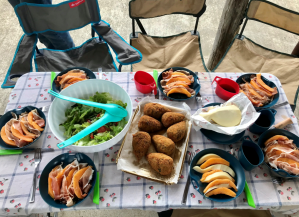 The diversity and beauty of Sicily are such that the German writer Johann Wolfgang von Goethe wrote: "To have seen Italy without having seen Sicily, it is not to have seen Italy, because Sicily is the key to everything ".
We offer you to go horseback in Sicily with the best provider of the region to discover the landscapes and the culture of the south of Italy. Horse riding to Mount Etna: breathtaking scenery for a superb horseback ride in the heart of Sicily. You will be able to appreciate the culture of this so particular region of the south of Europe, Italy and the Mediterranean: its gastronomy, its architecture ... Discover Sicily at the pace of your horse, with very comfortable accommodation in hotels and farmhouses, enjoying excellent meals in the evening in your accommodation and at lunchtime with hearty picnics based on local products.