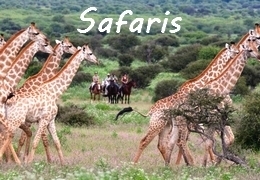 An equestrian safari in Africa: the dream of many riders ! Discover exceptionally wild landscapes on horseback, discovering the African wildlife in Botswana, South Afriaca, or Kenya. Cap Rando offers progressive horseback riding safaris in comfortable camps, or stationary safaris around often luxurious lodges. All our safaris have been selected by a partner agency of Cap Rando, specialist in horse safaris. This horse travel agency makes a particularly rigorous selection of providers, from an important offer.
Discount on the superb safari in South Africa and Botswana, our best value :
Register before November 30 and get a 100 € discount !
See the safari
SEE BELOW OUR EQUESTRIAN SAFARI OFFER :
List view
Grid view

Damaraland is a very spectacular part of the country, almost inaccessible, with amazing colours and vast open spaces that will blow your mind, ancient craters and remnants from…

11 days - 10 nights - 7days riding
Weather

QUAND FAIRE UN SAFARI A CHEVAL


Safari à cheval au Botswana et en Afrique du Sud :
- La saison sèche (juin-septembre): la meilleure période pour faire un safari à cheval. Il ne fait ni trop chaud ni trop froid, et il ne pleut pas. La sécheresse de la terre est compensée par l'arrivée de l'eau de pluie de la saison précédente qui se déverse dans le delta de l'Okavango. Les eaux du delta sont hautes, alimentant une végétation luxuriante et offrant un spectacle plein de vie attirant les animaux qui migrent vers le delta. Mais attention, la saison sèche est aussi la période où la fréquentation est la plus importante, même si vous bénéficierez sur place d'une réelle tranquillité. Veillez à effectuer votre réservation à l'avance.
- L'avant-saison (avril-mai): Les pluies se calment doucement, et où les températures sont vivables. Le mercure tourne autour de 10-15°C la nuit, contre le double le jour. La fréquentation est moindre. Cependant, les animaux ne se sont pas encore réunis à un endroit précis.
- L'après-saison (novembre): le climat au Botswana du mois de novembre est aussi chaud que celui du mois d'octobre. Les températures peuvent être très élevées. Période durant laquelle, les premières pluies, amenées par des orages, rafraichissent l'atmosphère.
- La saison des pluies (novembre-mars): La « saison verte ». Cette période offre de magnifiques lumières et des scènes uniques d'animaux commençant leur migration. Certaines pistes sont rendues impraticables par l'abondance des précipitations.


Source: www.partir.com/Botswana/quand-partir.html

Safari à cheval au Kenya :
D'une manière générale, le Kenya connaît 4 saisons avec une petite saison des pluies en novembre-décembre et une grande en avril-mai. Entre les deux il y a souvent une bonne fenêtre météo avec une fréquentation touristique assez faible. Puis à partir de juin commence la véritable saison sèche, avec 5 mois de ciel bleu. Pour choisir la meilleure saison pour votre safari équestre au Kenya, voici les différences de climats, mois par mois, et leur influence sur les observations des animaux.
- De novembre à décembre : Petite saison des pluies qui fait reverdir la savane. Les photographes adoreront les ambiances et les lumières des premiers orages, les lions s'ébrouent sous les premières gouttes, et la nature reverdit en quelques jours.
- De janvier à mars : Période intermédiaire entre les deux saisons des pluies avec de belles journées entrecoupées d'orages. Période très agréable, avec de jolies lumières.
- D'avril à mai : Saison des pluies, le soleil est peu présent et les pistes boueuses et difficiles. Les orages sont fréquents, parfois violents et il peut y avoir des journées entières de pluie, comme plusieurs journées successives de beau temps.
- De juin à octobre : saison sèche durant laquelle le ciel est bleu et la végétation de plus en plus clairsemée. Juin marque le retour à la saison sèche, avec un grand ciel bleu. La pression touristique est encore faible et la nature verdoyante est superbe sous le soleil. Par contre l'eau est présente un peu partout, les animaux sont disséminés et la végétation dense rend les observations plus difficiles. En juillet-aout, la végétation devient de plus en plus clairsemée et les animaux plus faciles à voir. Septembre et octobre marquent la fin de la saison sèche : la végétation est clairsemée, brûlée par le soleil, les animaux se rassemblent autour des derniers points d'eau.
C'est la période durant laquelle il est le plus facile de voir les animaux, mais sans doute pas celle que préféreront les photographes, car l'air est saturé de poussière, la lumière très blanche et les paysages peu colorés.


Source: www.partir.com/Kenya/quand-partir.html
Dates