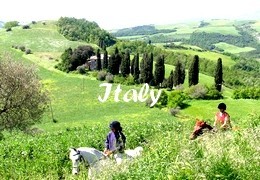 HORSEBACK RIDING IN ITALY
Discover Italy on horseback with Cap Rando. We have selected for you the most beautiful equestrian trips in Italy, and the best professionals, in Tuscany and in Sicily. Few providers offer itinerant equestrian trips, rather horseback rides with return every night to the same accommodation. Our passion for traveling on horseback has pushed us to offer you the most beautiful horse riding trips in Italy.
See our rides

Horseback riding trip in Sicily. This horseback trip between the North coast and the South coast of Sicily is a fantastic adventure that allows you to travel the island and…

8 days - 7 nights - 6 days riding in Sicily
Country

Italy has a lot to offer. Its dreamy light and sumptuous landscapes seem made for romanticism, and its three millennia of history, culture and cuisine particularly appeal to riders. The landscapes in Italy are very varied. More than three quarters of the countryside in Italy is hilly or mountainous, which makes Italy a privileged country for the practice of horse trekking. There are 20 national parks and 130 regional parks in Italy, where you can enjoy a protected environment. there are large areas of completely unspoiled country that you can ride in.

Italy is known for its art, its historical sites, its wines, and its gastronomy. Each region has something different to offer to the rider. Tuscany is famous for its Maremma horses. In Siena, a great medieval spectacle and festival with its famous horse race around the square, the Palio. Everywhere you ride on horseback in Italy, there are ruined castles and fortresses, and deserted hamlets to ride through. Riding through this wonderful diverse countryside is a great experience.

When you've spent a day on horseback, you can be assured of Italian hospitality. Italians are warm and welcoming people who love to share the pleasures of life: a comforting meal or a glass of wine. Italian cuisine is always traditional, using the freshest ingredients, so you will be assured of fine cuisine throughout your horseback journey.
Weather

THE CLIMATE IN ITALY
All along, Italy has two types of climates: the continental climate inland, with hotter summers and colder winters, and the Mediterranean climate on the coasts with very hot and very dry summers. The climate in Italy is rather favorable throughout the year because of the length of the coasts, and thanks to the regulation by the sea and the Alps which offer a barrier against the cold.
Useful informations