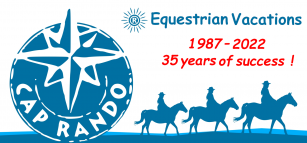 After 35 years and thousands of kilometers covered on horseback ... Cap Rando has become the leader in horseback riding trips in Provence, and one of the oldest equestrian travel agencies: the only one run by professional equestrian guides for the best advice !
Our special offers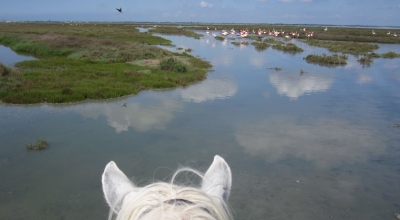 A stunning horseback trip through Provence from the Luberon hills to the the Camargue beaches, crossing the Alpilles of Van Gogh
Book in August: 100 € off and 100 € discount also on the single supplement:
On the last availabilities of the October trips: the best month to discover the Provence on horseback !

* Available on rides with minimum 5 riders.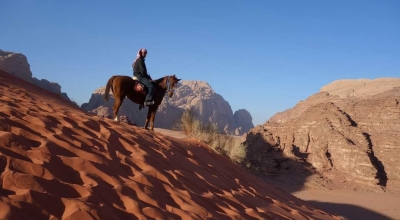 Visit Petra, then go on horseback to Little Petra and the Wadi Rum
1890 € instead of 2000 €
On departures until the end of November !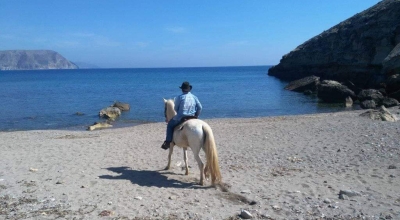 Enjoy fall under the Mediterranean sun in Provence, Andalucia, Tuscany, Sicily.
Discover our special offers on fall trail rides under the Mediterranean sun.
September and October are the most beautiful months for riding in these beautiful regions !
ORGANIZATION AND SELECTION OF EQUESTRIAN HOLIDAYS & HORSE RIDING TRIPS IN PROVENCE
Leader in horseback trip organization in Provence, selection of the best equestrian facilities in Provence.
CAP RANDO "ORGANIZATION": with our guides and horses from our tourism equestrian center 
CAP RANDO "SELECTION": with our partners
HORSE RIDING HOLIDAY TRAVEL AGENCY
One of the first horse travel agencies created in France more than 30 years ago.
An agency run by professional equestrian guides who make a selection of the best destinations and parners over the World.
CAP RANDO "SELECTION": Equestrian holidays & Horse riding trips with partners selected for the quality of their services.
CAP RANDO "PARTNER AGENCY SELECTION": Equestrian holidays & Horse riding trips selected by our partner agencies.


 The Cap Rando 

:


 Over 35 years experience, not only in sales, but above all in the creation and guiding of horseback riding trips.



 Your contact: not only a seller, but a professional licensed guide, perfectly familiar with the rider demands, to help you make the best choice for your equestrian holidays !



 Our responsiveness: a quick response 7 days a week to your emails, during the day, or within 24 hours maximum !



 The guarantee of your payments by our registration as a travel operator with an unlimited deposit. If you book a trip through Cap Rando, you have the guarantee not to loose any payment (especially during a pandemic time).  The French law is the strongest and requires all French travel agencies to have an unlimited financial guarantee for their customers in case of financial failure.
Online secure credit card payment: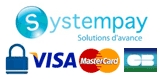 Payments guaranteed by our unlimited travel agency deposit.