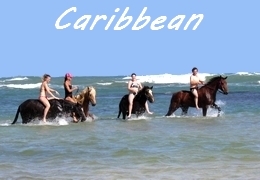 The tropical forest and the paradisiacal beaches of the Caribbean on horseback: In the Dominican Republic or in Costa Rica with Cap Rando !
The Caribbean islands have some of the most diverse ecosystems in the world. Animals and plants have been classified as the highlights of biodiversity due to their exceptionally diverse terrestrial and marine ecosystems, ranging from tropical rainforests to wild beaches and cactus scrublands.
The diversity of the landscapes, the richness of the flora and fauna, the idyllic climate, make Caribbean a paradise for riders.
List view
Grid view

Our new Conquistadores Wilderness Eco-Safari adventure is a progressive trek that will immerse you in the Tropical Forest whilst experiencing an authentic rural Costa Rican way of…

9 days - 8 nights - 6 days riding in Costa Rica

Explore the Pacific and the Caribbean coastlines and take in the vistas of Volcano Arenal – on horseback in Costa Rica !

10 days - 9 nights - 8 days riding in Costa Rica

Superb tropical horseback ride, on the beach and in the mountains of the Dominican Republic. You stay in the bungalows of a charming mountain eco-lodge, located 300 meters above…

8 days - 7 nights / Optional 4 days - 4 nights extension
Dates