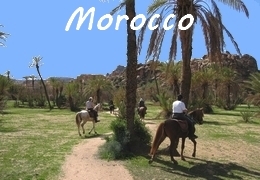 Horseback trail rides in Morocco. Explore the Berber villages at the foot of the Atlas Mountains with lush vegetation contrasting with rock formations, or the desert in winter. Cap Rando has selected the most beautiful horse riding trips in Morocco. Our horseback trail rides in Morocco will make you escape from the modern world and you will discover the traditions of this extraordinary Morocco.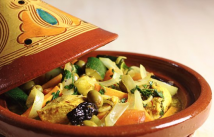 Moroccans are known for their hospitality, practicing a moderate, open and tolerant Islam. Friendship gestures until parties will mark your welcome. There is no better way than to explore this beautiful country on horseback. Our equestrian guides will take you to the most remote areas and will make you discover the culture of Morocco on horseback. Equestrian adventures in Morocco that you will never forget.
SEE ALL OUR EQUESTRIAN OFFER IN MOROCCO : 


 In hotels & camps  

 Comfortable in hotels & guest houses
Rides
Country

Morocco has a rich culture so different from ours, which seems very exotic to us. Arab, Berber, African and European influences have made Morocco fascinating to visit. Discover Morocco on horseback, on the Atlantic coast and its beaches, in the Atlas mountain, or in the desert. Morocco reveals its secrets if you take the trouble to go to the other side. Morocco is a country with a tremendous sense of hospitality. Morocco offers magnificent landscapes, between sea and mountains (sometimes snowy), green valleys and fertile plains, plateaus that play with all the shades of yellow, ocher and red, not to mention the desert and the mountains, oasis. The equestrian rider, in search of encounters, nature and wide open spaces, is always satisfied.
Weather

WHEN TO GO ON HORSEBACK TO MOROCCO:

Morocco offers different climates (Mediterranean, oceanic or continental) with generally mild winters and hot summers. Inland, the climate is dry and in the mountains, the climate is more continental. In Marrakech, temperatures vary from 19 ° C in winter in January to reach 37 ° C in summer.

Thanks to strong sunshine and temperatures that can reach 19 ° C in winter in Marrakech, Morocco is a destination that can be discovered all year round.
- On the Mediterranean coast, the climate is quite mild in winter with some rains and the summers are rather dry, hot and sunny. In January, the thermometer is close to 17 ° C, while in summer it is closer to 30 ° C.
- On the Atlantic coast, the climate is almost identical with 22 ° C in Agadir in January and 30 ° C in August. For swimming, the water temperature is cool and does not exceed 21 ° C in summer.
- In Marrakech, the climate is warmer, especially in summer when temperatures can exceed 40 ° C. Avoid this period to explore the city, prefer the cooler seasons.
- To cool off, head to the mountainous regions of the Atlas where you can make beautiful horseback rides. The rains in summer are rather weak. These mountainous regions should be avoided in winter, as it can be cold and snow is often present.

To avoid the sweltering heat of summer, prefer a trip to Morocco in the spring or fall. If you are planning a horseback ride, summer will be a good season in the Atlas and on the coast. In winter, enjoy the Moroccan desert. Morocco can therefore be visited all year round!
Useful informations

ACCESS FORMALITIES TO MOROCCO:

For enter in Morocco, you must have a valid passport, covering your entire stay. Passport is compulsory. Admission to Moroccan territory is no longer possible with a national identity card.
On arrival, it should be checked that the passport has been endorsed by the border police authorities (mention of a number during a first visit and entry stamp, under penalty of being illegally staying) .
Foreign nationals who are not residents of Morocco, whether they are subject to a visa formality or not, must be provided, on their arrival in Morocco, with their return ticket and proof of sufficient means of subsistence during their stay in Morocco.

HEALTH:

You must have an assistance contract and insurance to cover all medical expenses (including surgery and hospitalization) and medical repatriation, at the risk of not having access to care, including life-threatening emergency. These costs can in no case be covered by the embassy or consulates general on site. Check the validity of your contract in Morocco and the medical coverage you have. Hospitals can claim full payment of medical costs before patients are discharged, subject to legal proceedings.
No vaccination is mandatory but some vaccinations are recommended; make sure you are up to date with your regular immunizations. The update of diphtheria-tetanus-poliomyelitis (DTP) vaccination is recommended, especially tetanus for equestrian activities in rural areas.
Departures