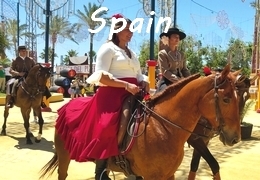 Spain is a Cap Rando main destination for horseback riding holidays. In Spain, the offer of equestrian holidays is important, and it is sometimes difficult to find the one that suits you best. In addition, many structures are managed by foreigners (English, German, French): we have prefered to select local Spanish guides and instructors, to share their passion for their country with you. They perfectly know and love their region, speak English, and offer quality services with great Spanish horses !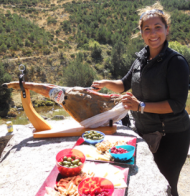 We offer horseback riding trips and equestrian holidays in different parts of Spain: in Catalonia, Castile, Andalucia, Minorca and Majorca. Discover Spain on horseback with superb rides in the best parts of Spain for horseback riding: in Catalonia, on the beaches and balconies of the Costa Brava discovering medieval villages. In Andalucia, in the Sierra Nevada mountains or in the beautiful Cabo de Gata natural park with it's wild beaches, in the Tabernas desert where the most popular western movies were shot. In Extremadura and the Sierra de Gredos: a wild country in the Southern Castile, less known from tourists, but with incredible landscapes and villages. In high mountains inn the Pyrennes. In the magical Balearic islands of Majorca and Minorca !
   

CHOOSE YOUR HORSE RIDING DESTINATION IN SPAIN :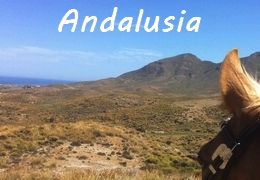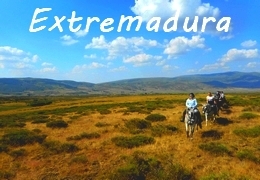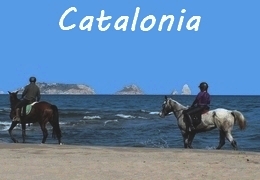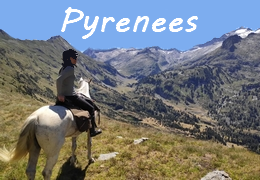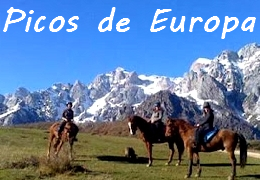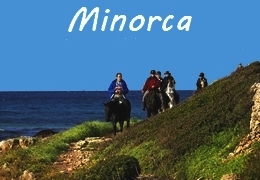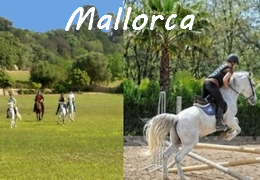 SEE OUR HORSE RIDING HOLIDAY OFFER IN SPAIN :
List view
Grid view
Country

Spain has so much more to offer than flamenco music and dancing, bullfights, fantastic beaches and a lot of sun. It is one of the cultural centers of Europe. Spain offers beautiful towns and villages, such as magnificent landscapes and coasts. There are endless expanses of wild sierras to explore, as well as stretches of spectacularly rugged coastline between the beaches. One of the best ways to explore this diverse countryside is on horseback !

The Spanish horse is believed to be the oldest riding horse in the world. The Spaniards are rightly proud of their equestrian culture. And today you will find this wonderful horse all over Spain, rightly admired for its temperament and empathy with the rider. In Spain, you will be riding one of these adorable horses.

Culturally, the country is full of stunning old buildings, from Roman aqueducts and Islamic palaces to Gothic cathedrals. Almost every second village has a medieval castle, so you can walk through these old villages and soak up their history through the mountains and valleys that make up much of the countryside. What could be better than a few hours on horseback, then a glass of Spanish wine accompanied by delicious tapas !

Over fifty million tourists visit Spain each year, but you can also travel for days and hear only Spanish speaking. Visiting Spain is not only about the sun, good food and a warm welcome, but also its rich monumental heritage and dazzling natural environment. There are many wonderful places to ride, whether it's on a trail in the mountains, through one of the national parks or while galloping on a wild beach.

 
Weather

WHEN IS THE BEST TIME FOR YOUR EQUESTRIAN HOLIDAY IN SPAIN :

September to October and March to May is the best time to visit Spain.

The climate is Mediterranean, with hot and dry summers, and wetter and colder winters especially in interior Spain. Temperatures vary from north to south of Spain.

Northern Spain, also known as Green Spain or Secret Spain, can be visited anytime in spring or fall. Throughout these months you can walk around and enjoy some of the wonderful local festivals with far fewer crowds, a plethora of ideal accommodation options, and the most suitable weather conditions. Summers are hot in Spain. Late October and November are often the wettest months in the country.

The south of Spain, particularly Andalusia, are pleasant in spring and autumn, but also in winter with record sunshine in Europe and often relatively mild temperatures. Summer is very hot as soon as you leave the coast.
Useful informations

ENTRY FORMALITIES IN SPAIN:

For European nationals, a valid identity card or passport is sufficient to enter Spain. For other citizens, a valid passport.
Dates

| Départ | Destination | Titre | From | Infos | Durée |
| --- | --- | --- | --- | --- | --- |
| - | Andalusia | ANDALUSIA : SIERRA NEVADA AND TABERNAS DESERT | 1725€ | LAST AVAILABILITIES | 8 days - 7 nights - 5 days 1/2 riding in Andalusia |
| - | Peaks of Europe | SPAIN : THE PEAKS OF EUROPE | 1600€ | | 8 days - 7 nights - 6 days riding in Spain |
| - | Andalusia | THE SIERRA NEVADA HIDDEN TRAILS STATIONARY | 1050€ | AVAILABLE | 7 days 6 nights - 5 mornings riding in Andalusia |
| - | Extremadura | SPAIN : THE MONFRAGÜE NATIONAL PARK IN EXTREMADURA | 1580€ | LAST AVAILABILITY | 7 days - 6 nights - 4 days 1/2 riding in Spain |
| - | Andalusia | ANDALUSIA : THE SIERRA DE ANDUJAR & SIERRA MORENA | 1495€ | | 8 days 7 nights - 5 days 1/2 riding in Andalusia |
| - | Andalusia | THE SIERRA NEVADA HIDDEN TRAILS PROGRESSIVE RIDE | 1555€ | FULL | 8 days 7 nights - 6 days riding in Andalusia |
| - | Mallorca | BALEARIC: RIDING COURSES IN MALLORCA | 1155€ | | 8 days - 7 nights & Special 2 nights |
| - | Catalonia, Costa Brava | SPAIN: THE TWO COSTA BRAVA BEACH RIDE | 970€ | FULL | 5 days, 4 nights, 3 days riding in Catalonia |
| - | Extremadura | SPAIN : EXTREMADURA CONQUISTADOR'S STATIONARY RIDE | 1545€ | LAST AVAILABILITIES | 7 days - 6 nights - 5 days and half days riding in Spain |
| - | Andalusia | ANDALUSIA: THE WILD MEDITERRANEAN BEACHES | 1495€ | LAST AVAILABILITIES | 8 days - 7 nights - 6 days riding in Andalusia |
| - | Mallorca | BALEARIC: RIDING COURSES IN MALLORCA | 1155€ | | 8 days - 7 nights & Special 2 nights |
| - | Catalonia, Costa Brava | SPAIN: BETWEEN COSTA BRAVA & SPANISH PYRENEES | 1565€ | LAST AVAILABILITIES | 8 days, 7 nights, 6 days riding in Spain |
| - | Andalusia | ANDALUSIA : CABO DE GATA WILD BEACHES SHORT BREAK | 935€ | | 5 days - 4 nights - 3 days riding in Andalusia |
| - | Extremadura | SPAIN : THE SIERRA DE GREDOS & CASTLES | 1580€ | CONFIRMED DEPARTURE | 7 days - 6 nights - 5 days riding |
| - | Andalusia | ANDALUSIA : STATIONARY RIDE IN THE CABO DE GATA NATURAL PARK | 1050€ | CONFIRMED DEPARTURE | 7 days - 6 nights - 5 half days riding in Andalusia |
| - | Andalusia | ANDALUSIA : THE CABO DE GATA NATURAL PARK | 1050€ | | 7 days - 6 nights - 5 days riding in Andalusia |
| - | Andalusia | ANDALUSIA : PARELLI HORSE TRAINING IN THE CABO DE GATA NATURAL PARK | 1050€ | | 7 days - 6 nights - 5 days clinics |
| - | Mallorca | BALEARIC: RIDING COURSES IN MALLORCA | 1155€ | | 8 days - 7 nights & Special 2 nights |
| - | Catalonia, Costa Brava | SPAIN: COSTA BRAVA BEACHES & MEADOWS | 1565€ | CONFIRMATION IN PROGRESS | 8 days, 7 nights, 6 days riding in Spain |
| - | Catalonia, Costa Brava | SPAIN: ACTIVE TRAIL RIDE IN CATALONIA & COSTA BRAVA | 1080€ | FULL | 5 days - 4 nights - 4 days riding in Spain |
| - | Andalusia | ANDALUSIA : THE ALPUJARRAS WHITE VILLAGES | 1075€ | 6 JOURS FULL | 5 or 6 days - 4 or 5 nights - 3 or 4 days riding in Andalusia |
| - | Andalusia | ANDALUSIA : SIERRA NEVADA , CORDOBA ROYAL STABLES, ALHAMBRA | 2050€ | AVAILABLE | 8 days - 7 nights - 4 days 1/2 riding in Andalusia - 1 day 1/2 visits |
| - | Peaks of Europe | SPAIN : THE PEAKS OF EUROPE | 1600€ | | 8 days - 7 nights - 6 days riding in Spain |
| - | Andalusia | SPAIN: DOMA VAQUERA IN ANDALUSIA | 1150€ | AVAILABLE | 7 days - 6 nights - 5 half days riding in Spain |
| - | Andalusia | ANDALUSIA : STATIONARY RIDE IN THE CABO DE GATA NATURAL PARK | 1050€ | AVAILABLE | 7 days - 6 nights - 5 half days riding in Andalusia |
| - | Andalusia | ANDALUSIA : THE CABO DE GATA NATURAL PARK | 1050€ | | 7 days - 6 nights - 5 days riding in Andalusia |
| - | Andalusia | ANDALUSIA : PARELLI HORSE TRAINING IN THE CABO DE GATA NATURAL PARK | 1050€ | | 7 days - 6 nights - 5 days clinics |
| - | Extremadura | SPAIN : THE SIERRA DE GREDOS & CASTLES | 1580€ | CONFIRMED DEPARTURE | 7 days - 6 nights - 5 days riding |
| - | Andalusia | THE SIERRA NEVADA HIDDEN TRAILS PROGRESSIVE RIDE | 1555€ | CONFIRMATION IN PROGRESS | 8 days 7 nights - 6 days riding in Andalusia |
| - | Mallorca | BALEARIC: RIDING COURSES IN MALLORCA | 1100€ | | 8 days - 7 nights & Special 2 nights |