Training and trail ride in Andalusia - This week is dedicated to beginners who want to quickly be able to ride outdoor. You will alternate lessons in an arena and trail rides in the Cabo de Gata Natural Park. At the end of the week, you will be able to go walk, trot and canter with your horse outdoor happy and safe. In addition, you will spend a wonderful vacation in this corner of paradise. This program is perfect for beginners to ride in family or with a group of friends. Manolo has created and led this program for over 25 years, horses are trained to obey the voice and work in groups. Manolo gives lessons on horseback, allowing to control your horse at any and to make quick progress in safety and confidence. Mild temperatures in the Cabo de Gata makes possible to enjoy this experience all the year long. Enjoy the end of your week cantering on beaches !
Programme intro
TRAINING AND TRAIL RIDE IN ANDALUSIA 
INDICATIVE ITINERARY *:

You can book only part of the program, from 2 days riding and 3 nights.
Day 1: Transfer from Almeria airport, bus station or train station. Overnight at your hotel in Rodalquilar.

Day 2: Breakfast. Introduction to your horse care and tack. Riding lesson in arena: position, walk, turn. Outdoor ride in the countryside to practice your first lesson. About 2h30

Day 3: Breakfast. Riding lesson in arena: introduction to trot, rhythm, balance. Trail ride. About 2h30
Day 4: Breakfast. Riding lesson in arena: trot, turn, change hand, introduction to suspension trot. Trail ride. About 2h30.

Day 5: Breakfast. Riding lesson in arena: suspention trot in turns, pace control, introduction to canter. Trail ride. About 2h30 - 3h.

Day 6: Breakfast. THE CABO DE GATA VIRGIN BEACHES. Ride and canters in the white sand dunes, a site used for filming many movies: Indiana Jones, Laurance of Arabia ... undoubtedly the last virgin beaches of the Mediterranean. About 3 hours on horseback.

Day 7: End of your equestrian stay in Andalusia. Transfer to Almeria after breakfast.

* Indicative: may be changed if necessary.
MEETING: 
Sunday at 7 pm at Almeria airport, or directly at your hotel in San Jose.
Transfer from Almeria airport: 40 € / person to be paid locally.

DEPARTURE: 
Saturday morning after breakfast. Transfer leaving at 9am to Almeria airport. 
Transfer to Almeria airport: 40 € / person to be paid locally.

BUSES: 
From Malaga airport (terminal 3) or from Granada bus station, you can take a bus to Almeria, see websites: 
www.busbud.com, www.alsa.es, www.goeuro.fr. 

CAR RENTAL:
In order to be able to visit the region during your free afternoons, go for lunch and dinner in local restaurants (meals not included in the price), we recommend a car rental at very advantageous rates in Spain, from 50 € the week on the website www.autoeurope.fr 
If you do not arrive in Almeria: flights are often cheaper to Malaga with many lowcost companies. About 4 hour drive from Malaga, 2 hours 30 from Granada.


RIDING LEVEL:
Beginners or riders who want to improve their pracice for trail rides.
5 day training (2- 2.5 hours per day horseback riding).

GUIDE / INSTRUCTOR: 
Professional licensed. The guide speaks Spanish, French and some English.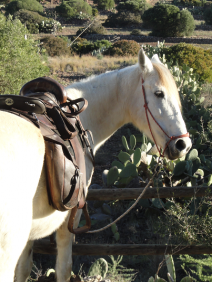 HORSES: 
Mixed Spanish and Arabian horses, well balanced, trail rides professionals. 

TACK: 
English or trail ride saddles. 


ACCOMMODATION: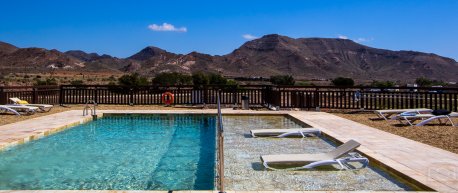 Nice and comfortable hotel with swimming pool, 10 minute drive from the beach.

MEALS:
Only breakfast included. You can have dinners at the hotel, or enjoy lunches and dinners in San Jose or nearby fishermen villages. You can book half board, including dinners.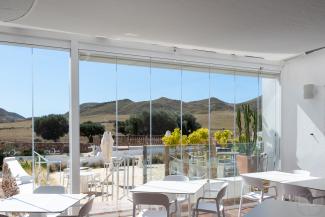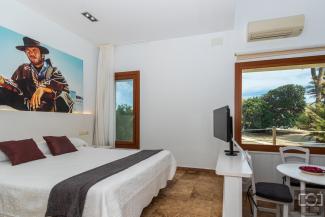 Infos tarif
2023 PRICE / PER PERSON:
1050 € / person in 2-3 person bedrooms
Single bedroom supplement (if you don't want to share): 225 €
July, August and 2-8 April:
1300 € / person in 2-3 person bedrooms
Single bedroom supplement (if you don't want to share): 350 €
All dates:
Transfers from/to Almeria airport or bus station: 80 € / person round trip to be baid locally.
Rates are calculated for a minimum of 2 participants. The stay is possible for only 1 participant with supplement: 325 € + single bedroom supplement.
Booking fees: 15 €
PRICES INCLUDE: 
Horse and tack rental, guide, assistant, accommodation and breakfasts, our financial bond for your payments by our travel agent guarantee.
PRICES DON'T INCLUDE:
Individual insurance, lunches and dinners, visits, tips, transports, transfers from/to
Almeria
,
Granada
or
Malaga
, all that is not indicated in "Prices include".
INSURANCE (if you don't already have one):
We offer to Europe Union citizens (only) Chapka insurances:
Cap Security: full insurance with cancellation. Cap Cancellation: cancellation only.
See prices & information
FLIGHTS :
Flights are not included because it is more interesting to book directly your ticket: a transport package included is generally more expensive with agency commissions. However, we are at your disposal to help you find the best prices or to offer you a flight included package on request (free service).
How to book
HOW TO BOOK :
By booking with Cap Rando, you get the benefit of the French travel agency law, one of the strictest in the world: an unlimited financial guarantee for all your payments !

BOOKING PROCEDURE:
1. CHECK THE AVAILABILITY, PRICE, DISCOUNT:
Check the availability and price (depending on the type of accommodation and after possible discounts) by contacting us through the availability & quote request form or by phone +33 (0)483431321, whatsapp +33(0)609520324, or e-mail: contact@horsebackridingvacations.eu
If you already have received the confirmation of the availability and the price, you can proceed directly to your booking:

2. BOOKING:
Fill out the online registration form: https://www.horsebackridingvacations.eu/form/booking-form
If you are registering and paying for several riders, you can add riders on the form.
If you have difficulty with the online form or if you prefer:
- Download the Excel file
- Download the Open Office file
To be completed, saved on your computer, and sent by email as an attachment.

3. INSURANCES:
Cap Rando is covered for its professional civil liability: GENERALI contract n ° AL974010.
To register on a Cap Rando holiday, you must be covered by an individual liability insurance covering your activity, individual accident, assistance, repatriation, and possibly cancellation (strongly recommended not to lose your payment in case of cancellation for a reason covered by a cancellation insurance).
We offer to Europe Union & Switzerland citizens (only) to subscribe the "Cap Security" insurance from Chapka Insurance. This covers you for cancellation, interruption of stay, individual accident, assistance 24h / 24h, repatriation, medical expenses abroad, luggage insurance, civil liability. You can also only subscribe a "Cap Cancellation" cancellation insurance if you have insurance covering other risks. 
See all information about our cancellation policy and Chapka insurance offer.
For non Europe Union citizens: if you pay by credit card, depending on your card, you may be fully covered: check your contract.
The US citizens can subscribe directly an insurance for instance on: https://www.axatravelinsurance.com/

4. PAYMENT:
- For a stay starting at more than 60 days: It is requested at registration: 30% of the price of the stay, the payment of the insurance possibly subscribed, the transport possibly requested, the booking fees. The balance is to be paid 60 days before the start date of the stay.
- For a stay starting at less than 60 days: Full payment is requested upon registration.
- For a stay starting at less than 21 days: Full payment by credit card or instant transfer is requested upon registration.
- If these are the last places available: Payment by credit card or instant transfer is requested.
You can pay:
- By credit card on our secure payment website: You will be directed to the payment link after completing the online booking form.
- By bank transfer: Our bank information will be sent to you after reception of your booking form.
Your payments are guaranted by our GROUPAMA travel agent bond.
If you book a trip through Cap Rando, you have the guarantee not to loose any payment. 
The French law is the strongest and requires all French travel agencies to have an unlimited financial guarantee for their customers in case of financial failure.

5. CONFIRMATION:
You will receive a confirmation file and contract with the invoice and all practical information within 24 hours after reception of your registration form and payment.

6. CANCELLATION POLICY:
See the cencellation policy: cancellation conditions.
Please note: Any stay may be canceled in the event of insufficient bokkings to ensure the stay up to 21 days before the starting date. In this case, a replacement stay may be offered to you, if it does not suit you: full refund is guaranteed without compensation. We advise you to book refundable transports.