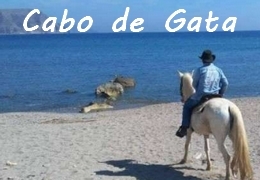 The Cabo de Gata in Andalusia is a cape located in the extreme south-eastern part of Spain and Andalusia on the Mediterranean Sea. Its coast is dotted with cliffs, creeks and wild beaches. This site, classified as a biosphere reserve in 1997. The relief of the Cabo de Gata Sierra, of volcanic origin, is characterized by a succession of pitons, craters, ledges and ridges. This particular geological set is reflected in a great diversity of landscapes, certainly among the most remarkable of the Mediterranean coast in Spain and Andalusia.
To the south of the reserve, the salt marshes are spread along the coasts. It is a coveted habitat for many species of migratory birds, including flamingos. The vegetation is characterized by formations of scrub and herbaceous plants, including often endemic species. Territory classified as Special Bird Protection Zone.
Horseback riding in Andalusia in the Cabo de gata Park is never monotonous: between hills, almost desert areas, and wild beaches for superb gallops on horseback !
Vue en liste
See our rides

8 days - 7 nights - 4 days, 2 half days riding in Andalusia

This exceptional week horseback trail ride, allows you to discover three totally different ecosystems in one week: the astonishing Cabo de Gata natural park and its wild beaches,…

A partir de:

1900€
Dates

| Départ | Destination | Titre | From | Infos | Durée |
| --- | --- | --- | --- | --- | --- |
| - | Andalusia | ANDALUSIA: THE WILD MEDITERRANEAN BEACHES | 1495€ | LAST AVAILABILITIES | 8 days - 7 nights - 6 days riding in Andalusia |
| - | Andalusia | ANDALUSIA : CABO DE GATA WILD BEACHES SHORT BREAK | 935€ | | 5 days - 4 nights - 3 days riding in Andalusia |
| - | Andalusia | ANDALUSIA : STATIONARY RIDE IN THE CABO DE GATA NATURAL PARK | 1050€ | CONFIRMED DEPARTURE | 7 days - 6 nights - 5 half days riding in Andalusia |
| - | Andalusia | ANDALUSIA : THE CABO DE GATA NATURAL PARK | 1050€ | | 7 days - 6 nights - 5 days riding in Andalusia |
| - | Andalusia | ANDALUSIA : PARELLI HORSE TRAINING IN THE CABO DE GATA NATURAL PARK | 1050€ | | 7 days - 6 nights - 5 days clinics |
| - | Andalusia | ANDALUSIA : STATIONARY RIDE IN THE CABO DE GATA NATURAL PARK | 1050€ | AVAILABLE | 7 days - 6 nights - 5 half days riding in Andalusia |
| - | Andalusia | ANDALUSIA : THE CABO DE GATA NATURAL PARK | 1050€ | | 7 days - 6 nights - 5 days riding in Andalusia |
| - | Andalusia | ANDALUSIA : PARELLI HORSE TRAINING IN THE CABO DE GATA NATURAL PARK | 1050€ | | 7 days - 6 nights - 5 days clinics |
| - | Andalusia | ANDALUSIA : STATIONARY RIDE IN THE CABO DE GATA NATURAL PARK | 1050€ | CONFIRMED DEPARTURE | 7 days - 6 nights - 5 half days riding in Andalusia |
| - | Andalusia | ANDALUSIA: THE WILD MEDITERRANEAN BEACHES | 1495€ | CONFIRMED DEPARTURE | 8 days - 7 nights - 6 days riding in Andalusia |
| - | Andalusia | ANDALUSIA : CABO DE GATA WILD BEACHES SHORT BREAK | 935€ | | 5 days - 4 nights - 3 days riding in Andalusia |
| - | Andalusia | ANDALUSIA : STATIONARY RIDE IN THE CABO DE GATA NATURAL PARK | 1050€ | AVAILABLE | 7 days - 6 nights - 5 half days riding in Andalusia |
| - | Andalusia | ANDALUSIA : THE CABO DE GATA NATURAL PARK | 1050€ | | 7 days - 6 nights - 5 days riding in Andalusia |
| - | Andalusia | ANDALUSIA : PARELLI HORSE TRAINING IN THE CABO DE GATA NATURAL PARK | 1050€ | | 7 days - 6 nights - 5 days clinics |
| - | Andalusia | ANDALUSIA: THE WILD MEDITERRANEAN BEACHES | 1495€ | | 8 days - 7 nights - 6 days riding in Andalusia |
| - | Andalusia | ANDALUSIA : CABO DE GATA WILD BEACHES SHORT BREAK | 935€ | | 5 days - 4 nights - 3 days riding in Andalusia |
| - | Andalusia | ANDALUSIA: THE WILD MEDITERRANEAN BEACHES | 1695€ | NOUVEL AN | 8 days - 7 nights - 6 days riding in Andalusia |
| - | Andalusia | ANDALUSIA , END OF YEAR IN THE CABO DE GATA NATURAL PARK | 1690€ | CONFIRMATION IN PROGRESS | 8 days 7 nights - 5 days 1/2 riding in Andalusia |
| - | Andalusia | ANDALUSIA: THE WILD MEDITERRANEAN BEACHES | 1595€ | | 8 days - 7 nights - 6 days riding in Andalusia |
| - | Andalusia | ANDALUSIA: THE WILD MEDITERRANEAN BEACHES | 1595€ | | 8 days - 7 nights - 6 days riding in Andalusia |
| - | Andalusia | ANDALUSIA: THE WILD MEDITERRANEAN BEACHES | 1595€ | | 8 days - 7 nights - 6 days riding in Andalusia |
| - | Andalusia | ANDALUSIA: THE WILD MEDITERRANEAN BEACHES | 1595€ | | 8 days - 7 nights - 6 days riding in Andalusia |
| - | Andalusia | ANDALUSIA , SEA, DESERT & MOUNTAIN | 1900€ | | 8 days - 7 nights - 4 days, 2 half days riding in Andalusia |
| - | Andalusia | ANDALUSIA: THE WILD MEDITERRANEAN BEACHES | 1595€ | | 8 days - 7 nights - 6 days riding in Andalusia |
| - | Andalusia | ANDALUSIA , SEA, DESERT & MOUNTAIN | 1900€ | | 8 days - 7 nights - 4 days, 2 half days riding in Andalusia |
| - | Andalusia | ANDALUSIA: THE WILD MEDITERRANEAN BEACHES | 1595€ | | 8 days - 7 nights - 6 days riding in Andalusia |
| - | Andalusia | ANDALUSIA , SEA, DESERT & MOUNTAIN | 1900€ | | 8 days - 7 nights - 4 days, 2 half days riding in Andalusia |
| - | Andalusia | ANDALUSIA: THE WILD MEDITERRANEAN BEACHES | 1595€ | | 8 days - 7 nights - 6 days riding in Andalusia |
| - | Andalusia | ANDALUSIA , SEA, DESERT & MOUNTAIN | 1900€ | | 8 days - 7 nights - 4 days, 2 half days riding in Andalusia |
| - | Andalusia | ANDALUSIA: THE WILD MEDITERRANEAN BEACHES | 1595€ | | 8 days - 7 nights - 6 days riding in Andalusia |