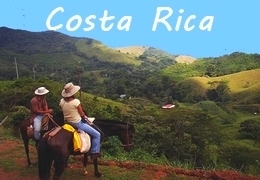 The first European to reach Costa Rica, was Christopher Columbus in 1502, and although it became a Spanish colony, it long remained to develop on its own. Most Costa Rican settlers had to work their own land, thus creating a more egalitarian society than other colonies, without oppressed "subclasses". Costa Rica finally became independent in 1838.Coffee and bananas used to be the main exports, but today one of Costa Rica's main sources of income, is tourism. It is a democratic and peaceful country, it has not had an army since 1949. Its exuberant nature, its wild beaches, its active volcanoes, its contrasting landscapes, its biological diversity, make Costa Rica a perfect destination for an equestrian vacation or a horse riding trip.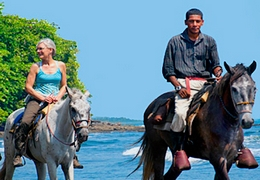 Costa Rica stretches majestically from the Pacific Ocean to the Caribbean Sea. Between crops and cattle pastures, mountain areas, tropical forests, paradisiacal beaches, horseback riding is never monotonous, and is an excellent way to observe birds and get closer to nature. Owning and riding a beautiful horse, is sacred to Costa Ricans of all economic levels. The quality of Costa Rican horses is recognized. The Costa Rican Criollo is small and safe. The Criollo is a cross between several Spanish breeds Arab, and Peruvian horses. They have a heart and a mind that defy their size, and they have the very special pace, the paso, which makes the hours spent in the saddle, particularly comfortable.
SEE BELOW OUR HORSE RIDING VACATIONS IN COSTA RICA :
List view
Grid view

Our new Conquistadores Wilderness Eco-Safari adventure is a progressive trek that will immerse you in the Tropical Forest whilst experiencing an authentic rural Costa Rican way of…

9 days - 8 nights - 6 days riding in Costa Rica

Explore the Pacific and the Caribbean coastlines and take in the vistas of Volcano Arenal – on horseback in Costa Rica !

10 days - 9 nights - 8 days riding in Costa Rica
Weather

WHEN TO GO ON HORSEBACK TO COSTA RICA:

Costa Rica has its "dry season", from December to April. June to the end of October are the wettest months, with the heaviest rains usually occurring in October. May and November are transition months, where it can rain, but the rain is not as heavy.

Visit: www.visitcostarica.com/en/costa-rica/climate 
Useful informations

ACCESS TO COSTA RICA:
Passport valid for at least 1 day beyond the date scheduled for departure from Costa Rica.
Pay attention to the validity period of the passport in the country where you could stopover:
- In the event of a stopover in the United States: passport valid for at least 6 months, and electronic travel authorization (ESTA).
In the context of Covid-19: negative PCR test of less than 48 hours, epidemiological form, and specific travel insurance.
Compulsory yellow fever vaccine for visitors from infected countries (international vaccination certificate compulsory).
Check the information: official website.

HEALTH:
Recommended vaccines: universal vaccines (tetanus especially for equestrian activities), hepatitis A.
In the event of a prolonged stay and precarious food hygiene conditions: typhoid;
In the event of a prolonged stay or away from any medical resource: rabies.
Mosquitoes: The authorities consider that malaria is eradicated from the country (therefore no need for drug prevention). Dengue fever, also transmitted by mosquitoes, is endemic in Costa Rica. The phenomenon increases during the rainy season (from May to November) in the provinces of Limón (Caribbean coast), Guanacaste and Puntarenas (both on the Pacific coast). Transmission of chikungunya is possible. The most affected region being Guanacaste. Finally, the zika is also present in the country, it is therefore advised to pregnant women or having a pregnancy project to postpone their trip. To avoid bites, it is essential to have an effective mosquito repellent and it is advisable to wear long-sleeved clothing and long (but light) pants.
The water is drinkable in most parts of the country. However, in the most remote areas it is better to drink bottled water and not to consume tap water in small hotels. In general, do not swallow fruit that is already peeled, unpasteurized milk and ice cubes taken out from somewhere else, in order to avoid diarrhea.
The sun: It is strong in the tropics. Hat, sunscreen and sunglasses essential, even when there is a light cloud cover !
Dates