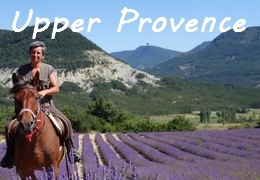 HORSE RIDING IN THE UPPER

 PROVENCE
Explore the Haute Provence on horseback. Between Luberon and Lure mountain, halfway between the Alps and the Mediterranean: landscapes of great beauty, picturesque villages, riding in the scented scrubland and among the lavender fields, under the Provence sun, with more than 30 sunny days a year, the sunniest part of France, to the sound of cicadas !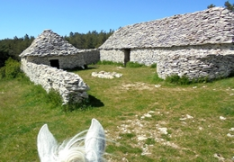 The Luberon has belonged since 1997 to the international network of Unesco biosphere reserves, which are places of experimentation for lasting relationships between man and nature. In 2010, the territory was extended beyond the perimeter of the Luberon Regional Natural Park, to the the southern slope of the Lure mountain: thus the Luberon-Lure biosphere reserve was born.
DISCOVER BELOW OUR HORSE RIDING OFFER IN THE UPPER PROVENCE :
Vue en liste
See our rides
Dates