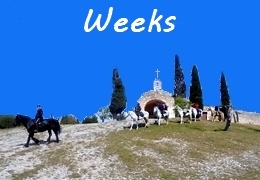 WEEK HORSE RIDING HOLIDAYS IN PROVENCE
A week on horseback in Provence: an extraordinary experience, living a week with a horse, taking care of him, and discovering the beauty of Provence in its diversity. Whether on a star ride returning every evening to a friendly accommodation, or a horseback riding trip going from one accommodation to another, discovering different landscapes every day. Riding holidays are the best way to discover Provence and unwind !
Choose: a week horseback ride in Provence with our own horses and guides: Cap Rando "Organization" rides.
Or with one of our selected partners: Cap Rando "Selection" programs.
List view
Grid view
Dates