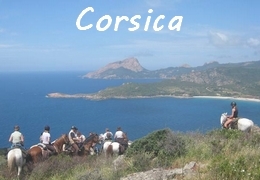 HORSE RIDING IN CORSICA

The South of France Mediterranean island of Corsica offers varied landscapes: coastal villages, dense forests and steep mountains (the peak of Monte Cinto is the highest). Almost half of the island's territory is classified as a natural park. Corsica has been part of France since 1768, but its culture remains marked by Italian influences. Between sea and mountains, discover on horseback this country's breathtaking scenery. Our widerange of horses will take you on a corsican adventure. Horse riding in Corsica … a different and exciting way to visit this beautiful island.
List view
Grid view

An unforgettable ride in Corsica during which will unfold before your eyes a variety of landscape, from dry maquis to green chestnut forests, from sand beaches, to running…

7 days 6 nights - 5 days riding

Horse riding in Corsica: wild and magnificent Corsica through Haute-Corse, to reach the Agriates, one of the most beautiful regions of Corsica.

8 days 7 nights - 6 days riding in Corsica
Country

Corsica "often conquered, never subjugated", was successively Pisan and Genoese and has been French since 1768. It enjoys a particular constitutional status.

Corsica is also called "the island of beauty", not without reason. The mountain plunges into the sea: the diversity of its landscapes and its preservation from the aggressions of development and tourism, make it one of the pearls of the Mediterranean.

The places of interest for tourists in Corsica are varied: sea (beach, scuba diving, sailing), mountain hiking, ... horse riding !

Gastronomy: Corsican cuisine is a mix of French and Italian influences, and offers many unique dishes. The chestnut was one of the main ancient Corsican foods. Additionally, most of the island's domestic pigs are semi-wild, released to feed much of the year, and the charcuterie reflects this excellent flavor. Typical Corsican charcuterie includes lonzu, coppa, ham, figatellu and sausage made from pork or wild boar. Canistrelli are typical Corsican pastries that come in many different flavors. Corsica also produces an olive oil with a unique taste made from ripe fruits harvested from under the trees. Many villages have small shops selling local products.
Weather

Corsica enjoys a Mediterranean climate; it is mild all year and the sun is often present. Summers are rather hot and dry with temperatures reaching around 29 °C in August, and mild, rainier winters with around 14 °C daytime temperatures .

Mild temperatures all year round and exceptional sunshine, it is also in Corsica that the sunshine is the most important in France, make Corsica a privileged destination.
- Winter in Corsica is mild and the rains are present between November and February. In Ajaccio, the thermometer can drop to around 4 °C during the night, but during the day it can reach 14 °C. It rarely freezes along the coasts.
- In spring, the sunshine is stronger despite some rains. From mid-May, the climate becomes very pleasant to visit Corsica in a flowery nature and far from summer frequentation.
- In summer, temperatures rise and the rains completely disappear. In mountainous regions, it is cooler and it is not uncommon for thunderstorms to break out, especially at the end of the day.
- Autumn is very pleasant with mild temperatures. The sunshine tends to decrease and the rains start to reappear from October.

The water temperature is very pleasant between June and October, varying between 19 °C and 23 °C with peaks of 27 °C during July and August. In January, the sea temperature reaches its lowest temperature around 14 °C.

For horseback riding, you can go between June and September, as the temperatures are cooler in the high altitudes, you won't suffer too much from the heat.
Dates