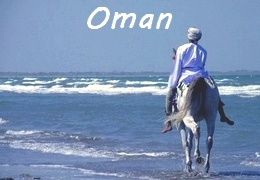 OMAN ON HORSEBACK
Oman is a beautiful country to explore on horseback, with its mountain ranges, wadis, desert and beaches. Oman has retained its ancient and mystique atmosphere. On horseback, in the kingdom of the legendary Sindbad the sailor !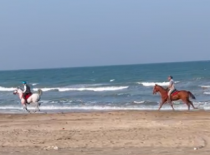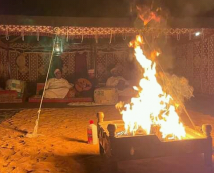 A link between India and Africa, Oman is a mountainous region surrounded by sand and water ! Its wadis irrigate lush palm groves. Deserts punctuated by steep djebels and red or blond dunes. A treasure, hidden between the sea of sand and the Indian Ocean ! Oman is marked by a trade culture, dating back to the 3rd millennium BC. Oman has always been the crossroads of maritime routes: between Asia, Africa and Europe. Attached to this prestigious past in a preserved natural environment, Oman has kept its identity, its values and its way of life. Travel on horseback in the desert, to meet the Bedouins, who perpetuate the great caravan tradition !
List view
Grid view

A very nice ride in Oman Sultanate including 5 riding days in Sharkiya region "Wahiba sand desert" with lovely evening camps… Discovering nice sand dune valleys, long wadis,…

8 or 9 days - 7 or 8 nights - 4 or 5 days riding
Weather

WHEN TO GO ON HORSEBACK TO OMAN :

Oman has two climatic areass: in the North and in the East, the climate is Mediterranean, while the Ssouth and West benefit from a tropical influence, with monsoons between June and September. In the center of the country, a desert climate reigns: it is hot all year round, with maximums above 25 ° C. Oman does not have a shoulder season: it goes from an eight-month summer (March to October) to a four-month winter from November to February. Unlike other deserts where the thermal amplitude between day and night is considerable, here night temperatures remain high (over 20 ° C).
The humidity in Oman is very high, without this causing heavy rainfall (100 mm on average per year). In mountainous regions, the average rises to 300 mm per year and temperatures drop a few degrees. The rainiest months are November for Muscat and its region, and August and September for Salalah, in Dhofar.
From mid-April to October, the heat is scorching. Inland, the mercury can exceed 45 ° C ! The land is swept by hot, dry winds, laden with dust.
The best time to travel on horseback in Oman, is between late October - early November and late March - early April, with temperatures around 28-30 ° C. On the coasts, the heat is quite bearable, with mild or a little chilly nights: periods when we offer you our horse treks in Oman !
Useful informations
Dates

Please contact us or adjust your filters.