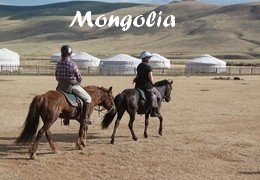 HORSE RIDING IN MONGOLIA

Discover Mongolia on horseback: There are more than 3 million horses in Mongolia, an equine population that exceeds the human population of Mongolia. Horses live outdoors year round, and forage for food themselves. Mongolian horses were a key factor in the conquest of the Mongol Empire in the 13th century. They are now used both for the daily work of nomads, for shopping, and for trail riding !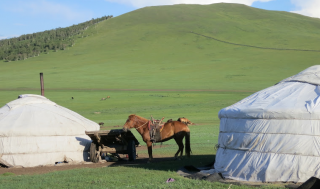 Exploring Mongolia on horseback is undoubtedly the best way to discover its vastness and the diversity of its landscapes, ranging from the steppes to the mountains, passing through forests and rivers. Horseback riding in Mongolia provides a feeling of intense freedom by sharing the daily life of the nomadic Mongolian people. In addition to the intoxicating sensation of being lost in the immensity of this country, you will appreciate its spectacular landscapes, from the Orkhon valley to the blue waters of the 8 lake Park. You can experience a total escape during your horseback riding trip in Mongolia.
See our rides

Dreaming about galloping in Mongolia, but you can't leave for 2 or 3 weeks? This ride is for you ! This ride is concentrating a maximum of horse riding hours in an 8 days trip…

8 days - 7 nights - 5 days 1/2 riding in Mongolia

Riding on horseback beside nomads through the wonderful landscape of the Orkhon Valley in Mongolia, is there a better way to experience the real Mongolia ? This camping horse…

13 days - 12 nights - 8 days riding

Mongolia is a paradise for trail riders. However, you can enjoy the great outdoors as much as sleeping in a cozy bed, so Mongolia Travel & Tours decided to offer this "comfort…

13 days - 12 nights - 7 day 1/2 riding