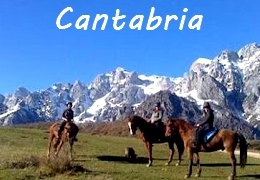 THE PEAKS OF EUROPE IN CANTABRIA
Ride on the peaks of Europa in Spain, "Picos de Europa" in Spanish :
The Picos de Europa National Park culminates at 2649 meters, in the Cantabrian Mountains, between the provinces of Asturias, León and Cantabria, about thirty kilometers from the ocean in the heart of the Atlantic ecosystem. Covered in oak and beech forests, the park takes its name from the impressive rock formations. The park is the habitat of two of the most emblematic animals that live in Spain: the brown bear and the Iberian wolf !
Discover one of the most wonderful regions of Spain on horseback, with breathtaking landscapes.
List view
Grid view

Ride on the Picos de Europa, "Picos de Europa" in Spanish. Discover breathtaking landscapes in a less known and wild Spain !

8 days - 7 nights - 6 days riding in Spain
Dates