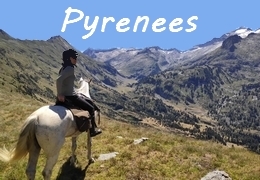 RIDE IN SPAIN IN THE PYRENEES
A new horseback riding destination in Spain offered in 2022 by Cap Rando ! For lovers of high mountain horseback riding to discover the peaks and their breathtaking landscapes without the effort of hiking !!
Our offer is located in the Natural Park of Posets-Maladeta, where the highest peaks of the Pyrenees are found with Aneto culminating at 3404 m. There are three massifs, declared "Natural Monument of the Pyrenean Glaciers". These glaciers shaped this valley for 40 million years. The landscapes are varied: mixed forests, black pine forests, alpine meadows, the high mountains and their lakes, glaciers and eternal snow, ... Habitat of different protected species such as the capercaillie, the bearded vulture, or the brown bear.
List view
Grid view

Horseback riding in the Pyrenees in Spain. A ride on paths and mountain tracks with spectacular and varied landscapes. More than 160 km of wild adventure on horseback!

8 days - 7 nights - 6 days riding in Spain
Dates