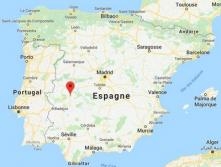 Horse riding in Spain in Estremadura and in the Sierra de Gredos. Located in central-west Spain, bordered to the north-east by Castile, to the south by Andalusia, and to the west by Portugal. Horse riding in Spain back to Roman times !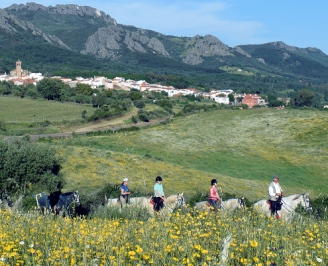 Estremadura (also called Extremadura) is a wild Spain region, less known to tourists. Estremadura used to be an important region of the Iberian Peninsula. The region was crossed by the Via Delapidata, one of the major trade routes for tin and copper trade, which crossed Roman Spain from the north coast to the south. The road is now a hiking and riding path, connecting Andalusia to the northwest of Spain. Extremadura is one of the least populated regions in Spain, which means it has lots of wide open spaces and natural landscapes. It is also the poorest region in Spain, a historical reality which is paradoxically one of the main reasons for the richness of its historical heritage and its natural environment today.
The Sierra of Gredos is located in the south of the province of Ávila: a spectacular natural creation of lagoons, gorges, cirques, steep cliffs, the Hispanic goat habitat. On the Cordillera central that separates the rivers Duero and Tagus, stands the Sierra of Gredos, a space carved by glacial erosion that rises to 2,592 meters. Due to its geographical location, steep slopes and the different orientation of its slopes, the Sierra de Gredos can be considered an authentic flora paradise. The various plant species are distributed on superimposed steps which reach their highest point on the Alpine step.
DISCOVER BELOW OUR EQUESTRIAN OFFER IN SPAIN IN EXTREMADURA AND SIERRA DE GREDOS :