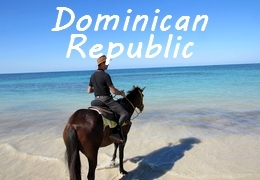 The Dominican Republic is nestled between the Atlantic Ocean to the north and the Caribbean Sea to the south, and has a breathtaking topography. Three great mountain ranges cross the island and Lake Enriquillo, the lowest point in the Caribbean, includes one of the many lakes, lagoons and rivers that accompany the thousands of miles of unspoiled beaches. A tropical climate is enjoyed all year round in the Dominican Republic. The coolest season is between November and April and the hottest season is between May and October. The annual average temperature is around 25 °C.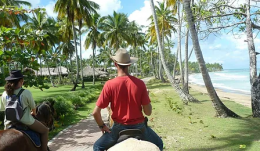 Christopher Columbus in 1493 brought fruits, crops, cattle and horses, which were used for agriculture and gold mining. Their descendants today are the Paso Fino which is the oldest native breed in the Western Hemisphere frequently used for ranching throughout South America. The Spanish Criollo breed is also commonly found in the Dominican Republic.
List view
Grid view

Superb tropical horseback ride, on the beach and in the mountains of the Dominican Republic. You stay in the bungalows of a charming mountain eco-lodge, located 300 meters above…

8 days - 7 nights / Optional 4 days - 4 nights extension
Weather

WHEN TO GO ON HORSEBACK TO THE DOMINICAN REPUBLIC:

The Dominican Republic has a tropical climate with two distinct seasons: the rainy season from May to October and the dry season from December to April. It is warm there all year round with maximum temperatures between 30 ° C and 32 ° C.
- The rainy season: between May and October, it is characterized by heavy rains, but often of short duration and in the late afternoon. The sun remains present during the day. It is during this season that temperatures are highest, between 23 ° C and 32 ° C. The constant heat and humidity are sometimes hard to bear.
- The dry season: from December to April, is the most pleasant season to consider an equestrian holiday, because the atmosphere is much drier, with less rains. The air is more breathable, the temperatures are a little cooler, between 20 ° C and 30 ° C.
In the mountainous part of the country, the risk of rain remains present throughout the year, the two seasons are less marked. This is also the case in the northeastern part of the country: precipitation is more frequent there during the dry season than in the southern part of the island, where rains are almost non-existent.
Useful informations

SANTE / VACCINS: 
Aucun vaccin n'est obligatoire pour l'entrée en République Dominicaine Il est recommandé d'être à jour des vaccins usuels: tétanos, diphtérie, polio, hépatite A et B. 
Afin de faire face aux frais d'hospitalisation et, de manière générale, aux dépenses de santé qui peuvent être très élevées à l'étranger, il est impératif de disposer d'un contrat d'assistance ou d'une assurance permettant de couvrir tous les frais médicaux (opération chirurgicale, hospitalisation ou rapatriement sanitaire) au risque de ne pas avoir accès aux soins, y compris en cas d'urgence vitale. Ces frais ne pourront en aucun cas être pris en charge par l'ambassade ou les consulats généraux de France sur place. Voir la rubrique "assurances" ci-dessous.

FORMALITES / VISA:
En cas de séjour en République Dominicaine d'une durée inférieure ou égale à 3 mois, les ressortissants français ne sont pas soumis à l'obligation de visa. La présentation d'un passeport, dont la validité minimale doit être de 6 mois à compter de la date d'entrée sur le territoire dominicain, est nécessaire. Pour vous renseigner sur la situation politique et les conditions d'accès, rendez-vous sur le site:
https://www.diplomatie.gouv.fr/fr/conseils-aux-voyageurs/conseils-par-pays/republique-dominicaine/# 
Dates