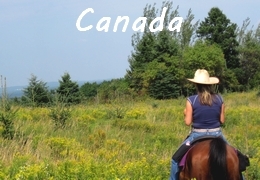 HORSE RIDING IN CANADA

There are few countries in the world offering as many choices for horseback rides as Canada. There are many offers for horseback vacations in Canada. Whether you are drawn to the great outdoors for a quiet and picturesque ride or you want to live life on a working ranch, equestrian stays and horse riding trail rides in Canada have everything to please.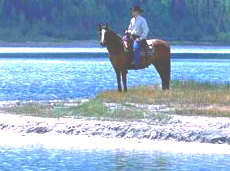 Western Canada, British Columbia, is renowned for its incredibly beautiful landscapes: the towering mountain ranges of British Columbia give way to rugged coasts of incredible beauty.
Quebec is a privileged destination for riders, combining landscapes of great beauty between lakes and mountains, warm welcome, and Quebec gastronomy. We offer summer rides in Quebec ... and winter rides in the snow !
See our rides
Country
Useful informations

FORMALITES D'ENTREE AU CANADA, SANTE, INFOS COVID

| | |
| --- | --- |
| Formalités d'entrée au Canada : | |

Pour un séjour touristique ou d'affaires de moins de six mois, il n'y a pas d'obligation de visa pour les ressortissants français. Toutefois, toute personne exemptée de visa doit demander, suffisamment à l'avance, une autorisation de voyage électronique (AVE) sur le site officiel du gouvernement du Canada. L'AVE est valable pendant cinq ans. Liée électroniquement au passeport, elle prend fin au terme de la validité du passeport.



Pour vérifier les informations spécifiques liées à l'épidémie de covid:

| | |
| --- | --- |
| Santé : | |

Afin de faire face aux frais d'hospitalisation et aux dépenses de santé, très coûteux au Canada, il est indispensable de disposer d'un contrat d'assistance ou d'une assurance permettant de couvrir tous les frais médicaux (dont la chirurgie et l'hospitalisation) et de rapatriement sanitaire, au risque de ne pas avoir accès aux soins, y compris en cas d'urgence vitale. Ces frais ne pourront en aucun cas être pris en charge par l'ambassade ou les consulats généraux de France sur place.

Le règlement des frais d'hospitalisation des voyageurs est exigible avant la sortie du centre hospitalier. Il importe de s'assurer que la compagnie auprès de laquelle le contrat d'assurance a été souscrit dispose d'une représentation ou de correspondants dans les provinces de l'ouest canadien.

Pensez à contrôler votre vaccination antitétanique, à avoir avec vous votre attestation d'assurance, et le numéro de téléphone de votre assurance d'assistance: à communiquer à votre arrivée si vous ne l'avez pas renseigné lors de votre inscription.

: Voir les consignes et restrictions actualisées pour l'Alberta: https://www.alberta.ca/covid-19-public-health-actions.aspx

* Vérifiez que le queer code de votre vaccination covid est bien valide sur votre portable, imprimez et emmenez votre attestation de vaccination.

* Emportez vos médicaments habituels ainsi qu'une petite trousse de premiers soins (antalgique, pommade pour les coups, antiseptique, ... que nous ne sommes pas autorisés à vous fournir pour risque d'allergie ou contre-indication).
Dates