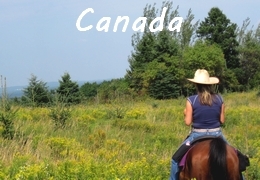 HORSE RIDING IN CANADA

There are few countries in the world offering as many choices for horseback rides as Canada. There are many offers for horseback vacations in Canada. Whether you are drawn to the great outdoors for a quiet and picturesque ride or you want to live life on a working ranch, equestrian stays and horse riding trail rides in Canada have everything to please.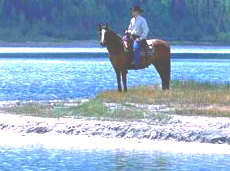 Western Canada, British Columbia, is renowned for its incredibly beautiful landscapes: the towering mountain ranges of British Columbia give way to rugged coasts of incredible beauty.
Quebec is a privileged destination for riders, combining landscapes of great beauty between lakes and mountains, warm welcome, and Quebec gastronomy. We offer summer rides in Quebec ... and winter rides in the snow !
See our rides

Horse riding in Quebec. Enjoy the famous Indian summer in Quebec on horseback. Also enjoy authentic activities that invite relaxation, calm and pleasure.

8 days - 7 nights - 6 days visiting and riding

Horseback trail ride in Quebec. Discover the magnificent Quebec on horseback, between lakes and mountains. Between the Appalachian range and the largest swamp in Eastern Canada,…

8 days - 7 nights - 6 days riding

A horseback trail ride for experienced riders looking for breathtaking landscapes while enjoying the comfort of a lodge in the heart of nature in the Lake Chilko area with its…

8 days - 7 nights - 6 days riding
Dates