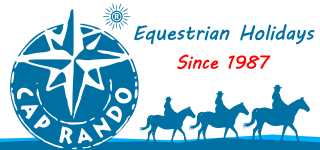 Cap Rando: an equestrian travel agency created 35 years ago to offer you the most beautiful equestrian destinations and the best horseback trips in the world. One of the oldest travel agencies specializing in horse riding vacations !
Created by Didier SIMONOT, equestrian guide recognized in France, motivated by his passion for horses and travel, but also for sharing ... as an equestrian guide passionate about horse travel. Cap Rando is the only agency run by equestrian guides, professionals in the horse ride trip creation and accompanying tourists on horseback.


CAP RANDO "ORGANIZATION": Vacations and horseback trail rides in Provence with our horses and our guides.



CAP RANDO "SELECTION": Equestrian holidays organized by partners selected by our guides for the quality of their services. Often friends, to whom we bring our expertise as experienced equestrian guides.


CAP RANDO "SELECTION HORSE TRAVEL AGENCY PARTNER": Equestrian Stays & Horseback Trips selected by our partner horse travel agencies specializing worldwide equestrian holidays.
The Cap Rando 

:

 Our almost 35 year experience, not only in sales, but above all in the creation and guiding of horseback riding trips.


 Your contact: not only a seller, but a professional licensed guide, perfectly familiar with the rider demands, to help you make the best choice for your equestrian holidays !
 


 A privileged partnership with our partners: being ourselves guides and organizers of horseback riding trips, we maintain a privileged relationship with all our facilities around the world, who appreciate and benefit from our experience, ensuring the best welcome to our riders !


 The guarantee of your payments by our registration as a travel operator with an unlimited deposit. If you book a trip through Cap Rando, you have the guarantee not to loose any payment.  The French law is the strongest and requires all French travel agencies to have an unlimited financial guarantee for their customers in case of financial failure.
DISCOVER THE WORLD ON HORSEBACK !