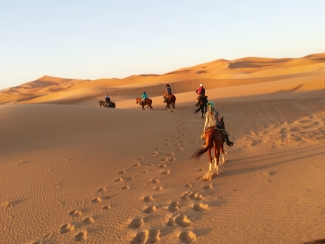 HORSE RIDING IN DESERTS
Riding in the desert: a magical experience for any rider eager for sensations and wide open spaces. Discover below our horseback trail rides in the desert of Morocco, Jordan, Oman or the Emirates. And a taste of the desert in Andalusia.
Active horseback rides for experienced riders !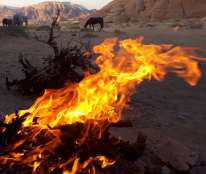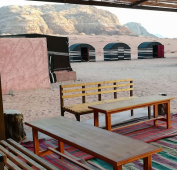 Most of the horseback riding programs in the deserts are done with the evening in camps: the camps are prepared by assistance teams, in exceptional sites, who prepare meals for you that you will take in the open air around the fire, or in large tents for more comfort.
DISCOVER BELOW OUR DESERT HORSEBACK RIDES :
Vue en liste
See our rides
Dates

| Départ | Destination | Titre | From | Infos | Durée |
| --- | --- | --- | --- | --- | --- |
| - | Jordan | JORDAN: PETRA, ON THE LAWRENCE OF ARABIA TRACKS IN THE WADI RUM ON HORSEBACK, DEAD SEA OPTION | 1800€ 1700€ | | January to May & September to December / 8 days - 7 nights / 5 days riding in Jordan / 1 day & night Dead Sea option |
| - | Jordan | JORDAN : EQUESTRIAN GETAWAY IN JORDAN, PETRA, RED SEA & DEAD SEA | 1500€ | | January to June & September to December / 8 days - 7 nights - 3 days riding in Jordan |
| - | Oman | OMAN : THE WAHIBA DESERT | 3250€ | | 8 or 9 days - 7 or 8 nights - 4 or 5 days riding |
| - | Jordan | JORDAN: ON THE LAWRENCE OF ARABIA TRACKS IN THE WADI RUM DESERT | 1350€ | | January to May / 6 days - 5 nights - 5 days riding in Jordan |
| - | Jordan | JORDAN: PETRA, ON THE LAWRENCE OF ARABIA TRACKS IN THE WADI RUM ON HORSEBACK, DEAD SEA OPTION | 1800€ 1700€ | LAST AVAILABILITIES | January to May & September to December / 8 days - 7 nights / 5 days riding in Jordan / 1 day & night Dead Sea option |
| - | Jordan | JORDAN : EQUESTRIAN GETAWAY IN JORDAN, PETRA, RED SEA & DEAD SEA | 1500€ | | January to June & September to December / 8 days - 7 nights - 3 days riding in Jordan |
| - | Andalusia | ANDALUSIA: TABERNAS, THE WESTERN DESERT | 1190€ | | 5 days, 4 nights, 3 days riding in Andalusia |
| - | Jordan | JORDAN: ON THE LAWRENCE OF ARABIA TRACKS IN THE WADI RUM DESERT | 1350€ | LAST AVAILABILITIES | January to May / 6 days - 5 nights - 5 days riding in Jordan |
| - | Jordan | JORDAN: PETRA, ON THE LAWRENCE OF ARABIA TRACKS IN THE WADI RUM ON HORSEBACK, DEAD SEA OPTION | 1800€ 1700€ | | January to May & September to December / 8 days - 7 nights / 5 days riding in Jordan / 1 day & night Dead Sea option |
| - | Jordan | JORDAN : EQUESTRIAN GETAWAY IN JORDAN, PETRA, RED SEA & DEAD SEA | 1500€ | | January to June & September to December / 8 days - 7 nights - 3 days riding in Jordan |
| - | Oman | OMAN : THE WAHIBA DESERT | 3250€ | | 8 or 9 days - 7 or 8 nights - 4 or 5 days riding |
| - | Jordan | JORDAN: ON THE LAWRENCE OF ARABIA TRACKS IN THE WADI RUM DESERT | 1350€ | | January to May / 6 days - 5 nights - 5 days riding in Jordan |
| - | Jordan | JORDAN: PETRA, ON THE LAWRENCE OF ARABIA TRACKS IN THE WADI RUM ON HORSEBACK, DEAD SEA OPTION | 1800€ 1700€ | | January to May & September to December / 8 days - 7 nights / 5 days riding in Jordan / 1 day & night Dead Sea option |
| - | Jordan | JORDAN : EQUESTRIAN GETAWAY IN JORDAN, PETRA, RED SEA & DEAD SEA | 1500€ | | January to June & September to December / 8 days - 7 nights - 3 days riding in Jordan |
| - | Andalusia | ANDALUSIA: TABERNAS, THE WESTERN DESERT | 1190€ | | 5 days, 4 nights, 3 days riding in Andalusia |
| - | Jordan | JORDAN: ON THE LAWRENCE OF ARABIA TRACKS IN THE WADI RUM DESERT | 1350€ | | January to May / 6 days - 5 nights - 5 days riding in Jordan |
| - | Jordan | JORDAN: PETRA, ON THE LAWRENCE OF ARABIA TRACKS IN THE WADI RUM ON HORSEBACK, DEAD SEA OPTION | 1800€ 1700€ | | January to May & September to December / 8 days - 7 nights / 5 days riding in Jordan / 1 day & night Dead Sea option |
| - | Jordan | JORDAN : EQUESTRIAN GETAWAY IN JORDAN, PETRA, RED SEA & DEAD SEA | 1500€ | | January to June & September to December / 8 days - 7 nights - 3 days riding in Jordan |
| - | Oman | OMAN : THE WAHIBA DESERT | 3250€ | | 8 or 9 days - 7 or 8 nights - 4 or 5 days riding |
| - | Jordan | JORDAN: ON THE LAWRENCE OF ARABIA TRACKS IN THE WADI RUM DESERT | 1350€ | | January to May / 6 days - 5 nights - 5 days riding in Jordan |
| - | Jordan | JORDAN: PETRA, ON THE LAWRENCE OF ARABIA TRACKS IN THE WADI RUM ON HORSEBACK, DEAD SEA OPTION | 1800€ 1700€ | LAST AVAILABILITIES | January to May & September to December / 8 days - 7 nights / 5 days riding in Jordan / 1 day & night Dead Sea option |
| - | Jordan | JORDAN : EQUESTRIAN GETAWAY IN JORDAN, PETRA, RED SEA & DEAD SEA | 1500€ | | January to June & September to December / 8 days - 7 nights - 3 days riding in Jordan |
| - | Jordan | JORDAN: ON THE LAWRENCE OF ARABIA TRACKS IN THE WADI RUM DESERT | 1350€ | LAST AVAILABILITIES | January to May / 6 days - 5 nights - 5 days riding in Jordan |
| - | Jordan | JORDAN: PETRA, ON THE LAWRENCE OF ARABIA TRACKS IN THE WADI RUM ON HORSEBACK, DEAD SEA OPTION | 1800€ 1700€ | | January to May & September to December / 8 days - 7 nights / 5 days riding in Jordan / 1 day & night Dead Sea option |
| - | Jordan | JORDAN : EQUESTRIAN GETAWAY IN JORDAN, PETRA, RED SEA & DEAD SEA | 1500€ | | January to June & September to December / 8 days - 7 nights - 3 days riding in Jordan |
| - | Jordan | JORDAN: ON THE LAWRENCE OF ARABIA TRACKS IN THE WADI RUM DESERT | 1350€ | | January to May / 6 days - 5 nights - 5 days riding in Jordan |
| - | Jordan | JORDAN: PETRA, ON THE LAWRENCE OF ARABIA TRACKS IN THE WADI RUM ON HORSEBACK, DEAD SEA OPTION | 1800€ 1700€ | | January to May & September to December / 8 days - 7 nights / 5 days riding in Jordan / 1 day & night Dead Sea option |
| - | Jordan | JORDAN : EQUESTRIAN GETAWAY IN JORDAN, PETRA, RED SEA & DEAD SEA | 1500€ | | January to June & September to December / 8 days - 7 nights - 3 days riding in Jordan |
| - | Jordan | JORDAN : THE KING ROAD FROM PETRA TO THE WADI RUM , DEAD SEA | 1950€ | | April-May-June / 10 days - 9 nights - 6 days riding in Jordan |
| - | Jordan | JORDAN: ON THE LAWRENCE OF ARABIA TRACKS IN THE WADI RUM DESERT | 1350€ | | January to May / 6 days - 5 nights - 5 days riding in Jordan |