Discover Petra and the spectacular landscapes of Wadi Rum on horseback, enjoying luxury hotels and very comfortable camps.
New: Discover Jordan on horseback, visit the wonderful Petra, end your stay with them relaxing days in the Red Sea and the Dead Sea. An equestrian stay in Jordan with very comfortable accommodation: 5 star hotels and a luxury camp !
 SEE THE 8 DAYS VERSION WITH THE DEAD SEA WITHOUT THE RED SEA
SEE ALL OUR HORSEBACK TRAIL RIDES IN JORDAN: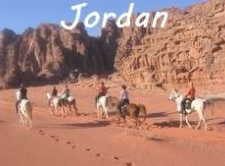 Image programme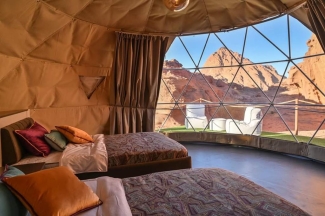 Programme intro


LUXURY HORSE RIDE IN JORDAN
INDICATIVE ITINERARY *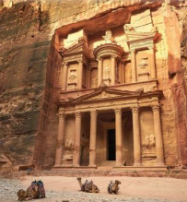 Day 1: Arrival in Jordan. Reception at Amman airport and transfer to the hotel in Madaba. Meeting and presentation of the team. Flight arrivals are generally late: dinner is not included. Night at the hotel in Madaba.
Day 2: Early departure for Petra (2h30 to 3h drive). Visit this mythical site, initially accompanied by a Jordanian guide (most of the time English-speaking) until you reach the exit of the Siq in Khazneh (the treasure). Snack at noon. Then, you are free to explore this majestic site on your own until nightfall. Dinner and overnight in a hotel in Petra.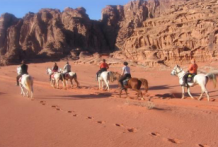 Day 3: After breakfast, meeting with the local team and allocation of horses according to the level of each. You ride for this first day on horseback, in one of the most beautiful places in the world to discover "Little Petra" and Baidah. Dinner and overnight at the Seven Wonder camp: comfortable or luxury tent or room according to your choice.
Day 4: After breakfast, transfer to the Wadi Rum (1 hour drive) to meet your guide and the horses. You are riding south. You cross the valley of Um Ishrin, then reach your camp for lunch after 2 hours on horseback. In the afternoon, you visit the house of Lawrence of Arabia and the red sand dunes of Anafishia. Dinner and night at the camp.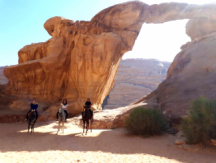 Day 5: You go on horseback in the protected area of Wadi Rum, on beautiful tracks offering long canters. You pass by the natural arch of Um frouth, and the red sand dune with Anafishia inscriptions. Dinner and night at the camp.
Day 6: Breakfast at the camp, then departure on horseback towards the area of the Um Frouth arch. Crossing beautiful red sand canyons and lunch at the foot of Burdha mountain. Afternoon ride on a beautiful track with a beautiful view of the red mountains of Wadi Rum. Dinner and night at the camp.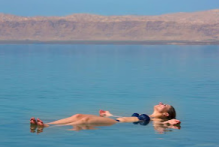 ​Day 7 (Friday): After breakfast: Transfer to Aqaba and the Red Sea (one hour drive). Installation at your hotel on the shores of the Red Sea. Possibility of visiting Aqaba and its old souk, or optional diving in the Red Sea. Dinner and an overnight stay at your hotel.
Day 8 (Saturday): After breakfast, transfer to the Dead Sea. You enjoy the free afternoon to swim and float at the lowest point on Earth until sunset. Dinner and overnight at the hotel near the Dead Sea.
Day 9 (Sunday). Departure after breakfast, transfer to Amman airport.
* Indicative itinerary. May be changed: the climatic conditions, the winds, the changing nature of the terrain, the physical condition of the riders ... determine daily the route, and the choice of camp locations. This under the responsibility of the guide, in charge of the group.
MEETING: 
Day 1 (Saturday) afternoon at Amman airport. Arrive before 8 pm to have the dinner.

DEPARTURE:
Day 9 (Sunday) after breakfast. Transfer to Amman airport.

AIRPORT TRANSFERS:
Transfers from/to Amman airport are free.

FLIGHTS:
It is more interesting to book your flights yourself, a flight package included is generally more expensive with agency commissions. However, we are at your disposal to help you find the best rates or to offer you a transport trip included on request. We advise you the following companies: Turkish Airlines  Austrian et Alitalia.
RIDING LEVEL: 


You must be able to walk, trot, canter and galop outdoor on open spaces.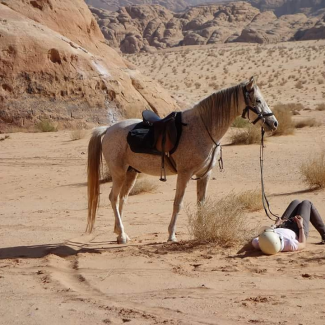 HORSES: 
Arabs or crossed, well balanced, trail rides professionals. 

TACK: 
English "Wintec" saddles.  

GUIDE: 
Local English speaking guide and assistants, tranfering luggage and preparing meals.
ACCOMMODATION: 


4 nights in 5* hotels in double rooms, 4 nights in a very comfortable camps. Every night in air-conditioned rooms with private bathrooms.
Amman (night 1):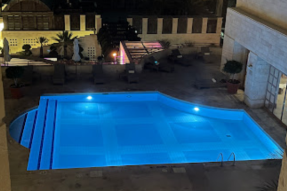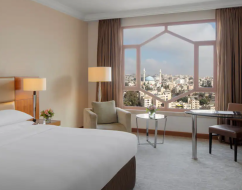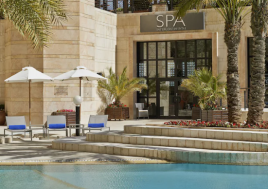 Petra (night 2):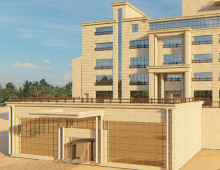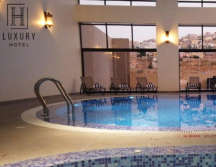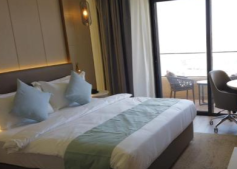 Seven Wonder camp (nights 2 & 3):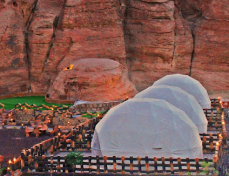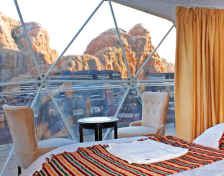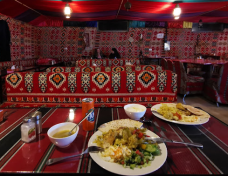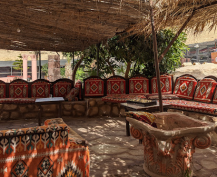 Wadi Rum camps (nights 4,5,6):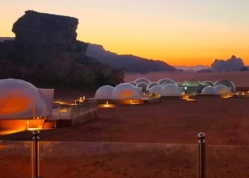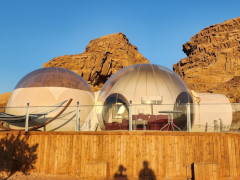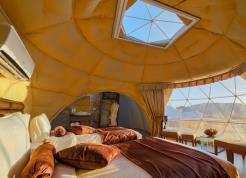 Red Rouge (night 7):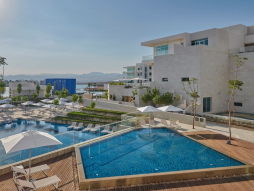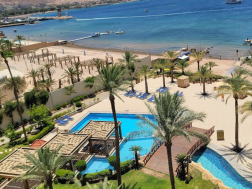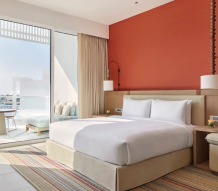 Dead Morte (night 8):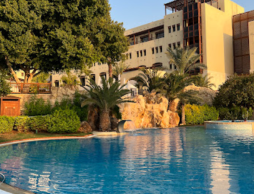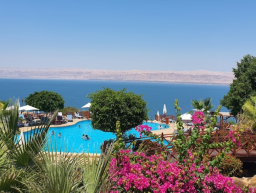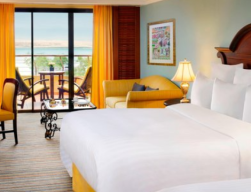 * Hotels and camps are indicated at the time of your registration, depending on availability.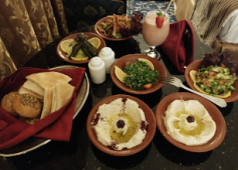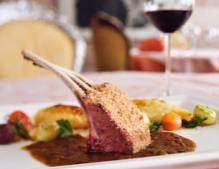 MEALS:
In the evening, meals are taken in the restaurants of the hotels and camps or a local restaurant. At noon, during horseback riding, picnics are prepared and brought by the assistance team. Other midday meals in restaurants.

LUGGAGE TRANSFERS:
Insured by assistance vehicles.
Infos tarif
2023-2024 PRICE / PER PERSON *: 
4050 € in 2 person bedrooms
Single bedroom supplement: 1150 €
Booking fees: 15 €.
* Prices may vary downward or upward, depending on exchange rates at the time of registration.
THE PRICE INCLUDES: 
• The Jordan pass including the entry visa to Jordan and access to tourist sites
• Reception and transfers from / to Amman airport (AMM)
• Horse and tack rental
• 4 horseback riding days
• Guided walking visit  of Petra
• Transfers and relaxing days at the Red Sea & Dead Sea
• Full board from day 1 dinner to day 9 breakfast unless 3 lunches : in Petra, at the Red Sea and the Dead Sea
• Drinks (water, tea and coffee during the rides), not included in the hotels and at the camp.
• Accommodation 4 nights in 5* hotels
• Accommodation 4 nights in luxury camps
• The financial guarantee of your payments by our travel operator guarantee.
THE PRICE DOESN'T INCLUDE: 
• Return flights to Jordan and airport taxes
• Drinks (other than bottled water provided  during the rides)
• 3 lunches : in Petra, at the Red Sea and the Dead Sea
• Optional diving in the Red Sea
• Assistance insurance, repatriation, cancellation, etc.
• Tips (recommendation: around 20 JOD for the whole team)
• Single bedroom option
• Anything not indicated in "THE PRICE INCLUDES"
INSURANCE (if you don't already have one):
We offer to European citizens (only) Chapka insurances:
Cap Security: full insurance with cancellation. Cap Cancellation: cancellation only.
See prices & information
Infos calendrier
EVERY WEEK ALL YEAR FROM SATURDAY TO SUNDAY
How to book
HOW TO BOOK :
By booking with Cap Rando, you get the benefit of the French travel agency law, one of the strictest in the world: an unlimited financial guarantee for all your payments !

BOOKING PROCEDURE:
1. CHECK THE AVAILABILITY, PRICE, DISCOUNT:
Check the availability and price (depending on the type of accommodation and after possible discounts) by contacting us through the availability & quote request form or by phone +33 (0)483431321, whatsapp +33(0)609520324, or e-mail: contact@horsebackridingvacations.eu
If you already have received the confirmation of the availability and the price, you can proceed directly to your booking:

2. BOOKING:
Fill out the online registration form: https://www.horsebackridingvacations.eu/form/booking-form
If you are registering and paying for several riders, you can add riders on the form.
If you have difficulty with the online form or if you prefer:
- Download the Excel file
- Download the Open Office file
To be completed, saved on your computer, and sent by email as an attachment.

3. INSURANCES:
Cap Rando is covered for its professional civil liability: GENERALI contract n ° AL974010.
To register on a Cap Rando holiday, you must be covered by an individual liability insurance covering your activity, individual accident, assistance, repatriation, and possibly cancellation (strongly recommended not to lose your payment in case of cancellation for a reason covered by a cancellation insurance).
We offer to Europe Union & Switzerland citizens (only) to subscribe the "Cap Security" insurance from Chapka Insurance. This covers you for cancellation, interruption of stay, individual accident, assistance 24h / 24h, repatriation, medical expenses abroad, luggage insurance, civil liability. You can also only subscribe a "Cap Cancellation" cancellation insurance if you have insurance covering other risks. 
See all information about our cancellation policy and Chapka insurance offer.
For non Europe Union citizens: if you pay by credit card, depending on your card, you may be fully covered: check your contract.
The US citizens can subscribe directly an insurance for instance on: https://www.axatravelinsurance.com/

4. PAYMENT:
- For a stay starting at more than 60 days: It is requested at registration: 30% of the price of the stay, the payment of the insurance possibly subscribed, the transport possibly requested, the booking fees. The balance is to be paid 60 days before the start date of the stay.
- For a stay starting at less than 60 days: Full payment is requested upon registration.
- For a stay starting at less than 21 days: Full payment by credit card or instant transfer is requested upon registration.
- If these are the last places available: Payment by credit card or instant transfer is requested.
You can pay:
- By credit card on our secure payment website: You will be directed to the payment link after completing the online booking form.
- By bank transfer: Our bank information will be sent to you after reception of your booking form.
Your payments are guaranted by our GROUPAMA travel agent bond.
If you book a trip through Cap Rando, you have the guarantee not to loose any payment. 
The French law is the strongest and requires all French travel agencies to have an unlimited financial guarantee for their customers in case of financial failure.

5. CONFIRMATION:
You will receive a confirmation file and contract with the invoice and all practical information within 24 hours after reception of your registration form and payment.

6. CANCELLATION POLICY:
See the cencellation policy: cancellation conditions.
Please note: Any stay may be canceled in the event of insufficient bokkings to ensure the stay up to 21 days before the starting date. In this case, a replacement stay may be offered to you, if it does not suit you: full refund is guaranteed without compensation. We advise you to book refundable transports.