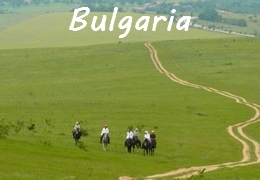 HORSE RIDING IN BULGARIA

The Balkan Mountains stretch for over 600 km and divide Bulgaria into two distinct halves. Lush meadows lie beneath high cliffs and alternate with dense forests. There are many interesting features: rock formations, caves, ancient trees and high jaw-dropping waterfalls. On the trail rides, you have the opportunity to visit monasteries and cross villages. We offer four different rides. Private groups (six or more) can request a custom ride.
List view
Grid view

We offer four equestrian trail rides in Bulgaria. The terrain is varied: you ride in the mountains, in lush forests and in large green plains. Rides that will take you into the…

8 days - 7 nights - 6 days riding in Bulgaria
Country

Bulgaria is located in Southeast Europe in the northeast part of the Balkan Peninsula. It borders to the north with Romania, to the east with the Black Sea, to the south with Turkey and Greece, and to the west with Macedonia and Serbia. The Balkan mountains run for over 600 km and divide Bulgaria into two distinct halves.
Weather

WHEN TO GO ON HORSEBACK TO BULGARIA:

Bulgaria enjoys a temperate climate with hot, dry summers and cold, wet winters, often with heavy snowfall.
Spring (especially April to mid-June) is a great time to go on horseback. Summer (mid-June to early September) is pleasant for horseback riding, but it can get very hot. September and October are a beautiful time in Bulgaria; the fall trees are beautiful and the fruits and vegetables are plentiful.


 
Useful informations

ACCESS FORMALITIES IN BULGARIA:

- For European nationals: valid identity card (for a stay of less than 3 months).
- Other citizens: valid passport.

VACCINES:
Recommended vaccines: Universal vaccines especially tetanus for equestrian activities (DTCP, hepatitis B), hepatitis A, in the event of a stay in rural areas: central European tick encephalitis and rabies.
Dates

Please contact us or adjust your filters.