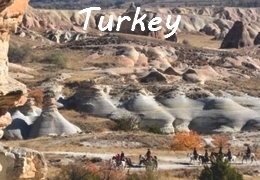 TURKEY & CAPPADOCIA HORSE RIDING
Turkey is a country steeped in tradition, with an exotic past and a unique geographic location. It is in fact the only country in the world to sit astride two continents - merging East and West. This cultural peculiarity is reflected in its history and its people, and makes Turkey an exciting place for horse riding. Partly mountainous, partly Mediterranean and coastal, Turkey offers a varied range of horse treks. Such a rich history has left an indelible mark and Turkey is full of historical sites and archaeological wonders in a varied and magnificent landscape.
The Mediterranean coastline is punctuated by well-preserved Greco-Roman cities such as Pergamum and Ephesus, while the austere and rugged Anatolian plateau has rock churches hidden in the unlikely fairytale landscape of Cappadocia. Istanbul, still the pulse of the nation, has even more to offer, with its Roman aqueducts, Byzantine churches and Ottoman mosques and palaces.
List view
Grid view

8 days - 7 nights - 5&1/2 days riding

For the lovers of the Mediterranean coast and swimming moments, you will gallop on endurance Arabian horses, overlooking thrilling sights of the blue sea. This itinerant ride…

8 days - 7 nights - 5 days riding

8 days - 7 nights - 6 riding
Country

LA TURQUIE A CHEVAL

La Turquie, située dans le sud-est de l'Europe, s'étend sur deux continents et compte quelque 8 000 km de côtes. Son paysage diversifié avec ses vallées et ses montagnes, fait de la randonnée à cheval une expérience unique. C'est un pays qui se modernise rapidement avec un pied en Europe et un au Moyen-Orient. Le peuple turc a une réputation d'hospitalité inégalée, la cuisine est à tomber par terre, le littoral est un rêve et de nombreuses villes turques sont parsemées de mosquées et de châteaux spectaculaires. La Turquie reste l'une des destinations les moins chères de la Méditerranée.

La côte sud-ouest étincelante, est parsemée de vestiges d'anciennes civilisations, avec en toile de fond l'unique et merveilleuse Cappadoce. Les collines panoramiques, verdoyantes et vallonnées, et les villes balnéaires pittoresques de la région de la mer Noire. Quelle meilleure façon d'explorer les paysages vastes et variés de la Turquie qu'à cheval. Toute la région est une Mecque non seulement pour les cavaliers, mais aussi pour les botanistes et les amoureux de la nature de toutes sortes, avec des sentiers en forêts et en montagnes préservés, et des chemins secrets menant aux plages à couper le souffle !
Weather

QUAND PARTIR A CHEVAL EN TURQUIE

Visitez le site: quand partir en Turquie

La Turquie, de par sa taille, offre une variété de climats. La côte sud jouit d'un climat typiquement méditerranéen, doux l'hiver et chaux l'été. Le centre du pays, est plus continental, avec des hivers enneigés et des températures négatives en hiver. La côte nord longeant la mer Noire, profite d'un climat tempéré, doux, mais plus pluvieux au printemps. L'est du pays bénéficie d'un climat montagnard plus rude, variant de -8 °C l'hiver à quasiment 30 °C en été.
L'hiver: Dans le sud et sur la côte ouest, l'hiver est plutôt doux, avec des températures entre 5 et 15 °C, offrant la possibilité de visiter les sites historiques loin des foules. Les conditions sont plus rudes dans le centre et l'est du pays.
Le printemps est la saison idéale pour visiter la Turquie à cheval. Les températures deviennent plus clémentes, et les hordes de touristes ne sont pas encore arrivées. C'est le moment idéal pour profiter d'Istanbul, qui affiche une moyenne de 10 à 25 °C à cette époque.
L'été est chaud et ensoleillé en Turquie, où que vous soyez. Si vous êtes au bord de la Méditerranée, vous dépasserez les 30 °C. Une période idéale pour se baigner et rester profiter de la plage, mais la foule sera de mise. Visiter la Cappadoce à cheval à cette période est une bonne idée, car la région est en altitude et les températures se rapprochent des 25 °C.
L'automne est l'autre saison idéale pour la randonnée à cheval en Turquie. Encore une fois, les touristes sont moins nombreux et les températures, moins étouffantes dans le sud et près d'Istanbul, variant entre 10 et 25 °C. C'est le moment parfait pour la randonnée à cheval en Cappadoce.
Useful informations

FORMALITES D'ACCES EN TURQUIE:

Ressortissants français, suisses et luxembourgeois: dispensés de visa pour un séjour touristique ne dépassant pas 90 jours. La carte nationale d'identité suffit, mais mieux vaut être muni d'un passeport. Tous 2 doivent être valables au moins 150 jours après la date d'entrée sur le territoire turc. Si vous entrez avec une carte d'identité, la douane vous remet un justificatif que vous devez conserver avec vous en permanence pour le présenter à la sortie du pays.
Attention, depuis le 1er janvier 2014, la validité des cartes nationales d'identité françaises délivrées entre le 1er janvier 2004 et le 31 décembre 2013 est automatiquement prolongée de 5 ans. Mais cette modification n'est pas matérialisée sur le document plastifié, ce qui peut poser des problèmes à l'entrée ou à la sortie du territoire turc. Le ministère français des Affaires étrangères a émis une note, rédigée en turc notamment, qui explique ces nouvelles règles
Les mineurs doivent être munis de leur propre passeport. Pour l'autorisation de sortie de territoire lorsque les enfants ne sont pas accompagnés par un de leurs parents, chaque pays a mis en place sa propre régulation.
Ressortissants Belges et les Canadiens: visa de tourisme est obligatoire. Ce visa, valable pour une durée de 90 jours. Les demandes de visa touristique se font en ligne, en remplissant le questionnaire sur le site evisa.gov.tr. Il n'est plus possible de l'obtenir à l'aéroport. Le passeport doit être valide 6 mois à compter de la date de la 1re entrée en Turquie. Les Belges peuvent utiliser leur carte d'identité pour faire la demande (même durée de validité que pour le passeport). Paiement uniquement par carte Visa ou MasterCard ; 20 $ (environ 18 €) pour les Belges, 60 $ pour les Canadiens. Le visa est envoyé par e-mail, dans un délai de 24h. Mais certains retards ne sont pas à exclure. Mieux vaut donc faire la demande une semaine avant.

Voir les conditions mises à jour sur le site: www.diplomatie.gouv.fr/fr/conseils-aux-voyageurs/conseils-par-pays-destination/turquie/

 
Dates