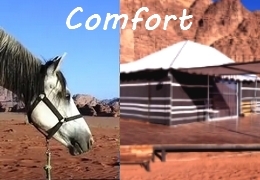 EQUESTRIAN TRIPS IN JORDAN "COMFORT" ACCOMMODATION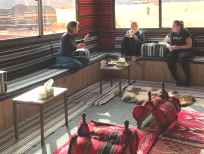 Horseback riding in Jordan with comfortable accommodation:
- 3 nights in comfortable 4* hotels
- 1 night in a luxury camp: Tents with private bathrooms and air conditioning.
- 3 nights in a comfort camp: comfortable Bedouin tents with beds and warm blankets. Common sanitary facilities.
DISCOVER BELOW OUR OFFER OF COMFORTABLE HORSEBACK RIDES IN JORDAN :
Vue en liste
See our rides

January to April / 6 days - 5 nights - 5 days riding in Jordan

A horseback ride in Jordan through the spectacular landscape of the Jodan desert.

A partir de:

1350€

January to June & September to December / 8 days - 7 nights / 5 days riding in Jordan / 1 day & night Dead Sea option

A horseback ride in Jordan through the spectacular landscape of the Jodanian desert, with monuments from another era: a horseback trip through history.

A partir de:

1700€

January to May & September to December / 10 days - 9 nights / 6 days riding in Jordan + Petra, Red Sea & Dead Sea

Horseback riding in Jordan through the desert landscapes of Wadi Rum, Visit of Petra, Red Sea and Dead Sea

A partir de:

1800€
Dates

| Départ | Destination | Titre | From | Infos | Durée |
| --- | --- | --- | --- | --- | --- |
| - | Jordan | JORDAN: PETRA, ON THE LAWRENCE OF ARABIA TRACKS IN THE WADI RUM ON HORSEBACK, DEAD SEA OPTION | 1700€ | | January to June & September to December / 8 days - 7 nights / 5 days riding in Jordan / 1 day & night Dead Sea option |
| - | Jordan | JORDAN: PETRA, ON THE LAWRENCE OF ARABIA TRACKS IN THE WADI RUM ON HORSEBACK, DEAD SEA OPTION | 1700€ | | January to June & September to December / 8 days - 7 nights / 5 days riding in Jordan / 1 day & night Dead Sea option |
| - | Jordan | JORDAN: PETRA, ON THE LAWRENCE OF ARABIA TRACKS IN THE WADI RUM ON HORSEBACK, DEAD SEA OPTION | 1700€ | CONFIRMATION IN PROGRESS | January to June & September to December / 8 days - 7 nights / 5 days riding in Jordan / 1 day & night Dead Sea option |
| - | Jordan | JORDAN: PETRA, ON THE LAWRENCE OF ARABIA TRACKS IN THE WADI RUM ON HORSEBACK, DEAD SEA OPTION | 1700€ | ARRIVAL ON THURSDAY CONFIRMED DEPARTURE | January to June & September to December / 8 days - 7 nights / 5 days riding in Jordan / 1 day & night Dead Sea option |
| - | Jordan | JORDAN: PETRA, ON THE LAWRENCE OF ARABIA TRACKS IN THE WADI RUM ON HORSEBACK, DEAD SEA OPTION | 1700€ | CONFIRMED DEPARTURE | January to June & September to December / 8 days - 7 nights / 5 days riding in Jordan / 1 day & night Dead Sea option |
| - | Jordan | JORDAN, PETRA, WADI RUM HORSEBACK CROSSING, RED SEA & DEAD SEA | 1800€ | | January to May & September to December / 10 days - 9 nights / 6 days riding in Jordan + Petra, Red Sea & Dead Sea |
| - | Jordan | JORDAN: ON THE LAWRENCE OF ARABIA TRACKS IN THE WADI RUM DESERT "LOW COST" | 1350€ | | January to April / 6 days - 5 nights - 5 days riding in Jordan |
| - | Jordan | JORDAN: PETRA, ON THE LAWRENCE OF ARABIA TRACKS IN THE WADI RUM ON HORSEBACK, DEAD SEA OPTION | 1700€ | | January to June & September to December / 8 days - 7 nights / 5 days riding in Jordan / 1 day & night Dead Sea option |
| - | Jordan | JORDAN, PETRA, WADI RUM HORSEBACK CROSSING, RED SEA & DEAD SEA | 1800€ | CONFIRMED DEPARTURE | January to May & September to December / 10 days - 9 nights / 6 days riding in Jordan + Petra, Red Sea & Dead Sea |
| - | Jordan | JORDAN: ON THE LAWRENCE OF ARABIA TRACKS IN THE WADI RUM DESERT "LOW COST" | 1350€ | | January to April / 6 days - 5 nights - 5 days riding in Jordan |
| - | Jordan | JORDAN: PETRA, ON THE LAWRENCE OF ARABIA TRACKS IN THE WADI RUM ON HORSEBACK, DEAD SEA OPTION | 1700€ | | January to June & September to December / 8 days - 7 nights / 5 days riding in Jordan / 1 day & night Dead Sea option |
| - | Jordan | JORDAN, PETRA, WADI RUM HORSEBACK CROSSING, RED SEA & DEAD SEA | 1800€ | | January to May & September to December / 10 days - 9 nights / 6 days riding in Jordan + Petra, Red Sea & Dead Sea |
| - | Jordan | JORDAN: ON THE LAWRENCE OF ARABIA TRACKS IN THE WADI RUM DESERT "LOW COST" | 1350€ | | January to April / 6 days - 5 nights - 5 days riding in Jordan |
| - | Jordan | JORDAN: PETRA, ON THE LAWRENCE OF ARABIA TRACKS IN THE WADI RUM ON HORSEBACK, DEAD SEA OPTION | 1700€ | | January to June & September to December / 8 days - 7 nights / 5 days riding in Jordan / 1 day & night Dead Sea option |
| - | Jordan | JORDAN, PETRA, WADI RUM HORSEBACK CROSSING, RED SEA & DEAD SEA | 1800€ | | January to May & September to December / 10 days - 9 nights / 6 days riding in Jordan + Petra, Red Sea & Dead Sea |
| - | Jordan | JORDAN: ON THE LAWRENCE OF ARABIA TRACKS IN THE WADI RUM DESERT "LOW COST" | 1350€ | | January to April / 6 days - 5 nights - 5 days riding in Jordan |
| - | Jordan | JORDAN: PETRA, ON THE LAWRENCE OF ARABIA TRACKS IN THE WADI RUM ON HORSEBACK, DEAD SEA OPTION | 1700€ | | January to June & September to December / 8 days - 7 nights / 5 days riding in Jordan / 1 day & night Dead Sea option |
| - | Jordan | JORDAN, PETRA, WADI RUM HORSEBACK CROSSING, RED SEA & DEAD SEA | 1800€ | | January to May & September to December / 10 days - 9 nights / 6 days riding in Jordan + Petra, Red Sea & Dead Sea |
| - | Jordan | JORDAN: ON THE LAWRENCE OF ARABIA TRACKS IN THE WADI RUM DESERT "LOW COST" | 1350€ | | January to April / 6 days - 5 nights - 5 days riding in Jordan |
| - | Jordan | JORDAN: PETRA, ON THE LAWRENCE OF ARABIA TRACKS IN THE WADI RUM ON HORSEBACK, DEAD SEA OPTION | 1700€ | CONFIRMED DEPARTURE | January to June & September to December / 8 days - 7 nights / 5 days riding in Jordan / 1 day & night Dead Sea option |
| - | Jordan | JORDAN, PETRA, WADI RUM HORSEBACK CROSSING, RED SEA & DEAD SEA | 1800€ | | January to May & September to December / 10 days - 9 nights / 6 days riding in Jordan + Petra, Red Sea & Dead Sea |
| - | Jordan | JORDAN: ON THE LAWRENCE OF ARABIA TRACKS IN THE WADI RUM DESERT "LOW COST" | 1350€ | | January to April / 6 days - 5 nights - 5 days riding in Jordan |
| - | Jordan | JORDAN: PETRA, ON THE LAWRENCE OF ARABIA TRACKS IN THE WADI RUM ON HORSEBACK, DEAD SEA OPTION | 1700€ | CONFIRMED DEPARTURE | January to June & September to December / 8 days - 7 nights / 5 days riding in Jordan / 1 day & night Dead Sea option |
| - | Jordan | JORDAN, PETRA, WADI RUM HORSEBACK CROSSING, RED SEA & DEAD SEA | 1800€ | | January to May & September to December / 10 days - 9 nights / 6 days riding in Jordan + Petra, Red Sea & Dead Sea |
| - | Jordan | JORDAN: ON THE LAWRENCE OF ARABIA TRACKS IN THE WADI RUM DESERT "LOW COST" | 1350€ | | January to April / 6 days - 5 nights - 5 days riding in Jordan |
| - | Jordan | JORDAN: PETRA, ON THE LAWRENCE OF ARABIA TRACKS IN THE WADI RUM ON HORSEBACK, DEAD SEA OPTION | 1700€ | | January to June & September to December / 8 days - 7 nights / 5 days riding in Jordan / 1 day & night Dead Sea option |
| - | Jordan | JORDAN, PETRA, WADI RUM HORSEBACK CROSSING, RED SEA & DEAD SEA | 1800€ | | January to May & September to December / 10 days - 9 nights / 6 days riding in Jordan + Petra, Red Sea & Dead Sea |
| - | Jordan | JORDAN: ON THE LAWRENCE OF ARABIA TRACKS IN THE WADI RUM DESERT "LOW COST" | 1350€ | | January to April / 6 days - 5 nights - 5 days riding in Jordan |
| - | Jordan | JORDAN: PETRA, ON THE LAWRENCE OF ARABIA TRACKS IN THE WADI RUM ON HORSEBACK, DEAD SEA OPTION | 1700€ | CONFIRMED DEPARTURE | January to June & September to December / 8 days - 7 nights / 5 days riding in Jordan / 1 day & night Dead Sea option |
| - | Jordan | JORDAN, PETRA, WADI RUM HORSEBACK CROSSING, RED SEA & DEAD SEA | 1800€ | | January to May & September to December / 10 days - 9 nights / 6 days riding in Jordan + Petra, Red Sea & Dead Sea |