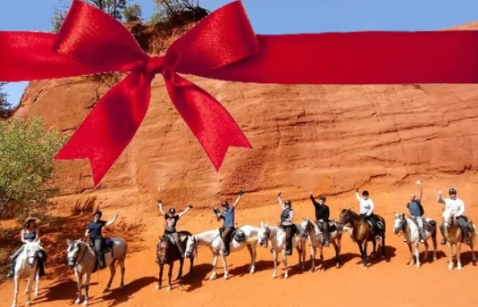 Offer a gift card for a specific horse riding program. A gift check for the amount of your choice or open a gift account.
1. Choose between a "gift card" by paying and offering the stay of your choice. A "gift check" for the amount of your choice or the opening of a "gift account" to be used on the stay that the beneficiary will choose.

2. Order your gift card which will be valid until December 31, 2022, your gift check with no date limit, or make a first payment by requesting the opening of a gift account on the secure payment site: https://jepaieenligne.systempay.fr/CAP_RANDO.
Payments are guaranteed by our travel agent deposit. Gift vouchers, checks and gift accounts are not refundable but beneficiary may change.
Specify:
- your contact details, your email address to which you will receive the card, the check, the account link;
- the amount paid;
In the "accompanying message" section:
- "gift card for the stay (entitled)", "gift check" or "gift account";
- the number of beneficiaries, their names and first names;
- the type of accommodation desired.
As soon as payment is made, you will receive an email confirming payment and we will receive an order and payment email.
You will automatically receive the gift card, the gift check and the link to the gift account within 24 hours at the e-mail address you have provided.

After receiving the gift, the beneficiary will only have to contact us to choose their stay and the date depending on availability.