On horseback in Romania ! Travel on horseback through Romania, in Transylvania and in the Carpathians. Active trail rides through vast green fields, in the mountains to discover breathtaking views, and discovering the rich history of Romania during your horseback riding. Transylvania, a region of mountains and forests, is home to abundant wildlife, and enchants with its traditions and hospitality. On your horseback ride in Romania, the tranquility will take you back to a time before the modern bustle. Agriculture is particularly respectful of the environment: horses still plow the fields and are more numerous than motor vehicles! In Romania: forget the stress of modern life !
Body

Live a memorable winter equestrian experience in Romania, Transylvania enjoying the comfort of a guest house for the week, located in the middle of hills and meadows. On horseback morning and afternoon, with a hot lunch at noon to warm you up in front of the fireplace. Horse riding in powder snow: an unforgettable experience !

Horseback riding in Romania: a stationaty trail ride in the Carpathian mountains, in the virgin nature of Central and Eastern Europe. Wolves, bears and lynx roam these impressive mountains. Time seems to have stood still here: shepherds take their herds up the mountains as they have done for centuries and in the evening cows and buffaloes are brought back from the pastures to the village. Hoopoes, bee-eaters, black storks or eagles are numerous there and the region is incredibly rich in multicolored flowers. The hundred-year-old forests are wild and magnificent !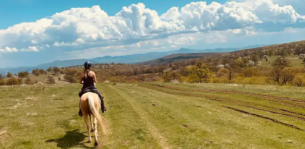 Romania on horseback: Transylvania is an ideal region for horseback riding! This horseback ride of almost 200 km, makes you explore the hills, the meadows, and the medieval villages. The ride starts at the southern end of Transylvania and explores the southeast of this mysterious land. A great loop to discover rural areas, with tens of thousands of sheep grazing in the hills, and abundant birdlife: spotted eagles, bee-eaters, hoopoes... You discover many vestiges of medieval culture with fortified churches, some of which are 800 years old.