Horseback Riding in Romania: Live a memorable winter horseback riding experience in Transylvania enjoying the comfort of a guest house, your base for the week, located among hills and meadows. On horseback in the morning and then in the afternoon, with a hot lunch to warm you up based on organic meals. Horse riding in powder snow: an unforgettable experience!
A memorable winter riding experience in Romania, Transylvania. Relax and enjoy the cozy comfort of your guest house as your base for the week, set among rolling hills and meadows on the edge of the village of Sinca Noua. Go horseback riding in the morning and again in the afternoon, with a break over a hot lunch to warm you up. Savor organic meals from own production and from surrounding local farms. The Carpathian Mountains are not spared from climate change, but so far the period between mid-January and mid-February is still quite safe when it comes to snowfall and riding in powder snow is a unforgettable experience.
Image programme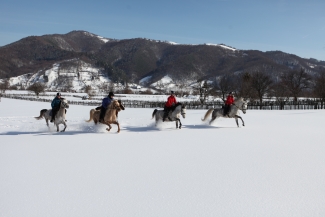 Programme intro
HORSEBACK TRAIL RIDE IN ROMANIA
Indicative itinerary *
Day 1 - Saturday: Arrival in Bucharest in the afternoon, transfer by minibus from Bucharest to the equestrian center, night at the guesthouse, presentation of the week program and dinner.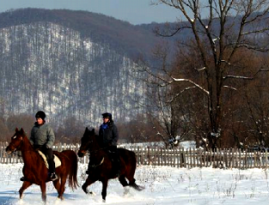 Day 2 & 3 - Sunday & Monday: On horseback in the snow. The first two days you ride 2-3 hours in the morning and 2-3 hours in the afternoon. In the meantime, you return to the guesthouse for a hot lunch and warm up in front of the fireplace. Cantering in the snow is one of the most beautiful experiences. (Although snow cannot be guaranteed, it is still very likely that there will be fine powder throughout January and February). In the evening, you have time to relax with a homemade liqueur or brandy in front of the fireplace, have a drink at the bar, or watch video presentations on your hosts' research and conservation projects.
Day 4 - Tuesday: Rest for the horses, history of Transylvania. Today is a break for horses and riders so they can learn about the history of Transylvania. The group usually decides to visit Bran Castle (called Dracula's Castle) and the old town of Brasov, or Sibiu (European Cultural Capital in 2007, or some of the small medieval villages in Transylvania.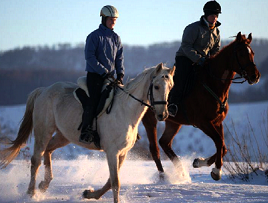 Day 5, 6 and 7 - Wednesday to Friday: Winter rides. You leave for a morning and an afternoon through the hills, forests and meadows around Sinca Noua. You are very likely to come across traces of wolves, lynx or red deer and with a bit of luck you may also see some of the inhabitants of the Carpathian forest. The evenings are spent in the comfortable guesthouse. 
Day 8 - Saturday: After breakfast, transfer to Bucharest.
* Indicative itinerary subject to modifications if necessary.
MEETING:
Saturday afternoon at the equestrian center. Free transfer from Bucharest Otopeni airport at 4:30 p.m. 3h drive to the equestrian center.
DEPARTURE:
Saturday after breakfast. At 9 am: departure of the free transfer to Bucharest airport. 3h drive: don't book flight before 2 pm.
FLIGHTS:
Flights to Romania are not included because it is more interesting to book your ticket, an inclusive transport package is generally more expensive with agency commissions. However, we are at your disposal to help you find the best rates or offer you a trip including transport on request.
RIDING LEVEL: 


You must be comfortable at all paces (walk - trot - canter - gallop) outdoors.

RYTHM:
5 days with about 5 hours on horseback per day (2-3 hours in the morning and afternoon), with a 1 hour lunch break. A day of rest and visits.

GROUPS:
2 to 6 riders.

GUIDE & TEAM:
One or two English speaking guides depending on the group size.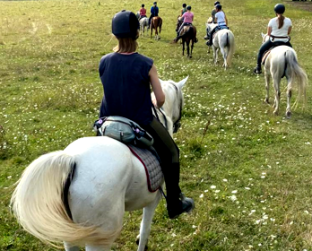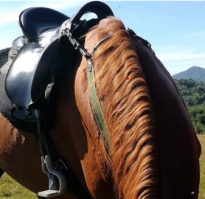 HORSES: 
Arabs, Shagya-Arabs, Kisberi (Hungarian saddle horse), Gidran (Anglo-Arab from Hungary). Their size varies from the small and slender Arabian horse, to the larger thoroughbred. The majority are of medium size. They all have good stamina and are used to hilly and partly rough terrain. They are all volunteers and happy to work. Horses live in herds.

TACK:
Comfortable endurance saddles with wide plastic stirrups. The saddles are suitable for long hours riding at fast paces.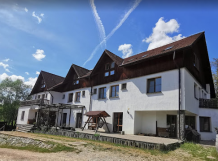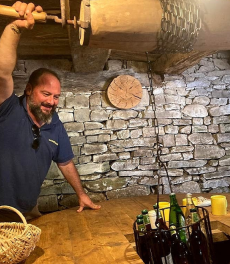 ACCOMMODATION: 


In 2-3 people bedroom at the equestrian center. Single bedroom available with supplement.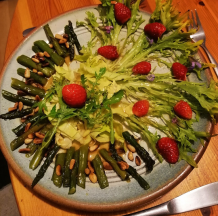 MEALS:
Lucnches and dinners are taken at the accommodation: local and varied cuisine, often organic. Breakfast with bread, cheese, ham, jam, fruit and fruit juice. Drinks are included during meals.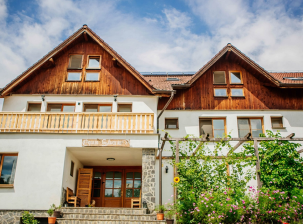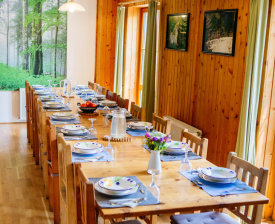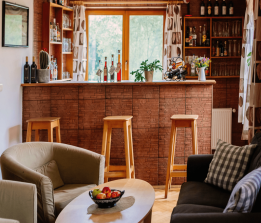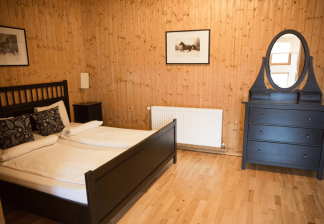 Infos tarif
2024 PRICE / PER PERSON:
1150 € in 2-3 people bedrooms.
Single bedroom supplement: 105 €
Application fee: €15.
THE PRICE INCLUDES:
The rides described, the equipped horse rental, the guides, the full board accommodation, the drinks during the meals, the transfers from/to Bucharest airport at the fixed times, the financial guarantee of your payments by our travel operator deposit.
THE PRICE DOESN'T INCLUDE:
Individual insurance, extra drinks, any supplement for departures with less than 7 riders, tips, personal expenses, visits not described in the program, flights, application fees, everything is not indicated in "the price includes".
INSURANCE:
A civil liability and travel insurance (assistance/repatriation) are compulsory. A cancellation insurance is strongly recommended.
A payment by credit card can make you benefit from its possible insurance (check your contract).
We offer to Europe Union, Switzerland, Liechtenstein, Norway residents: the Chapka insurances.
Cap Security: full insurance with cancellation. Cap Cancellation: cancellation only.
See prices & information
FLIGHTS :
Flights to Romania are not included because it is more interesting to book your ticket, a transport package included sometimes costs more with agency commissions. However, we are at your disposal to help you find the best rates (free service) or to offer you a transport trip included on request.
How to book
HOW TO BOOK :
By booking with Cap Rando, you get the benefit of the French travel agency law, one of the strictest in the world: an unlimited financial guarantee for all your payments !

BOOKING PROCEDURE:
1. CHECK THE AVAILABILITY, PRICE, DISCOUNT:
Check the availability and price (depending on the type of accommodation and after possible discounts) by contacting us through the availability & quote request form or by phone +33 (0)483431321, whatsapp +33(0)609520324, or e-mail: contact@horsebackridingvacations.eu
If you already have received the confirmation of the availability and the price, you can proceed directly to your booking:

2. BOOKING:
Fill out the online registration form: https://www.horsebackridingvacations.eu/form/booking-form
If you are registering and paying for several riders, you can add riders on the form.
If you have difficulty with the online form or if you prefer:
- Download the Excel file
- Download the Open Office file
To be completed, saved on your computer, and sent by email as an attachment.

3. INSURANCES:
Cap Rando is covered for its professional civil liability: GENERALI contract n ° AL974010.
To register on a Cap Rando holiday, you must be covered by an individual liability insurance covering your activity, individual accident, assistance, repatriation, and possibly cancellation (strongly recommended not to lose your payment in case of cancellation for a reason covered by a cancellation insurance).
We offer to Europe Union & Switzerland citizens (only) to subscribe the "Cap Security" insurance from Chapka Insurance. This covers you for cancellation, interruption of stay, individual accident, assistance 24h / 24h, repatriation, medical expenses abroad, luggage insurance, civil liability. You can also only subscribe a "Cap Cancellation" cancellation insurance if you have insurance covering other risks. 
See all information about our cancellation policy and Chapka insurance offer.
For non Europe Union citizens: if you pay by credit card, depending on your card, you may be fully covered: check your contract.
The US citizens can subscribe directly an insurance for instance on: https://www.axatravelinsurance.com/

4. PAYMENT:
- For a stay starting at more than 60 days: It is requested at registration: 30% of the price of the stay, the payment of the insurance possibly subscribed, the transport possibly requested, the booking fees. The balance is to be paid 60 days before the start date of the stay.
- For a stay starting at less than 60 days: Full payment is requested upon registration.
- For a stay starting at less than 21 days: Full payment by credit card or instant transfer is requested upon registration.
- If these are the last places available: Payment by credit card or instant transfer is requested.
You can pay:
- By credit card on our secure payment website: You will be directed to the payment link after completing the online booking form.
- By bank transfer: Our bank information will be sent to you after reception of your booking form.
Your payments are guaranted by our GROUPAMA travel agent bond.
If you book a trip through Cap Rando, you have the guarantee not to loose any payment. 
The French law is the strongest and requires all French travel agencies to have an unlimited financial guarantee for their customers in case of financial failure.

5. CONFIRMATION:
You will receive a confirmation file and contract with the invoice and all practical information within 24 hours after reception of your registration form and payment.

6. CANCELLATION POLICY:
See the cencellation policy: cancellation conditions.
Please note: Any stay may be canceled in the event of insufficient bokkings to ensure the stay up to 21 days before the starting date. In this case, a replacement stay may be offered to you, if it does not suit you: full refund is guaranteed without compensation. We advise you to book refundable transports.