Type
Comfort
Level
Duration
8 days - 7 nights - 6 days riding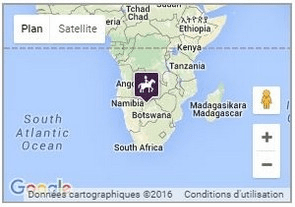 Run with the wildebeest. Splash through the wetlands. Canter across the open plains. It's a safari like no other.
This epic adventure takes you to the heart of Botswana's Okavango Delta, one of Africa's great wildlife habitats. Home to elephant, hippo, leopard, lion, giraffe and wild dog, this is your chance to see some of the world's most endangered species. And you'll be riding right alongside them – on horseback.
Your days begin at sunrise, when the temperatures are cooler and the animals are most active. Your guide will decide the day's route based on game sightings, water levels and guest preferences. One morning you could be tracking buffalo across the grassy plains. Another you could be watching a cackle of hyenas enjoy their prey.
You'll return to camp for lunch and a leisurely afternoon. Your accommodation is a luxurious bush haven, set against the backdrop of the flood plains. Enjoy a dip in the plunge pool, take a siesta in a hammock, or grab a pair of binoculars and gaze across the delta. You never know what you might see.
Following afternoon tea, it's time to saddle up once again. Now you'll explore at a more gentle pace, taking the opportunity to watch, listen and learn from your guide. Your horse will graze happily as you observe the wildlife – whether it's an elephant towering overhead, or a family of hippo snorting as they surface from the watery depths.
Just like everything else in the Okavango Delta, you'll move to the rhythm of the seasons. The floods in April and May fill the Okavango River until it spreads across the floodplains. This adds to the fun, as riders enjoy 'splashy' canters through the reeds. During the dry season, the terrain is firm and dry, allowing you to venture further through the mopane woodlands.
Even non-riders will appreciate the majesty of Africa's last Eden, and can fill their days with boat trips, makoro (canoe) trips and game drives.
This is truly the adventure of a lifetime.
OUR SAFARIS ARE SELECTED BY OUR PARTNER "IN THE SADDLE" IN UK
THEY ARE SPECIALIZED  AND SELECT THE BEST HORSE RIDING SAFARIS

You can see all the information about this safari in English:
https://www.inthesaddle.com/rides/macatoo/

UK citizens can contact directly In the Saddle agency.
We offer this safari to our riders, citizens of other countries, at a preferential rate, contact us.