A horseback trail ride in Brazil in breathtaking landscapes, between wild mountain peaks and canyons with many waterfalls for refreshing swimmings during the rides.
A tribute to the greatness of the gaucho's soul and his love of the horse. Don't conceive of a gaucho without his horse. "It is the horse that leads the way, and with a horse you blend into the" Rio Grande do Sul ". It is around the fire that the gaucho welcomes visitors with a chimarrão (a typical hot drink made from erva-mate).
Image programme
Programme intro
HORSEBACK RIDING TRAIL RIDE IN BRAZIL
INDICATIVE ITINERARY *
Day 1: Meeting at Porto Alegre airport and transfer (5 hours) to the Sao Jose dos Ausentes ranch. You arrive in the lands of southern Brazil and you are welcomed in a typical Fazenda (ranch) with the hospitality and good food of the Gauchos. After tasting a local drink (made with cachaça and fruit), you are introduced to Edinaira who will guide you throughout your stay. Dinner and overnight at Fazenda Potreirinhos, a traditional Brazilian farmhouse.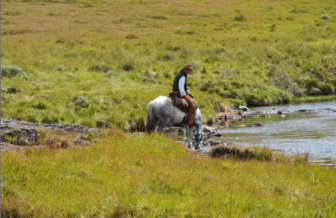 Day 2: After breakfast, you meet the Criollo horses and start your horseback riding to discover the Cachoeirão region with a series of very impressive waterfalls. Then you head to the "rivers gap": you ride between two rivers that run along each other at different levels. Then you continue on horseback through landscapes of rolling fields, which stretch as far as the eye can see. Dinner and overnight at Fazenda Potreirinhos. About 5 hours on horseback.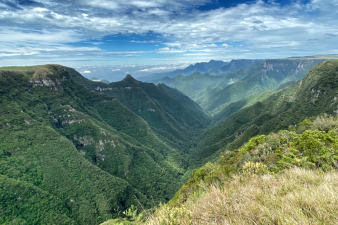 Day 3: After a good breakfast, you leave for a long day on horseback. You cross an area of rare beauty, in typical Campos de Cima da Serra landscapes, which highlight the grandeur of the Araucarias forest, until you arrive at the Lopes family farm, which produces the the most famous mountain cheese from southern Brazil. Produced by the family for three generations and nationally recognized. You continue the ride to the Tio Tonho farm, where you will spend the next nights. About 6 hours on horseback.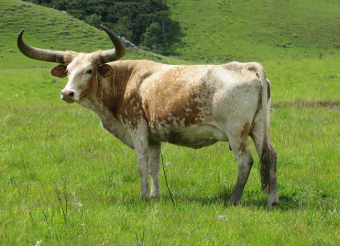 Day 4: After breakfast, you leave for a special moment: the passage through Pico do Monte Negro, which at 1,403 m above sea level, is the highest point of Rio Grande do Sul. At this height, with a horizon of majestic landscapes, one can only be swept away by a unique feeling of freedom. For lunch, weather permitting: a barbecue in the countryside with a spectacular view. 4 to 5 hours on horseback.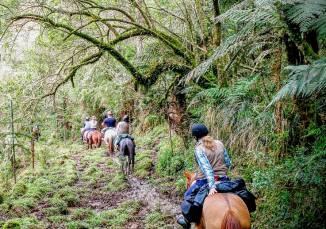 Day 5: You leave after breakfast, traveling through the canyons, fields and forests of the region, suddenly interrupted by impressive rock faces reaching 1000 meters in depth and forming a corridor of rocks from the northeast of the state to Santa Catherine. Your lunch will be in a typical farm of the region. About 4 hours on horseback.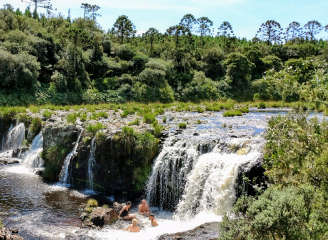 Day 6:  After a delicious breakfast we meet our horses and start another full day ride on rolling hills (coxilhas), reaching some of the impressive canyons of the area.  We will ride traversing fields and forests. covering an area of outstanding beauty, in typical scenarios of Campos de Cima da Serra. In the afternoon returning to the farm we may see the mysterious fogs (called viracão by the locals), drift in. Around 5 hours on horseback.
Day 7: After a delicious breakfast , transfer – 3 hous to Porto Alegre
* The itinerary can change due to weather conditions and availability on the ranches.
MEETING:
Day 1 afternoon: free transfer at 3 pm from Porto Alegre airport.

DEPARTURE: 
Day 7 morning after breakfast: free transfert to Porto Alegre airport. Book a flight after 3 pm.

FLIGHTS:
Flights to Brazil are not included, as it is more interesting to book flights separately instead of paying agency commission on a full package. We are however at your disposal to help you find the best rates.
RIDING LEVEL:


To enjoy this ride, you must be comfortable with the three paces outdoors: walk, trot, canter. You ride at a walk, trot and canter. The pace of the ride varies from walk on the narrow forest trails and going up and down hills, to a faster pace /canter, where the terrain allows.
Maximum weight: 100 kg. Minimum age: 12 years accompanied by an adult.

RYTHM:
5 to 6 hours on horseback per day on average. The pace of the ride varies from walk, on narrow forest and forest trails, and to trotting and galloping as soon as the terrain permits.

GUIDES:
You will be accompanied by an English speaking guide and a local guide. Both guides have good knowledge of the local area.

GROUPS:
2 to 10 riders + guides.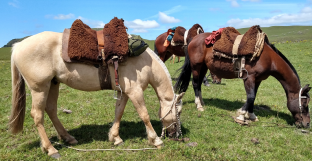 HORSES: 
Criollos and cross Criollos horses. "Professional" trail ride horses, safe and balanced. The horses are well mannered, forward going, sure footed and very obedient. The horses respond to neck reining and are used to a loose rein wherever possible.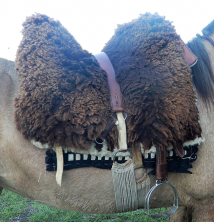 TACK:
The saddles used on this ride are typical gaúcho saddles, with ship skin on top, very confortable. The horses respond to neck reining and are used to a loose rein wherever possible.
ACCOMMODATION:

 
In pousadas, farmhouses in Brazil, in simple comfort rooms. One night in more rustic cabins.: Estancia Tio Tonho - Fazenda Potreirinhos.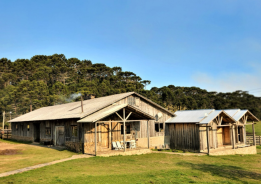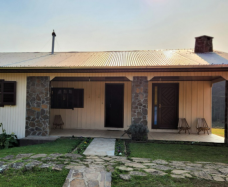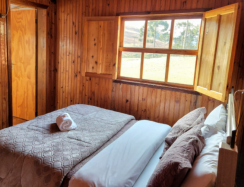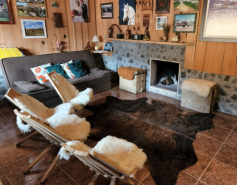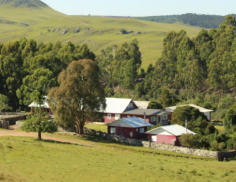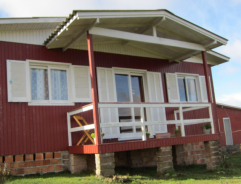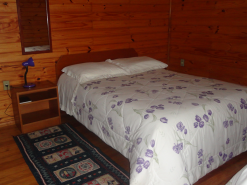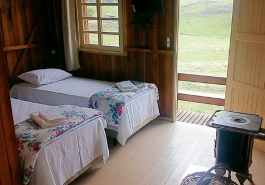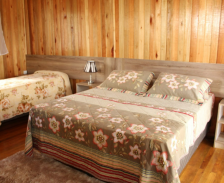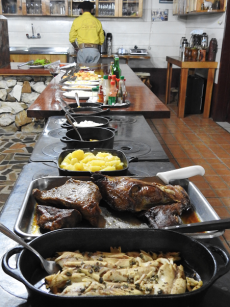 MEALS: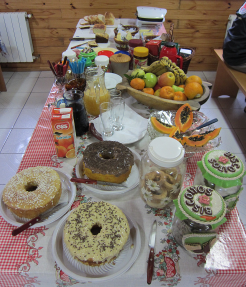 The meals are typical and varied, Brazilian cuisine. At noon, some meals are taken in small local restaurants, or picnics are taken from the saddlebags.

LUGGAGE TRANSFERS: 
By assistance vehicle.
Infos tarif
2023 PRICE / PER PERSON *:
2400 € in 2 person bedroom
single bedroom supplement: 250 €
Booking fees: 15 €
* The price is calculated on the basis of $, so it can vary up or down at the time of your reservation.
THE PRICE INCLUDES:
Horse rental, guide, accommodation, meals, return transfers from / to Porto Alegre airport at set times, booking fees, financial guarantee of your payments by our travel agency deposit.
THE PRICE DOESN'T INCLUDE:
Individual insurance, tips, personal expenses, drinks, possible visits, flights to Brazil, all that is not indicated in "the price includes".
How to book
HOW TO BOOK :
By booking with Cap Rando, you get the benefit of the French travel agency law, one of the strictest in the world: an unlimited financial guarantee for all your payments !

BOOKING PROCEDURE:
1. CHECK THE AVAILABILITY, PRICE, DISCOUNT:
Check the availability and price (depending on the type of accommodation and after possible discounts) by contacting us through the availability & quote request form or by phone +33 (0)483431321, whatsapp +33(0)609520324, or e-mail: contact@horsebackridingvacations.eu
If you already have received the confirmation of the availability and the price, you can proceed directly to your booking:

2. BOOKING:
Fill out the online registration form: https://www.horsebackridingvacations.eu/form/booking-form
If you are registering and paying for several riders, you can add riders on the form.
If you have difficulty with the online form or if you prefer:
- Download the Excel file
- Download the Open Office file
To be completed, saved on your computer, and sent by email as an attachment.

3. INSURANCES:
Cap Rando is covered for its professional civil liability: GENERALI contract n ° AL974010.
To register on a Cap Rando holiday, you must be covered by an individual liability insurance covering your activity, individual accident, assistance, repatriation, and possibly cancellation (strongly recommended not to lose your payment in case of cancellation for a reason covered by a cancellation insurance).
We offer to Europe Union & Switzerland citizens (only) to subscribe the "Cap Security" insurance from Chapka Insurance. This covers you for cancellation, interruption of stay, individual accident, assistance 24h / 24h, repatriation, medical expenses abroad, luggage insurance, civil liability. You can also only subscribe a "Cap Cancellation" cancellation insurance if you have insurance covering other risks. 
See all information about our cancellation policy and Chapka insurance offer.
For non Europe Union citizens: if you pay by credit card, depending on your card, you may be fully covered: check your contract.
The US citizens can subscribe directly an insurance for instance on: https://www.axatravelinsurance.com/

4. PAYMENT:
- For a stay starting at more than 60 days: It is requested at registration: 30% of the price of the stay, the payment of the insurance possibly subscribed, the transport possibly requested, the booking fees. The balance is to be paid 60 days before the start date of the stay.
- For a stay starting at less than 60 days: Full payment is requested upon registration.
- For a stay starting at less than 21 days: Full payment by credit card or instant transfer is requested upon registration.
- If these are the last places available: Payment by credit card or instant transfer is requested.
You can pay:
- By credit card on our secure payment website: You will be directed to the payment link after completing the online booking form.
- By bank transfer: Our bank information will be sent to you after reception of your booking form.
Your payments are guaranted by our GROUPAMA travel agent bond.
If you book a trip through Cap Rando, you have the guarantee not to loose any payment. 
The French law is the strongest and requires all French travel agencies to have an unlimited financial guarantee for their customers in case of financial failure.

5. CONFIRMATION:
You will receive a confirmation file and contract with the invoice and all practical information within 24 hours after reception of your registration form and payment.

6. CANCELLATION POLICY:
See the cencellation policy: cancellation conditions.
Please note: Any stay may be canceled in the event of insufficient bokkings to ensure the stay up to 21 days before the starting date. In this case, a replacement stay may be offered to you, if it does not suit you: full refund is guaranteed without compensation. We advise you to book refundable transports.
GUEST REVIEWS
Calcedonio (Belgium) - January 2023
Everything was perfect:
Team, organization, horses, accommodation ... and Cap Rando services !
A video of my great experience worth more than written comments: