Go on a long weekend on horseback in the interior of the Costa Brava. Three full days of riding and nature: Thursday, Friday and Saturday. We invite you to relax for three days to explore the varied landscapes of Catalonia and the Costa Brava, with its medieval villages, castles, abbeys and churches steeped in history. This weekend is a balance between horseback riding, discovery of beautiful landscapes, and relaxation.
Image programme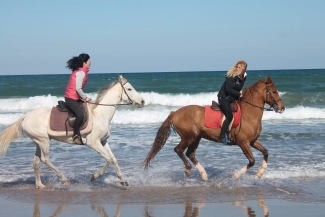 Programme intro
HORSEBACK TRAIL RIDE IN CATALUNIA
INDICATIVE ITINERARY *
Day 1 - Welcome ! In the evening upon, you arrive at the equestrian farm of Can Grau. The country cottage, name is « Masia » in Catalan language, is located in the Empordá region in the middle of nature, hidden from busy people and curious. It is a more than two hundred years antic Catalan farmhouse converted into a rural guest house for tourism and horseback activities. After a homemade cooked dinner we will explain the program and we will talk about the characteristics of our crossed horses of Spanish and Arabic, the best of each breed. You also will have the opportunity of an individualized one-to-one conversation designed to find the ideal horse for each rider.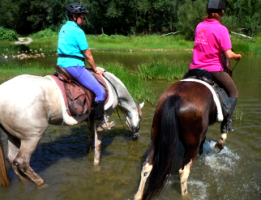 Day 2: Ter River, El Montgrí, Gola de Ter. Today is a beautiful day on horseback. The entire route crosses a landscape that combines cultivated fields, which cut into the clearings of the poplar forest on the banks of the Ter river, with small scattered human settlements integrated into the landscape. Crossing fields of mosaics, you enjoy beautiful gallops. For lunch, you stop by the river in a grove, near the pretty village of Verges. As you continue on horseback for the second part of the day, you follow the path to Torroella de Montgr and then follow the river again until you reach the sea. On horseback through the natural areas of La Gola del Ter, La Platera or El Ter Vell, you can enjoy fantastic landscapes. At Fonollera beach, the river forms a lagoon and enters the sea, facing the Medes Islands.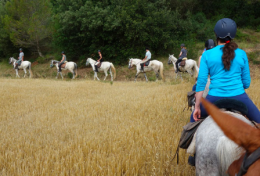 Day 3: Torroella, El Montgrí, Sant Marti d'Empuries. You retrace yesterday's path, skirting the river Ter to Torruella, where you cross it and then continue into the Montgrí Massif, with its imposing castle dominating the valley. In the upper pine forest you will have the picnic of the day whilst we enjoy an unbeatable view. Then you will descend gently to L'Escala, passing the Hotel Masia: an old mill where you will spend the night, up until Sant Martí d'Empúries, elevated on a mound from where you can see the old Greek pier.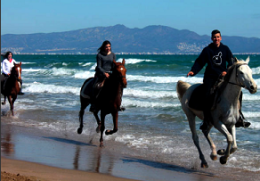 Day 4: The second beach, Valveralla lake, Sant Mori, Llampaies ! You go on horseback at a trot for 1 km, until you reach the sand. You have in front of you, the long curve of the golf of Roses: eight kilometers of golden sand. In the wet sand you enjoy exciting gallops and trots. After the cavalcade on the beach, you return inland, following the Fluvià River, passing an ornithological reserve where you can see flocks of migratory birds. Coffee break in Sant Pere Pescador. You leave on flat ground, with many plantations of apples, pears, peaches and rice fields. At lunch, you arrive at Lake Valveralla where you wet the legs of the horses to remove the salt, and you have a hearty picnic. In the afternoon, you continue the ride: a combination of paths and forest trails. Every moment you see another beautiful village, a castle, a church, arcades, a tunnel, old wooden and wrought iron doors, the beauty of the stone of the past. In the afternoon, you arrive at the equestrian center, the starting and finishing point of your hike.
Day 5: Adios ! End of your stay after breakfast and departure.
* Indicative program that can be modified if necessary.
MEETING: 
Day 1 directly at your accommodation between 5 and 8 pm.
Paid transfer from Girona airport at 7:30 p.m., from Barcelona airport at 6 p.m.

DEPARTURE: 
The morning of day 5 after breakfast. Transfer to Girona airport (arrival around 10 a.m.), or Barcelona airport (arrival around 11:30 a.m.).

TRANSFER PRICES:
Gerona round trip: 60 € per person.
Barcelona round trip: 100 € per person.
Transfers are payable locally.

FROM BARCELONA TO GERONA:
Bus www.sagalesairportline.com or train: www.renfe.com . You can book a private car transfer: 240 € / per car / per transfer.

CAR RENTAL:
We recommend a car rental, particularly cheap in Spain, on www.autoeurope.fr 

FLIGHTS:
Flights are not included in our prices because it is generally more interesting to book your flights yourself, an inclusive flight package is generally more expensive with agency commissions. However, we are at your disposal to help you find the best rates or to offer you a trip including transport on request: free service.
RIDING LEVEL: 


You must be confident at the three paces (walk, trot, canter) ourdoor. Minimum age: 9 years old if good rider.

RIDING TIMES:
About 4-6 hours per day.

GROUP SIZE:
Maximum 10-11 riders. 

GUIDE: 
Professional licensed guide. The guide speaks Spanish, English, French, German.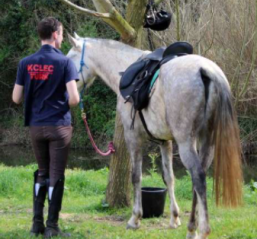 HORSES:
Trail ride horses, crossed Spanish and Arabian.

TACK: 
English saddles equiped with saddle bags.
ACCOMMODATION: 


In comfortable rooms in hotels and bed and breakfasts.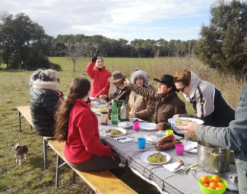 MEALS: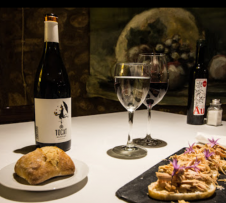 In the evening, dinners are served in your accommodation with local produce. At noon, copious picnics are prepared by an assistant. Wine is included with meals.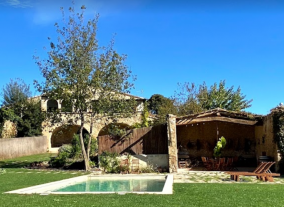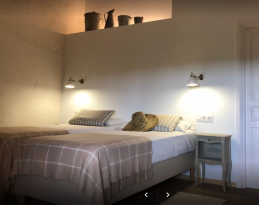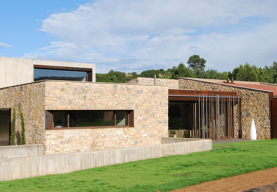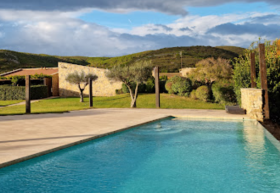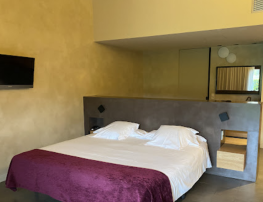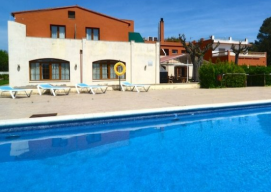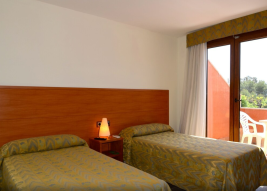 Infos tarif
2023 PRICE / PER PERSON:
In 2 or 3 person bedroom: 970 €
Single room supplement: 150 €.
Booking fees: 15 €
TRANSFER PRICES:
Return transfers from Girona airport: 60 € per person
Transfers to/from Barcelona airport: 100 € per person
Transfers to be paid directly on site.
THE PRICE INCLUDES: 
Horse and tack rental, guide, assistant preparing the meals, accommodation, all meals, 1 drink per meal, the financial guarantee of your payments by our travel operator deposit.
THE PRICE DOESN'T INCLUDE: 
Individual insurance, transfers from/to Gerona or 
Barcelona airport
, additional drinks, visits and personal expenses, tips, local taxes to pay locally (1€ / night), anything not indicated in "the price includes".
INSURANCE (if you don't already have one):
We offer to Europe Union citizens (only) Chapka insurances:
Cap Security: full insurance with cancellation. Cap Cancellation: cancellation only.
See prices & information
FLIGHTS:
Flights to Spain are not included because it is more interesting to book directly your ticket: a transport package included is generally more expensive with agency commissions. However, we are at your disposal to help you find the best prices or to offer you a flight included package on request (free service).
How to book
HOW TO BOOK :
By booking with Cap Rando, you get the benefit of the French travel agency law, one of the strictest in the world: an unlimited financial guarantee for all your payments !

BOOKING PROCEDURE:
1. CHECK THE AVAILABILITY, PRICE, DISCOUNT:
Check the availability and price (depending on the type of accommodation and after possible discounts) by contacting us through the availability & quote request form or by phone +33 (0)483431321, whatsapp +33(0)609520324, or e-mail: contact@horsebackridingvacations.eu
If you already have received the confirmation of the availability and the price, you can proceed directly to your booking:

2. BOOKING:
Fill out the online registration form: https://www.horsebackridingvacations.eu/form/booking-form
If you are registering and paying for several riders, you can add riders on the form.
If you have difficulty with the online form or if you prefer:
- Download the Excel file
- Download the Open Office file
To be completed, saved on your computer, and sent by email as an attachment.

3. INSURANCES:
Cap Rando is covered for its professional civil liability: GENERALI contract n ° AL974010.
To register on a Cap Rando holiday, you must be covered by an individual liability insurance covering your activity, individual accident, assistance, repatriation, and possibly cancellation (strongly recommended not to lose your payment in case of cancellation for a reason covered by a cancellation insurance).
We offer to Europe Union & Switzerland citizens (only) to subscribe the "Cap Security" insurance from Chapka Insurance. This covers you for cancellation, interruption of stay, individual accident, assistance 24h / 24h, repatriation, medical expenses abroad, luggage insurance, civil liability. You can also only subscribe a "Cap Cancellation" cancellation insurance if you have insurance covering other risks. 
See all information about our cancellation policy and Chapka insurance offer.
For non Europe Union citizens: if you pay by credit card, depending on your card, you may be fully covered: check your contract.
The US citizens can subscribe directly an insurance for instance on: https://www.axatravelinsurance.com/

4. PAYMENT:
- For a stay starting at more than 60 days: It is requested at registration: 30% of the price of the stay, the payment of the insurance possibly subscribed, the transport possibly requested, the booking fees. The balance is to be paid 60 days before the start date of the stay.
- For a stay starting at less than 60 days: Full payment is requested upon registration.
- For a stay starting at less than 21 days: Full payment by credit card or instant transfer is requested upon registration.
- If these are the last places available: Payment by credit card or instant transfer is requested.
You can pay:
- By credit card on our secure payment website: You will be directed to the payment link after completing the online booking form.
- By bank transfer: Our bank information will be sent to you after reception of your booking form.
Your payments are guaranted by our GROUPAMA travel agent bond.
If you book a trip through Cap Rando, you have the guarantee not to loose any payment. 
The French law is the strongest and requires all French travel agencies to have an unlimited financial guarantee for their customers in case of financial failure.

5. CONFIRMATION:
You will receive a confirmation file and contract with the invoice and all practical information within 24 hours after reception of your registration form and payment.

6. CANCELLATION POLICY:
See the cencellation policy: cancellation conditions.
Please note: Any stay may be canceled in the event of insufficient bokkings to ensure the stay up to 21 days before the starting date. In this case, a replacement stay may be offered to you, if it does not suit you: full refund is guaranteed without compensation. We advise you to book refundable transports.
GUEST REVIEWS
Camille (Switzerland) – November 2019
Reception: Super welcome from the manager, very caring, with home cooked meals at all meals. We even had a Catalan dessert cooked in front of us the last evening.
Cavalry: The general condition of the cavalry (Excellent). My horse (Excellent). Well-treated, well-fed horses that evolve in a healthy outdoor environment.
Saddlery & Equipment: Excellent. Endurance material, Wintec synthetic saddle, good condition.
The comfort, cleanliness and comfort of the accommodation (s): Excellent. Very nice cottage, spacious room with bathtub.
Your general satisfaction on the stay: Excellent stay with very attentive staff, nice and well-treated horses and various landscapes every day!
Quality of the Cap Rando services: Excellent. Good follow-up of our file despite our many discussions, listening to our desires and constraints, we recommend Cap Rando! Only small point of improvement: we asked for a paying transfer and asked if another option was possible: we were told that we could rent a car. However, we discovered when arriving on site by the service provider that it was possible to take a train to access a closer town, which would have reduced the cost of the transfer. To reconsider for the next customers.