Horseback riding in Camargue. The Camargue is the Rhône delta, on the Mediterranean coast, the south of Provence, the heart of the cowboy culture in France: the Camargue herdsmen . The Camargue is a horse land. The Camargue horse is usually small,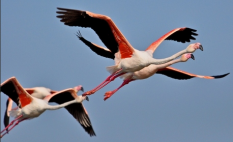 with a calm temperament. The Camargue horse race was recognized in 1978 by the National Stud.
Cap Rando offers horseback rides on Camargue horses organized by local equestrian professionals selected on site, or with Cap Rando horses, trail ride horses, based in the Luberon, one hour drive from Camargue.
Your Camargue horseback ride takes you to the sandy beaches , and in the heart of this wild country to discover the beauty of the Camargue, its ecological heritage in marshes, its flamingos ... The Camargue is magical.
Body