Oman, between India and Africa, Oman is a country of mountains surrounded by sand and water ! Its wadis irrigate lush palm groves. Its red or blond deserts: a hidden treasure between the sea of sand and the Indian Ocean ! Oman is marked by a trade culture, the crossroads of maritime routes between Asia, Africa and Europe. Attached to this prestigious past in a preserved natural environment, Oman has kept its identity and its way of life. Discover this country where the horse is King, in the desert, meeting the Bedouins, who perpetuate its great camel caravans, and its horse traditions !
Body

DISCOVER OMAN SULTANATE, MOUNTAIN, DESERT AND SEA
Riders eager for the great outdoors, discover Oman on horseback ! The variety of landscapes will enchant you. Evenings in a comfortable camp sharing the life of the Bedouins. The Sultanate of Oman is a great horse country: in Oman the horse is loved and pampered, it is part of the family !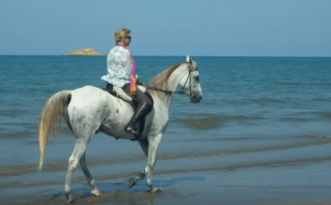 HORSEBACK TRAIL RIDE IN OMAN: THE SINDIBAD RIDE
Arabian horses from desert climates are known for their endurance and speed. In Jordan, we work with a Go on a horseback ride in the desert to meet the Bedouins, between sea and desert. You will ride a superb Omani Arabian Thoroughbred: a horse renowned for its endurance and resistance to high temperatures, you can discover and appreciate your horse during your riding days in Oman, in the desert or on the beach ...