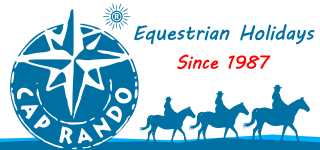 GENERAL CANCELATION CONDITIONS
Cancelation by Cap Rando or the provider: any stay may be canceled in the event of insufficient guests to ensure a ride, up to 21 days before the starting date. In this case, the full refund is guaranteed without compensation. We advise you to book refundable flights / trains.
Cancelation by the customer: In the event of cancelation on your part, the following amounts will be retained:
Services excluding transports:
- More than 60 days before the starting day: 90 € per person. 
- Between 60 and 30 days before the starting day: 50% of the price.
- Less than 30 days before the starting day: 100% of the price.
Flight / train services:
Except for special conditions of the companies, for any cancellation between the registration confirmation and the date of departure: compensation of 100% of the price of the services.
Booking fees, any insurance subscribed, air and rail transport (unless special conditions of the company), are not refundable.

Are assimilated to the "cancelation by the customer" case with the costs indicated:
Failure to sign the contract, failure to provide the insurance certificate, non-payment of the balance on the due date, non-provision of the insurance certificate, exclusion (for behavior prejudicial to the smooth running of the stay, insufficient physical condition and/or level in relation to the required conditions), failure to show up or being late for the appointment set for personal reasons or failure of the carrier(s), abandonment on your part during your stay, any change in the dates of your stay by the customer.