A horseback journey that takes you from the foot of the southern slopes of the Luberon to the Upper Provence. A ride among the scents of Provence herbs ! 
Horseback riding in the heart of Provence, from the Luberon Regional Natural Park to the Haute (Upper) Provence. Equestrian excursion of light halfway between the Alps and the Mediterranean under the sun of Provence. Horseback riding with the scents of Provencal herbs while walking in thyme, sage, rosemary, wild lavender. A horseback ride that allows you to discover a great diversity of landscapes, changing every half day! A great summer ride. We highly recommend the full version with 2 more days on horseback in the superb landscapes of Haute-Provence and Drome Provencale !
Image programme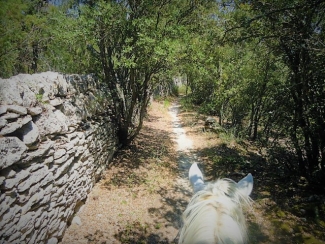 Programme intro
HORSEBACK TRAIL RIDE IN PROVENCE
INDICATIVE ITINERARY 
 
Day 1: Meeting from 7 p.m. at Lauris in the Luberon. Free transfer from Aix en Provence center station, Aix en Provence TGV or Marseille Provence airport. Dinner and night in a comfortable bed and breakfast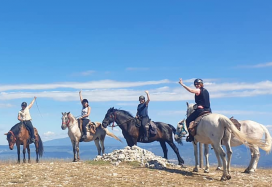 Day 2: Lauris - Buoux. Following the foothills of the southern side of the Luberon mountain range, you will reach Lourmarin, a famous village where the famous British novelis Peter Mayle used to leave. Picnic near the village, before mounting the crests of the Luberon to discover a wonderful view: the peaks of the Alps to the north and the Mediterranean sea to the south when the weather is clear ! Night in a stone auberge, lost in the heart of the Luberon with a swimming pool. On certain dates, in case of unavailability of the hostel, the riders can be transferred to Lauris, the horses and the guide stay at the hostel.
Day 3: Buoux – Cereste. Through the prehistoric sites of the "Gorges de l'Aigebrun". Pass through a very pretty provincial village to offer the horses a drink at the fountain. Picnic under the oaks, then follow bridleways though the perfumed garrigues to reach Cereste. Night in an inn in the heart of the village.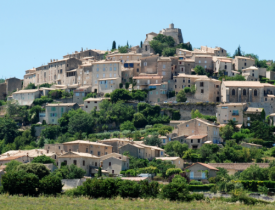 Day 4: Cereste – Simiane-la-Rotonde. After a pause to discover the priory of Carluc dating from the 11th century, you will ride towards Oppedette. Cross the superb village, typical to Haute-Provence, perched on the cliff. Opportunities for some great gallops on the way to Simiane. End of your ride at the foot of this cute perched village. Free transfer back to Lauris or to to Marseille airport or Aix en Provence train stations.
* Indicative itinerary: may be changed if necessary (weather, fire risk, accommodation availability, ...)
MEETING:
If you come by car:
Monday morning at Cap Rando in Lauris at 9 am.
If you come by train or plane:
Sunday evening: free transfer * from Marseille airport (5:30 pm), Aix en Provence TG statioV (6 pm).
* Please note: the shuttle cannot keep groups waiting, especially if your train or plane is late: plan to arrive ahead of the meeting time to avoid having to take a taxi in the event of a delay.

DEPARTURE:
If you come by car:
Wednesday end of afternoon: free transfer to Cap Rando in Lauris.
If you come by train or plane:
Wednesday end of afternoon. Free transfer: departure around 6 pm to Aix en Provence Aix en Provence TGV (±19h45),Marseille airport (±20h).
RIDING LEVEL:


To participate and enjoy this trip, you must be comfortable at the three gaits (walk, trot, canter) outdoors on balanced horses. This ride requires a good equestrian level.

RYTHM:
5 hours a day on horseback on average: 2-3 hours in the morning, 2-3 hours in the afternoon, with a long break of around 2 hours at noon. You will ride the three paces: walk, trot, and canter when the terrain allows.

GROUP SIZE:
This ride is only offered to groups of 5 to 10 riders booking together.

GUIDE & ASSISTANT:
1 qualified guide speaking French and English + 1 professional assistant ensuring luggage transports and preparing lunch buffets.

HORSES: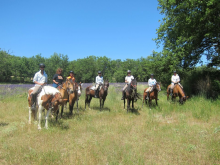 Essentially crosses of Spanish, Arab, French breed. Horses are allocated according  to each rider weight, height, riding level and experience. All our horses are trail riding "professionals". Living throughout the year in a herd, trail riding is their only work activity. For these reasons, they are well-balanced gentle, yet wilfully engaged.




TACK:

Comfortable trail ride saddles equipped with saddle bags. Trail ride saddles are especially designed for long rides as well as for the gaits employed on this type of terrain. The saddles are comfortable for both the horse and the rider.
ACCOMMODATION:


In simple guesthouses and hotels (equivalent 2 * French standard). All nights in shared 2-3 person bedrooms or single bedrooms with supplement. Most bedrooms are ensuite: 1 night can not have enough ensuite bedrooms for all guests.
Inn to Inn trips cannot guarantee the same level of comfort every night: one of the pleasures of a horseback riding trip is the variety ! We chose the accommodations for their location on the itinerary and for the quality of their welcome. With varying degrees of comfort, you will always have a memory: a good meal, a particularly pleasant atmosphere, or an exceptional setting. The price is not justified by luxury accommodation, but by the high logistical costs on an online horse riding trip).

INDICATIVE ACCOMMODATIONS (subject to availability):
Night 1: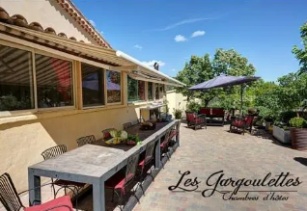 Les Gargoulettes
Night 2: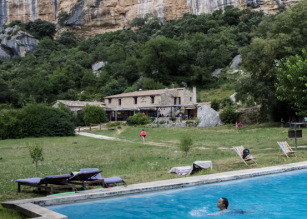 Les Seguins or: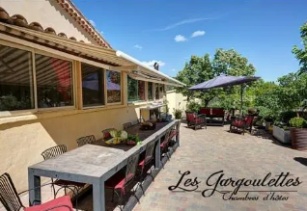 Les Gargoulettes
Night 3: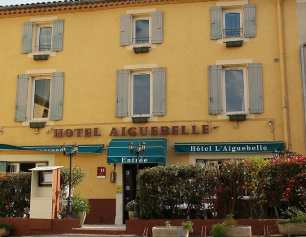 L'Aiguebelle
MEALS: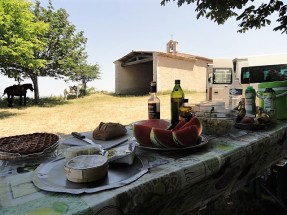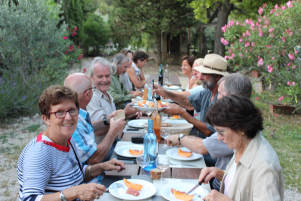 MEALS:
Breakfasts are traditional French breakfasts: hot drinks with bred, butter, marmelade, honey, cereals, fruit juice.
At noon, an assistant prepares hearty buffets (see photos). For small groups, some picnics can be taken in saddle bags.
Dinners at the host tables in the guesthouses, in local restaurants in the Camargue. Local cuisine, varied and refined.
Special diets can be adapted. Wine is included with meals.

LUGGAGE TRANSFERS:
Provided by the assistant in a minibus.
Infos tarif
Paiements sécurisés par carte bancaire - Chèques vacances acceptés :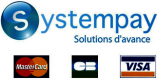 Infos calendrier
Bookings for this ride are open about 1 month in advance. 
Depending on the filling of the full week trip
How to book
HOW TO BOOK :
By booking with Cap Rando, you get the benefit of the French travel agency law, one of the strictest in the world: an unlimited financial guarantee for all your payments !

BOOKING PROCEDURE:
1. CHECK THE AVAILABILITY, PRICE, DISCOUNT:
Check the availability and price (depending on the type of accommodation and after possible discounts) by contacting us through the availability & quote request form or by phone +33 (0)483431321, whatsapp +33(0)609520324, or e-mail: contact@horsebackridingvacations.eu
If you already have received the confirmation of the availability and the price, you can proceed directly to your booking:

2. BOOKING:
Fill out the online registration form: https://www.horsebackridingvacations.eu/form/booking-form
If you are registering and paying for several riders, you can add riders on the form.
If you have difficulty with the online form or if you prefer:
- Download the Excel file
- Download the Open Office file
To be completed, saved on your computer, and sent by email as an attachment.

3. INSURANCES:
Cap Rando is covered for its professional civil liability: GENERALI contract n ° AL974010.
To register on a Cap Rando holiday, you must be covered by an individual liability insurance covering your activity, individual accident, assistance, repatriation, and possibly cancellation (strongly recommended not to lose your payment in case of cancellation for a reason covered by a cancellation insurance).
We offer to Europe Union & Switzerland citizens (only) to subscribe the "Cap Security" insurance from Chapka Insurance. This covers you for cancellation, interruption of stay, individual accident, assistance 24h / 24h, repatriation, medical expenses abroad, luggage insurance, civil liability. You can also only subscribe a "Cap Cancellation" cancellation insurance if you have insurance covering other risks. 
See all information about our cancellation policy and Chapka insurance offer.
For non Europe Union citizens: if you pay by credit card, depending on your card, you may be fully covered: check your contract.
The US citizens can subscribe directly an insurance for instance on: https://www.axatravelinsurance.com/

4. PAYMENT:
- For a stay starting at more than 60 days: It is requested at registration: 30% of the price of the stay, the payment of the insurance possibly subscribed, the transport possibly requested, the booking fees. The balance is to be paid 60 days before the start date of the stay.
- For a stay starting at less than 60 days: Full payment is requested upon registration.
- For a stay starting at less than 21 days: Full payment by credit card or instant transfer is requested upon registration.
- If these are the last places available: Payment by credit card or instant transfer is requested.
You can pay:
- By credit card on our secure payment website: You will be directed to the payment link after completing the online booking form.
- By bank transfer: Our bank information will be sent to you after reception of your booking form.
Your payments are guaranted by our GROUPAMA travel agent bond.
If you book a trip through Cap Rando, you have the guarantee not to loose any payment. 
The French law is the strongest and requires all French travel agencies to have an unlimited financial guarantee for their customers in case of financial failure.

5. CONFIRMATION:
You will receive a confirmation file and contract with the invoice and all practical information within 24 hours after reception of your registration form and payment.

6. CANCELLATION POLICY:
See the cencellation policy: cancellation conditions.
Please note: Any stay may be canceled in the event of insufficient bokkings to ensure the stay up to 21 days before the starting date. In this case, a replacement stay may be offered to you, if it does not suit you: full refund is guaranteed without compensation. We advise you to book refundable transports.
GUEST REVIEWS
Nancy & Allan (USA) - 2019
We had a week of horse riding through wonderful Provence, if I didn't have to come back to work tomorrow (Thursday), we would have asked to stay ! We are still sorting through photos, trying to relive those wonderful days. My horse Loustic was energetic and Alan loved his big black horse, Quesaco, the meals, the people, the inns and their wonderful hosts, the guide  and his funny stories, the great refreshing meals, the perfect wines. So let us know the dates for next year horse trips as soon as you can so we can plan! We can't wait to come back ! And, we advertise to all of our friends! Nancy and Alan.
Valerie – September 2016
I just wanted to send you a short note and let you know that the ride in Provence last week was wonderful! We were so impressed with the surefootedness of the horses. The guides were fantastic, as was the scenery. The food and overnight accommodations were very impressive. Thank you for helping us enjoy this great trip. I'm already looking at your web site and saving my pennies for the next trip.
Francisca – Canada – 07/04/2013
Personal experience: I had a great time in the Provence, what a beautiful country! I enjoyed staying at the main guesthouse, which is rustic, but has a lot of atmosphere. First of all, it has a real feeling of a country stay, with the paddocks right beside the rooms, so you can see and hear the horses at all times. Dinners are eaten outside in the summer, prepared by chef, Cedric. He will surprise you with impressive looking and tasting French and international dishes. The picnic lunches while on the rides where amazing too. They'd bring up a tablecloth and a variety of dishes, salads, breads and cheeses, local wine, and set up a yummy gourmet picnic in the middle of nowhere! And of course, the Provence is just perfect country for horseback riding. It has the most amazing scenery, especially in early summer, when the lavender fields bloom. We rode across vineyards, forests, meadows, and one of my highlights: we went swimming in the river with the horses! Another beautiful experience for me was to witness one of the girl guides initiating a young horse into de saddle. I saw how she patiently first showed him the bridle and the saddle, and then started fitted him with the gear, very slowly and respectfully, always patting and reassuring him. And he would willingly allow it because he trusted her! She then made attempts to mount, she put some weight on his back so he would get used to how it felt. One step at a time, she finally mounted and was helped by Cedric, who was holding the horse by the reins. And they went for a little walk. I will never forget the shine in the eyes of that horse, his youth showing, his look of wonder and curiosity, and above all, his trust in the girl who was working with him. I feel blessed and honoured for having this experience, for being there to witness this magic happening, and the beauty of natural horsemanship. I am touched by it even when I'm writing these lines.