Horseback riding in Brazil in the state of Rio Grande do Norte, on the northeast coast of Brazil. This region of Brazil is known for its heavenly beaches.
You stay in an extremely comfortable hotel, by the sea with a beautiful swimming pool. You ride magnificent Mangalarga Marchador horses from one of the best horse farms in Brazil. Your rides take you through varied landscapes: sugar cane plantations, tropical forests, sand dunes, on fabulous beaches !
Image programme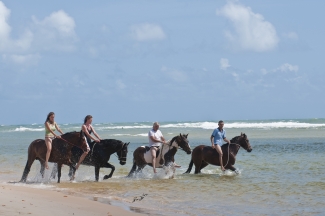 Programme intro
EQUESTRIAN VACATION IN BRAZIL
INDICATIVE ITINERARY *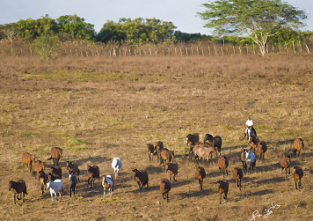 Day 1 - Transfer from Natal airport to your hotel. Installation and meeting with your guide, who takes you to the stables, where you meet the owners of this famous stud. He gives you information about his breeding of Mangalarga horses. You then have a horseback assessment session, followed by a short trail ride.

Day 2 - Tibau do Sul / Lagoa do Carcará. After breakfast, departure from the hotel, crossing by ferry with horses, then on horseback from Guarairas Lagoom to Malembá beach (in case of high tide, option of riding in the dunes). The coastline is magnificent, certainly one of the most beautiful tropical sites. Before arriving at Lagoa do Carcará, you stop at Rio do Pirrichiu (typical bar restaurant) and the Cacharia Papary refreshment bar. Day with about 24km on horseback. Return by car to your hotel (40 minutes).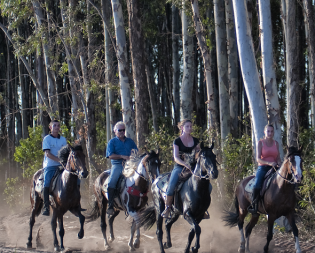 Day 3 - Praia de Baia Formosa / Praia da Pipa. After breakfast, you leave the hotel by car for Baia Formosa (approximately 50 minutes). You go on horseback to Barra do Cunhau, cross by ferry with horses (on both shores, beach cabins with snacks and drinks). For lunch you go to Sibauma (excellent restaurant). Crossing the Catu river on horseback, arriving at the chapadão de Pipa. Day with about 25km on horseback.

Day 4 - Stud farm / Tibau do Sul / Stud farm. After breakfast, departure by car from the hotel to the stables (10 minutes). You begin to cross the sugar cane fields and the Atlantic rainforest on horseback, until you reach the paths of Tibau do Sul. You ride in magnificent landscapes, along the beaches of Tibau do Sul, Cacimbinhas and Madeiro. Very good beach restaurant at noon. After lunch at the beach, return to the stable. About 22km on horseback.

Day 5 - Stud / Umari / Stud. After breakfast, you leave the hotel by car for the stud farm (10 minutes). The ride begins through sugar cane fields and the Atlantic rainforest. You ride towards the Umari district with a break in a typical restaurant, with top quality local cuisine. Return to the stud farm for a special barbecue. Day with around 22km on horseback.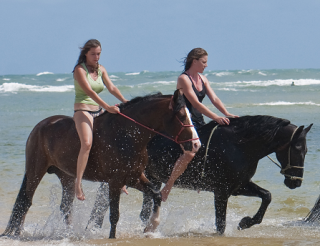 Day 6 - Haras / Praia de Sibauma. After breakfast, you join the stud (10 minutes) and the horses. On the way to the ancient indigenous village of Catu (18 km), where you stop for a swim in the river. Then you set off again on horseback for about 6km, to the district of Vila Flor: a former warehouse for the sale of slaves, where you stop for lunch by a lake. Visit of the old Pelourinho, where slaves were kept and traded. After lunch, you head back to the beach, on the shores of the Rio Catu estuary in the Atlantic Ocean, in the Sibauma district, one of the oldest Quilombos in Brazil. Swimming in the sea and in the river, and return to the hotel in 15 minutes by car. About 36 km on horseback during the day.

Day 7 - End of your stay after breakfast. Transfer to Natal airport.

* Indicative itinerary which can be modified if necessary.
MEETING: 
Day 1 of your choice. Free transfer from Natal airport.

DEPARTURE: 
Day 7 of your choice. Free transfer to Natal airport after breakfast.

VOLS:
Flights to Brazil are not included in our prices because it is generally more interesting to book your flights yourself, an inclusive flight package is generally more expensive with the agency commissions. However, we are at your disposal to help you find the best prices or to offer you a transport trip included on request: free service.
RIDING LELEL & CONDTIONS: 


Be comfortable on horseback at three gaits outdoors, galloping on open ground (especially on the beaches).
Maximum weight: 100 kg. Minimum age: 12 years old accompanied by an adult.

GUIDE:
English, Spanish, Portuguese speaking local guide.

GROUPS:
From 2 to 10 riders + the guide.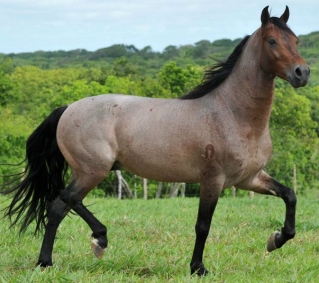 HORSES: 
Mangalarga Marchador: from the crossing of Portuguese Lusitanian Alter Real and Berber horses. The Mangalarga Marchador does not trot, it displays four gaits: step, gallop, and two amble gaits ("the marcha batida" and "the marcha picada") very comfortable !

TACK:
Brazilian saddles. The saddles are deep and padded for long hours of riding.
ACCOMMODATION: 


All nights are spent at the 3 * Marinas hotel in Tibau do Sol. The hotel is on the cliffs overlooking the sea, and offers a magnificent view. It is a short walk from the beaches and downtown Tibau do Sol, where there are markets, a pharmacy, restaurants and bars to explore. The hotel has a swimming pool, a cafe-bar, a restaurant.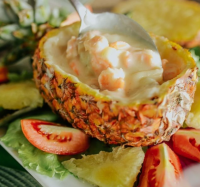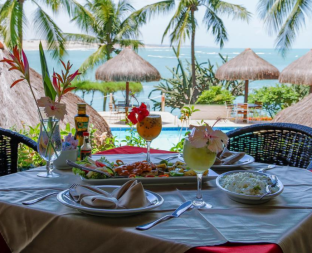 MEALS:
Meals are taken either at the hotel restaurant or at local restaurants during the treks, often beach restaurants. There is a wide range of fine dining, with a clear emphasis on seafood, but there are options to suit all tastes. It is possible to choose different dishes every day, with a host of incredible flavors. A barbecue evening at the stables. One lunch or one lunch per day is included each day, the other being payable on site: you can therefore choose to eat what you want, wherever you want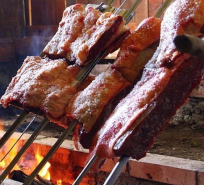 (at the hotel, in a restaurant in the village, ... ).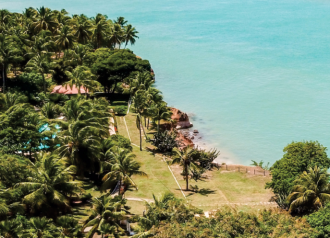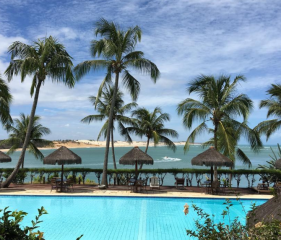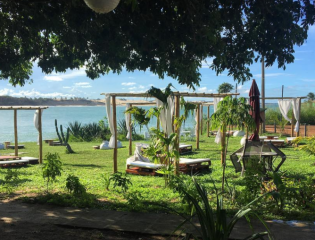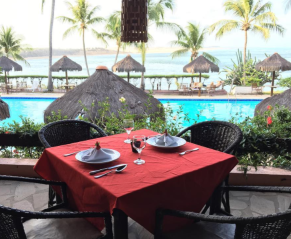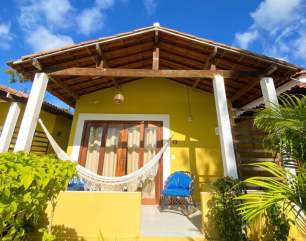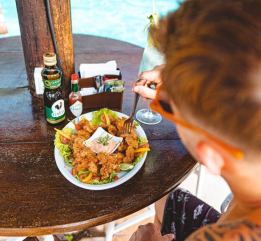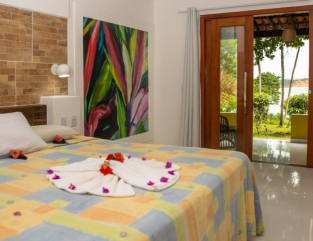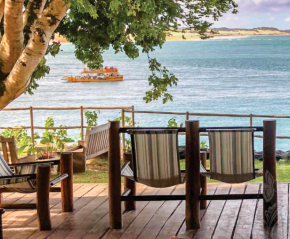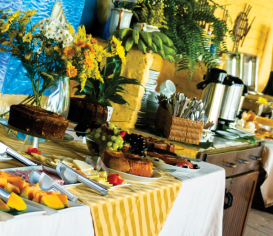 Infos tarif
2023  PRICE / PER PERSON *:
In 2 person bedroom: 2325 €
Single bedroom supplement: 690 €
Booking fees: 15 €
* Prices may vary up or down at the time of your booking, depending on exchange rates.
THE PRICE INCLUDES:
Horse treks as described, rental of an equipped horse, guide, accommodation, breakfasts, 1 meal per day (lunch or dinner of your choice), ferry crossings, return transfers from / to Natal airport at fixed times, the financial guarantee of your payments by our travel operator surety.
THE PRICE DOESN'T INCLUDE:
Individual insurance, tips, personal expenses, drinks, any visits, 1 meal per day (lunch or dinner of your choice), flights to Brazil (we are at your disposal to find the best flights or offer you a package including flights), anything that is not indicated in "the price includes".
How to book
HOW TO BOOK :
By booking with Cap Rando, you get the benefit of the French travel agency law, one of the strictest in the world: an unlimited financial guarantee for all your payments !

BOOKING PROCEDURE:
1. CHECK THE AVAILABILITY, PRICE, DISCOUNT:
Check the availability and price (depending on the type of accommodation and after possible discounts) by contacting us through the availability & quote request form or by phone +33 (0)483431321, whatsapp +33(0)609520324, or e-mail: contact@horsebackridingvacations.eu
If you already have received the confirmation of the availability and the price, you can proceed directly to your booking:

2. BOOKING:
Fill out the online registration form: https://www.horsebackridingvacations.eu/form/booking-form
If you are registering and paying for several riders, you can add riders on the form.
If you have difficulty with the online form or if you prefer:
- Download the Excel file
- Download the Open Office file
To be completed, saved on your computer, and sent by email as an attachment.

3. INSURANCES:
Cap Rando is covered for its professional civil liability: GENERALI contract n ° AL974010.
To register on a Cap Rando holiday, you must be covered by an individual liability insurance covering your activity, individual accident, assistance, repatriation, and possibly cancellation (strongly recommended not to lose your payment in case of cancellation for a reason covered by a cancellation insurance).
We offer to Europe Union & Switzerland citizens (only) to subscribe the "Cap Security" insurance from Chapka Insurance. This covers you for cancellation, interruption of stay, individual accident, assistance 24h / 24h, repatriation, medical expenses abroad, luggage insurance, civil liability. You can also only subscribe a "Cap Cancellation" cancellation insurance if you have insurance covering other risks. 
See all information about our cancellation policy and Chapka insurance offer.
For non Europe Union citizens: if you pay by credit card, depending on your card, you may be fully covered: check your contract.
The US citizens can subscribe directly an insurance for instance on: https://www.axatravelinsurance.com/

4. PAYMENT:
- For a stay starting at more than 60 days: It is requested at registration: 30% of the price of the stay, the payment of the insurance possibly subscribed, the transport possibly requested, the booking fees. The balance is to be paid 60 days before the start date of the stay.
- For a stay starting at less than 60 days: Full payment is requested upon registration.
- For a stay starting at less than 21 days: Full payment by credit card or instant transfer is requested upon registration.
- If these are the last places available: Payment by credit card or instant transfer is requested.
You can pay:
- By credit card on our secure payment website: You will be directed to the payment link after completing the online booking form.
- By bank transfer: Our bank information will be sent to you after reception of your booking form.
Your payments are guaranted by our GROUPAMA travel agent bond.
If you book a trip through Cap Rando, you have the guarantee not to loose any payment. 
The French law is the strongest and requires all French travel agencies to have an unlimited financial guarantee for their customers in case of financial failure.

5. CONFIRMATION:
You will receive a confirmation file and contract with the invoice and all practical information within 24 hours after reception of your registration form and payment.

6. CANCELLATION POLICY:
See the cencellation policy: cancellation conditions.
Please note: Any stay may be canceled in the event of insufficient bokkings to ensure the stay up to 21 days before the starting date. In this case, a replacement stay may be offered to you, if it does not suit you: full refund is guaranteed without compensation. We advise you to book refundable transports.
WEATHER:
The climate in Bahia is mainly tropical with temperatures generally between 23 ° C and 30 ° C. The rains are distributed throughout the year.