An exceptional equestrian trail ride in Brazil. White sand, crystal clear ponds, river islands, fresh and salt water beaches, are the two breathtaking destinations of this trail ride: Lençóis Maranhenses and Delta de Parnaíba, promote direct contact with the lush nature !
Lençois Maranhenses, is one of the most beautiful, unique and breathtaking places in the world. Located in northern Brazil, the territory stretches about 75 km wide, 25 km deep. It became a national park in 1981, and tourism only started about 10 years ago. We can say that it is a "hidden gem" of Brazil. The reason why the landscape of the Lençóis is so attractive, is due to the unique and beautiful landscape of hundreds, if not thousands of rolling sand dunes. The region takes its name from this white, undulating landscape, as lençóis means "sheets" in Portuguese. These dunes, after the rainy season, fill with rainwater "filtered" by the dunes. They become crystalline, with stunning colors varying from blue to green.
The Parnaíba River Delta is the only open maritime delta in the Americas. With him, there are only two others in the world: that of the Nile in Egypt, and that of the Mekong in Vietnam. It is an ecological sanctuary of immense natural beauty. Its ramifications form an archipelago with more than 75 islands, dunes, freshwater lagoons and a lush tropical forest.
The Seven Towns National Park, surrounded by 40 ha of environmental protection zone of the Serra da Ibiapaba, is made up of arid savanna forest (babassu forests) and seasonal forest. It protects an important geological formation of formations. The park also has a prehistoric cave with paintings and inscriptions over 100 million years old. Wind, rain, heat and flora, have sculpted seven groups of rock formations called "towns", natural monuments , giving rise to symbolic forms of animals and human figures. The national park has already been mentioned by the writer Erich Von Däniken, author of the cult "CHariots of the Gods" and has aroused great interest among scientists, historians , geologists, archaeologists and even ufologists.
Image programme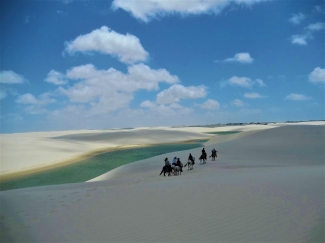 Programme intro
HORSE RIDE IN BRAZIL
INDICATIVE ITINERARY *
Day 1: Reception at hotel in Atins a 1 pm. Lençóis Maranhenses / Sunset Ride. It is a breathtaking first afternoon riding to the dunes, seeing those beautiful sights in front of us. A unique opportunity to take the most beautiful photographs and watch the sun go down across the stunning landscape. Ride in the Lençóis Maranhenses National Park in the Ponta do Mangue, with areas of vegetation following trails between dunes and lakes. At Canto do Atins stop to contemplate the Sunset – Dinner at a restaurant close to the dunes andreturn by car to the Hotel.
Atins: The small fishermen's village of Atins is nested between the entrance of Lençois Maranhenses Park and the splendid delta of the Preguiças River. There life is still somewhat "primitive". The streets are all of sand, and it is possible to see oxen, cows, donkeys walking freely through the alleys. Atins is also a famous destination for kite surfers thanks to optimal wind levels and flat waters.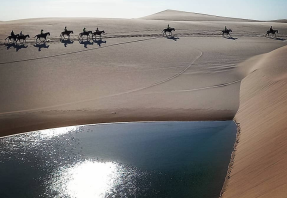 Day 2: A full day ride between lagoons and dunes of Lençóis Maranhenses. We ride crossing small rivers of crystal clear water, a good time to cool off before arriving at the first group of dunes, a beautiful view of wonderfully colored lagoons, natural pools for swimming and photographing, while exploring the shapes of the dunes and lagoons. The ride crosses Atins and the village of Santo Inácio, to start the ride through areas of vegetation of the Lençóis Maranhenses National Park until arriving at the dunes of the Lagoa Tropical circuit, with a long route through dunes, seeing several lagoons of different colors and sizes. Ride continues through areas of restinga, cerrado and flooded areas. Lunch at Dona Ziluca's house, who prepares a delicious country chicken, with traditional recipes, with Coconut Milk and Brown Sauce. After lunch, time to rest in the hammocks at the house, and get back on horseback to ride through the dunes towards the beach of the former mouth of the Rio Preguiça, heading towards Atins. Return to Pousada in Atins.
Day 3: After breakfast transfer to Parnaíba (+-200 km). In the afternoon you will meet your new horses and go for a beautiful ride on the beach.
Day 4: Boat tour in Ilha das Canarias and its beaches. The island is environmentally protected area, part of the Marine Extractive Reserve of the Delta. After breakfast we will embark on a speed boat tour through the majestic labyrinth of islands of the Parnaíba Delta. The route will take us to see the microcosm of the Delta, where we can observe all of its natural systems: desert beaches, big dunes, narrow streams, estuary, river, fields, big and beautiful mangroves. Tour lasts approximately 4 hours with stops at the deserted beach of Poldros and set of dunes of Morro Branco. Delicious lunch at a beach restaurant located on a dune with panoramic views. You will peacefully discover the natural riches of the Delta. Boat trips will allow you to observe a rich fauna: monkeys, caimans, iguanas and the famous guarás (red ibises), which at the end of the day gather on the trees, offering a magical spectacle.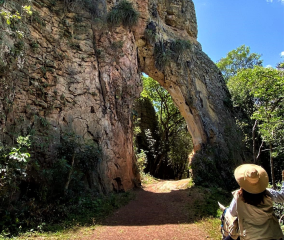 Transfer back to Parnaiba.
Day 5: At 7:30 am, transfer to Ponta da Barra to start a full day horseback ride between dunes and lagoons. A ride within an ecological sanctuary of enormous natural beauty, passing through beautiful dunes, freshwater lagoons and ocean beach. End of the ride on the beach. Return transfer to the Pousada.
Day 6: Transfer to the entrance to the Sete Cidades National Park. Full day ride among monuments that nature has carved out over thousands of years. Riding inside the National Park passing by rock formations that are natural monuments, giving rise to shapes that resemble symbols, animals and human figures attractions. Stop for a guided tour of pre-historic cave paintings and inscriptions of over 100 million years old.
Day 7: After breakfast: transfer to Teresina airport.
* Indicative itinerary: may be changed if necessary.
MEETING:
Day 1: Reception at 1 p.m. at the hotel in Atins. Riders arrive generally one or few days earlier to enjoy Atins.
Plan to arrive at Sao Luis airport. From Sao Luis airport to Atins: see means of transport.
We recommend and we can book for you: https://vilaaty.com.br/

DEPARTURE:
Day 7: Free transfer to Teresina airport after breakfast.

FLIGHTS:
Flights are not included, as it is more interesting to book flights separately instead of paying agency commission on a full package. We are however at your disposal to help you find the best rates.
RIDING LEVEL: 


Be comfortable on horseback at three gaits outdoors, at a gallop on varied terrains and beaches.
Maximum weight: 100 kg. Minimum age: 12 years old accompanied by an adult.

RYTHM:
On full day rides, you will normally be in the saddle for 4-6 hours. There are two half days with about 3 hours on horseback. The pace varies from walking on narrow forest paths, to cantering as soon as the terrain permits.

GUIDE:
Local guide speaking English, Spanish, Portuguese.

GROUPS:
From 4 to 10 riders + the guide.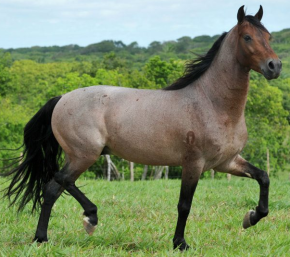 HORSES: 
Mangalarga Marchador: from the crossing of Portuguese Lusitanian Alter Real and Berber horses. The Mangalarga Marchador does not trot, it displays four gaits: step, gallop, and two amble gaits ("la marcha batida" and "la marcha picada") very comfortable!

TACK:
Brazilian saddles. The saddles are deep and padded for long hours of riding.
ACCOMMODATION: 


You stay in a selection of hotels and bed and breakfasts along the route. They may vary according to dates and availability. Accommodation on the first four nights is in very comfortable hotels, the following nights are in comfortable but more average comfort.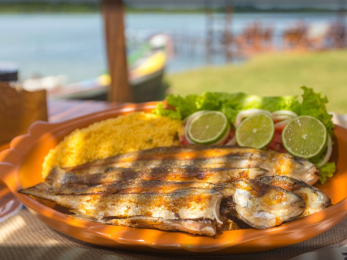 MEALS:
Near the coast, you can enjoy specialties based on fish and seafood, but also chicken and meat if you wish. On the last two days meals are very typical of the sertao (countryside) with meat or chicken.  All meals are served with rice, beans, and salads. Breakfast and one other meal are included in the price each day (lunch or dinner) according to the schedule. For the other meal, you pay on the spot at the restaurant and can choose freely from the menu. Prices are reasonable and credit cards are generally accepted.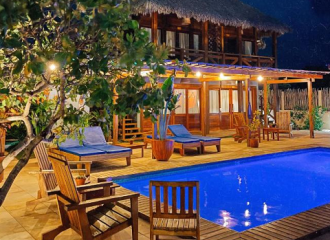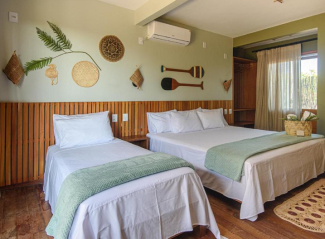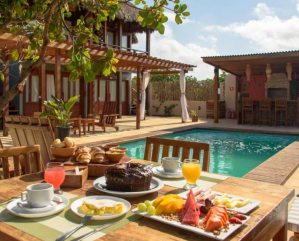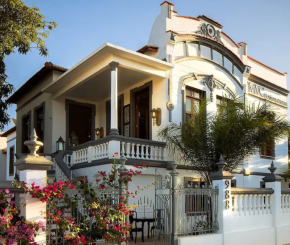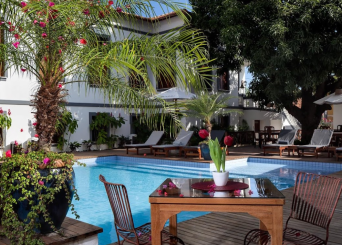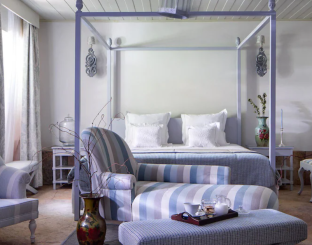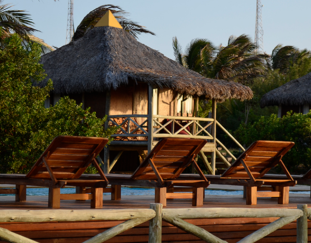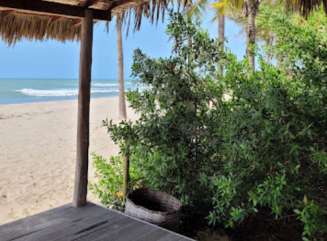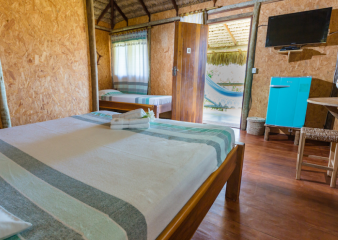 Infos tarif
2023  PRICE / PER PERSON *:
In 2 person bedroom: 2850  €
Single bedroom supplement: 700 €
Booking fees: 15 €
* Prices may vary up or down at the time of your booking, depending on exchange rates.
THE PRICE INCLUDES:
Horse treks as described, rental of an equipped horse, guide, accommodation, breakfasts, 1 meal per day (lunch or dinner of your choice), boat excursion,  departure transfer to Teresina airport at fixed time, the financial guarantee of your payments by our travel operator surety.
THE PRICE DOESN'T INCLUDE:
Individual insurance, tips, personal expenses, drinks, any visits, 1 meal per day (lunch or dinner of your choice), arrival transfer from Sao Luis airport, flights to Brazil (we are at your disposal to find the best flights or offer you a package including flights), anything that is not indicated in "the price includes".
How to book
HOW TO BOOK :
By booking with Cap Rando, you get the benefit of the French travel agency law, one of the strictest in the world: an unlimited financial guarantee for all your payments !

BOOKING PROCEDURE:
1. CHECK THE AVAILABILITY, PRICE, DISCOUNT:
Check the availability and price (depending on the type of accommodation and after possible discounts) by contacting us through the availability & quote request form or by phone +33 (0)483431321, whatsapp +33(0)609520324, or e-mail: contact@horsebackridingvacations.eu
If you already have received the confirmation of the availability and the price, you can proceed directly to your booking:

2. BOOKING:
Fill out the online registration form: https://www.horsebackridingvacations.eu/form/booking-form
If you are registering and paying for several riders, you can add riders on the form.
If you have difficulty with the online form or if you prefer:
- Download the Excel file
- Download the Open Office file
To be completed, saved on your computer, and sent by email as an attachment.

3. INSURANCES:
Cap Rando is covered for its professional civil liability: GENERALI contract n ° AL974010.
To register on a Cap Rando holiday, you must be covered by an individual liability insurance covering your activity, individual accident, assistance, repatriation, and possibly cancellation (strongly recommended not to lose your payment in case of cancellation for a reason covered by a cancellation insurance).
We offer to Europe Union & Switzerland citizens (only) to subscribe the "Cap Security" insurance from Chapka Insurance. This covers you for cancellation, interruption of stay, individual accident, assistance 24h / 24h, repatriation, medical expenses abroad, luggage insurance, civil liability. You can also only subscribe a "Cap Cancellation" cancellation insurance if you have insurance covering other risks. 
See all information about our cancellation policy and Chapka insurance offer.
For non Europe Union citizens: if you pay by credit card, depending on your card, you may be fully covered: check your contract.
The US citizens can subscribe directly an insurance for instance on: https://www.axatravelinsurance.com/

4. PAYMENT:
- For a stay starting at more than 60 days: It is requested at registration: 30% of the price of the stay, the payment of the insurance possibly subscribed, the transport possibly requested, the booking fees. The balance is to be paid 60 days before the start date of the stay.
- For a stay starting at less than 60 days: Full payment is requested upon registration.
- For a stay starting at less than 21 days: Full payment by credit card or instant transfer is requested upon registration.
- If these are the last places available: Payment by credit card or instant transfer is requested.
You can pay:
- By credit card on our secure payment website: You will be directed to the payment link after completing the online booking form.
- By bank transfer: Our bank information will be sent to you after reception of your booking form.
Your payments are guaranted by our GROUPAMA travel agent bond.
If you book a trip through Cap Rando, you have the guarantee not to loose any payment. 
The French law is the strongest and requires all French travel agencies to have an unlimited financial guarantee for their customers in case of financial failure.

5. CONFIRMATION:
You will receive a confirmation file and contract with the invoice and all practical information within 24 hours after reception of your registration form and payment.

6. CANCELLATION POLICY:
See the cencellation policy: cancellation conditions.
Please note: Any stay may be canceled in the event of insufficient bokkings to ensure the stay up to 21 days before the starting date. In this case, a replacement stay may be offered to you, if it does not suit you: full refund is guaranteed without compensation. We advise you to book refundable transports.