Superb tropical horseback ride, on the beach and in the mountains of the Dominican Republic. You stay in the bungalows of a charming mountain eco-lodge, located 300 meters above sea level, in a lush tropical park with spectacular mountain and ocean views.
Every day you go on 5 to 6 hours horseback rides, on mountain trails overlooking the hills of Puerto at elevations of over 700 meters, and beach rides along the Atlantic Ocean. You can also swim with or without your horse in the ocean ! You go to waterfalls and hidden rivers with crystal clear waters, where you can also swim. For romantic riders: a bareback night ride under the stars and the full moon, on a wild white sand beach. You'll dine by candlelight and feast on campfire-cooked lobster tails on your tropical evening on a deserted beach.
Programme intro
HORSE RIDING IN THE DOMINICAN REPUBLIC
INDICATIVE ITINERARY *
Day 1: Arrival. Pick up from Puerto Plata airport and transfer to the Ecolodge up in the Puerto Plata Hills. Time to rest, unpack, have a relaxing moment, or a stroll through the lush tropical gardens and in the late afternoon join us for a welcome drink followed by dinner.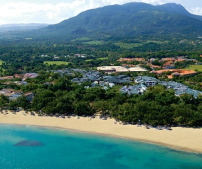 Day 2: Introduction Ride  After a delicious breakfast with tropical fruit, our day starts with a riding adventure in the mountains, but first a short drive to our ranch where you will meet the horses and get them ready for the day. Up and up we go to an altitude of 2400 ft to El Cupey -- a village situated high above Puerto Plata with breath taking views over the city and the ocean. After a typical Dominican lunch, we continue for a refreshing swim in the river Camu.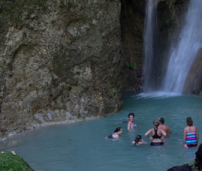 Day 3: Waterfall Ride. Our day starts again with the short drive to the ranch. We will prepare the horses and jump in the saddle for an exciting ride to a hidden waterfall tucked away in the mountains. After a refreshing swim in the crystal clear water and lunch, we continue on quiet trails through small villages. We will visit a Dominican colmado where you will see all kinds of typical Dominican food stuff and can meet the kind and always smiling beautiful people of the Dominican Republic.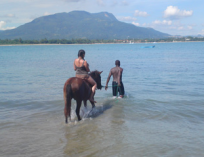 Day 4: Beach Ride. Today is dedicated to the beach. In the morning we are going to take a break at the famous bay of Sosua where you can snorkel, sunbathe, or shop for the popular Dominican jewelry made with larimar or amber, or maybe you can't resist a Dominican primitive painting. After lunch we head for a deserted beach hidden by sugar cane fields and we will spend the afternoon galloping along a beautiful white sand stretch of beach. See the wind chase the clouds, feel the wind in your hair, and be in harmony with nature and the gentle horse that carries you. Afterwards, enjoy a refreshing swim with your horse in the ocean, which is a truly special experience. At sunset we prepare a delicious barbecued meal on the beach with roasted chicken and fish and you can sit and sing cowboy-style around the campfire. When we the time is right we will take you for a magical moonlight ride, bareback if you wish,  under the tropical sky brimming with bright stars for a truly Caribbean experience.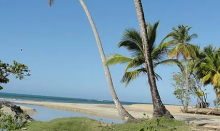 Day 5: Ride to Los Ciruelos village. Our day is dedicated to both mountain and beach, starting out riding through a very rural area called Los Ciruelos. Picture small wooden houses and tropical flowers along the trails. Cocoa, coffee, and fruit plantations dot an area where there is not yet electricity, but people live in a quiet and harmonious way with nature, still farming their crops the old-school way. Tonight prepare for a farewell dinner on Cabarete Beach popular with surfers and lined with fashionable restaurants and bars.

Day 6: Departure. All too soon the time has come to say goodbye to your horse, to the lovely people of the Dominican and the lush tropical island. We hope you come back soon ! Meals included: Breakfast
* Indicative program which may be modified if necessary.
MEETING:
Transfer from Puerto Plata airport at any time: 50 € / person.
SEPARATION:
Transfer to Puerto Plata airport in the morning before 12 noon: 50 € / person.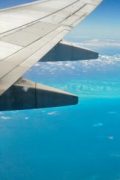 FLIGHTS:
Flights to Dominican Republic are not included in our prices because it is generally more interesting to book your flights yourself, an inclusive package is generally more expensive with agency commissions. However, we are at your disposal to help you find the best rates or to offer you a trip including transport on request: free service.
RIDING LEVEL: 


Be comfortable at the three gaits outdoors.
Possibility of stay for "beginners" on request subject to availability.
Maximum weight: 90 kg.

RYTHM / GROUPS:
The days on horseback are 5 to 6 hours in the saddle with varied rhythms. Long gallops on the beaches and swimming with the horses: you can swim with your horse without difficulty. Groups of 5 to 10 riders.

GUIDE: 
Local English speaking guide.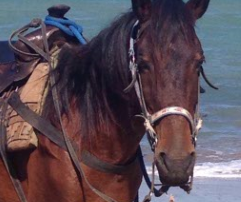 HORSES: 
Mostly Quarter horses.

TACK: 
English and western saddles.

 
ACCOMMODATION: 


Our base tour package includes accommodations in palapas at a mountain ecolodge. Palapas are private, independent structures with a queen bed on one level and two singles on the other. Large curtained windows provide amazing views. (max 4 persons per palapa). Hot shower in shared bathrooms.Upgrade to accommodations with private bathrooms in the Casita is available with additional cost. Casitas are fully independent structures with private facilities and private balcony. The feature a Queen-sized bed and loft with two single futons. Each casita has its own unique design and is 400 square feet. (max 4 persons per Casita).WIFI is available in public areas and is free of charge. Laundry is available for additional cost.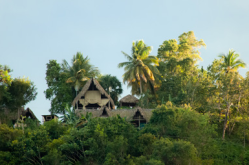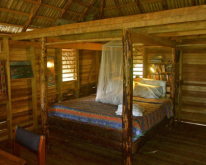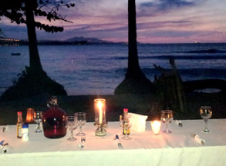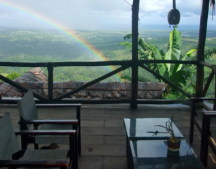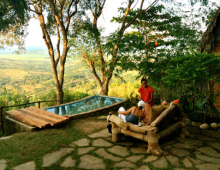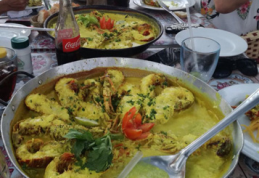 MEALS: 
All meals are included from dinner on Day 1 to breakfast on your last day. The Ecolodge is known for excellent home-cooked meals. The table is normally loaded with several dishes and people can help themselves and choose from several dishes including vegetables, meat or fish with rice etc. The owner is a member of the slow food movement. All meals included with drinks (soft drinks, water, wine or beer) - drinks outside of meals not included. Dietary Restrictions: we can cater to most dietary restrictions if given prior notice.
Infos tarif
2023 PRICE / PER PERSON:
In a bungalow for 2 to 4 people: 2700 € / person
Individual bungalow supplement: 300 €
Superior bungalow supplement with private bathrooms: contact us
Transfer from / to Puerto Plata airport: 50 € / person / transfer
Booking fees: 15 €.
Prices may vary downward or upward depending on the € / $ exchange rate at the time of your reservation.
Rates are calculated on the basis of $ and can therefore vary up or down at the time of your registration.
THE PRICE INCLUDES:
Horse and tack rental, 4 days of riding, guide, accommodation in palapas (possible upgrade to casitas), all meals with drinks (non-alcoholic drinks, water, wine or beer), the financial guarantee of your payments by our travel operator deposit.
THE PRICE DOES NOT INCLUDE:
Individual insurance, tips, personal expenses, drinks excluding soft drinks, water, wine or beer with meals, outward and return travel, transfers from / to Puerto Plata airports, compulsory tourist card to be purchased when arriving at the airport or in advance on the Internet (15 €), and in general all that is not indicated in "the price includes".
FLIGHTS:
Transport is not included because it is more interesting to book your ticket, an inclusive transport package is generally more expensive with agency commissions. However, we are at your disposal to help you find the best rates or to offer you a transport trip included on request.
How to book
HOW TO BOOK :
By booking with Cap Rando, you get the benefit of the French travel agency law, one of the strictest in the world: an unlimited financial guarantee for all your payments !

BOOKING PROCEDURE:
1. CHECK THE AVAILABILITY, PRICE, DISCOUNT:
Check the availability and price (depending on the type of accommodation and after possible discounts) by contacting us through the availability & quote request form or by phone +33 (0)483431321, whatsapp +33(0)609520324, or e-mail: contact@horsebackridingvacations.eu
If you already have received the confirmation of the availability and the price, you can proceed directly to your booking:

2. BOOKING:
Fill out the online registration form: https://www.horsebackridingvacations.eu/form/booking-form
If you are registering and paying for several riders, you can add riders on the form.
If you have difficulty with the online form or if you prefer:
- Download the Excel file
- Download the Open Office file
To be completed, saved on your computer, and sent by email as an attachment.

3. INSURANCES:
Cap Rando is covered for its professional civil liability: GENERALI contract n ° AL974010.
To register on a Cap Rando holiday, you must be covered by an individual liability insurance covering your activity, individual accident, assistance, repatriation, and possibly cancellation (strongly recommended not to lose your payment in case of cancellation for a reason covered by a cancellation insurance).
We offer to Europe Union & Switzerland citizens (only) to subscribe the "Cap Security" insurance from Chapka Insurance. This covers you for cancellation, interruption of stay, individual accident, assistance 24h / 24h, repatriation, medical expenses abroad, luggage insurance, civil liability. You can also only subscribe a "Cap Cancellation" cancellation insurance if you have insurance covering other risks. 
See all information about our cancellation policy and Chapka insurance offer.
For non Europe Union citizens: if you pay by credit card, depending on your card, you may be fully covered: check your contract.
The US citizens can subscribe directly an insurance for instance on: https://www.axatravelinsurance.com/

4. PAYMENT:
- For a stay starting at more than 60 days: It is requested at registration: 30% of the price of the stay, the payment of the insurance possibly subscribed, the transport possibly requested, the booking fees. The balance is to be paid 60 days before the start date of the stay.
- For a stay starting at less than 60 days: Full payment is requested upon registration.
- For a stay starting at less than 21 days: Full payment by credit card or instant transfer is requested upon registration.
- If these are the last places available: Payment by credit card or instant transfer is requested.
You can pay:
- By credit card on our secure payment website: You will be directed to the payment link after completing the online booking form.
- By bank transfer: Our bank information will be sent to you after reception of your booking form.
Your payments are guaranted by our GROUPAMA travel agent bond.
If you book a trip through Cap Rando, you have the guarantee not to loose any payment. 
The French law is the strongest and requires all French travel agencies to have an unlimited financial guarantee for their customers in case of financial failure.

5. CONFIRMATION:
You will receive a confirmation file and contract with the invoice and all practical information within 24 hours after reception of your registration form and payment.

6. CANCELLATION POLICY:
See the cencellation policy: cancellation conditions.
Please note: Any stay may be canceled in the event of insufficient bokkings to ensure the stay up to 21 days before the starting date. In this case, a replacement stay may be offered to you, if it does not suit you: full refund is guaranteed without compensation. We advise you to book refundable transports.