Since 1971 your hosts, a nice family have been sharing this unique location with guests. Get away from it all in simple well-appointed accommodations and enjoy healthy cuisine using home raised ingredients. Spend a week at the ranch enjoying the vast landscapes with great company and responsive, friendly horses. The ranch is a working ranch and during your vacation you will have opportunities to help drive cattle, which graze in high mountain meadows during the summer. You can hone your skills during the weekly team sorting competition. Working cattle on horseback can give new meaning to the partnership between horse and rider, adding another dimension to your riding holiday. We are especially proud of our many home bred horses.
Programme intro
RANCH RIDING STAY IN THE WYOMINF
INDICATIVE ITINERARY *
Sunday: Arrive between 2 and 5 pm and settle into your comfortable log cabin. Join your fellow guests for cocktails on the porch at 6.30 followed by a BBQ and bonfire by the river (weather permitting).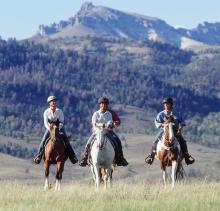 Monday: After a hearty breakfast gather by the corral at 9.15 for an introduction to the wranglers and a short demonstration of the riding techniques used on the ranch. Mount up and ride to the ring for a brief evaluation to make sure you are well matched with your horse, tack, and fellow riders. Then it is off on your first trail ride of the week! Return in time for lunch at 12.30, have a bit of time to relax and you are back in the saddle at 2.45, exploring a different area in the vast empty spaces that surround the ranch. Return from your ride between 4.30 and 5.30, which will give you time to shower and change before cocktail hour.
Tuesday: On choice: optional video course (1 hour and a half) or a ride in the Shoshone national forest with its breathtaking landscapes, then return by another path. About 2 1/2 hours on horseback. In the afternoon, you set off along the river, then ride trails through the prairies and take in spectacular views of the snow-capped Wind River Mountains. About 1 hour and a half on horseback.
Wednesday: You head East of the Wind River and Pine Creek along forest trails to Butch Cassidy's hideout ! then return to the plains. About 2 1/2 hours on horseback. in the afternoon, ride in steep canyons offering superb views. About 2 hours on horseback.
Thursday: In the morning, optional video lessons or go on horseback exploring the Mountain Meadows region above the ranch, with its aspen groves, pastures and ancient cow camps. About 2 1/2 hours on horseback. In the afternoon, you will enjoy a spectacular ride in the open plains, habitat of game and fish. About 2 hours on horseback.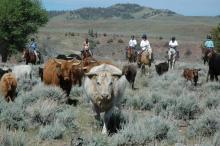 Friday: In the morning, you go for a long hike up the hill above the East Fork of the Wind River on steep mountain trails before reaching the Great Plains for beautiful gallops. You will be able to discover a site where there are fossils that are 60 million years old. About 2 1/2 hours on horseback. In the afternoon (July, August, September), you can participate in the gathering and sorting of livestock. About 2 1/2 hours on horseback.
Saturday: You go for a day horseback ride, with picnic in the Shoshone National Forest. In July, August and September, the more experienced riders can take part in the cattle drive. About 6 hours on horseback.
Sunday: Departure after breakfast and a sad farewell to new found friends.
* Although the ranch itinerary may vary depending on the season as well as your interests and riding experience, each week has a basic structure designed to build your ranch vacation into a unique and memorable experience.
ARRIVAL:
Day 1. Directly at the ranch in the afternoon between 2 p.m. and 5 p.m. Jackson Hole Airport 2h drive from the ranch. Optional transfer, approximately $ 250 per car and per transfer.

DEPARTURE:
Day 8. Departure from the ranch after breakfast. Optional transfer to Jackson Hole airport: approximately $ 250 per car and per transfer.

FLIGHTS:
Flights are not included in our prices because it is generally more interesting to book your flights yourself, an inclusive flight package is generally more expensive with agency commissions. However, we are at your disposal to help you find the best rates or to offer you a trip including transport on request: free service.
RIDING LEVEL: 


To be at ease outdoors, walking, trotting, cantering. Accessible to all levels, groups of levels being formed on site. Specify your riding level when requesting availability.

RYTHM: 
Three paces. About 4-6 hours on horseback on average per day. The first days, a short ride in the morning from 1h 1/2 to 3h, same in the afternoon. The last day: a full day on horseback.

GROUPS:
Up to 30 people on the ranch, the rides are in small groups of levels.

GUIDE:
Local English speaking cowboy guide.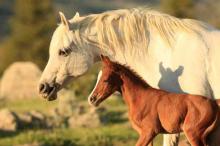 HORSES:
Horses bred mostly on the ranch. Quarter Horses and Pure Arab Blood for the most part.

TACK: 
Western and endurance comfortable saddles.
ACCOMMODATION: 


12 comfortable and authentic log cabins at the edge of a river offering a magnificent view of the surrounding mountains, with terrace and private bathroom. Main house with fireplace, dining room where meals are taken, two lounges, billiards and game room, library, terrace and Wifi.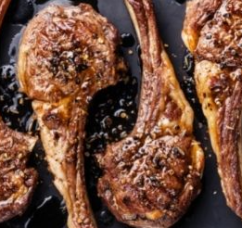 MEALS:
Meals are taken in the main lodge and special attention is paid to the cuisine and the wines served. High quality meals, imaginatively prepared by your hosts, are served buffet style in the dining room. You will enjoy beef and lamb meats raised on the ranch, fresh salads from the garden and bread baked in the kitchen. Most requests for special diets can be met. The ranch water is monitored by the EPA and there is no need to bring plastic bottles. As the ranch does not have a liquor license, please bring your own alcohol, beer and soda. Wine is provided as an aperitif and at dinner.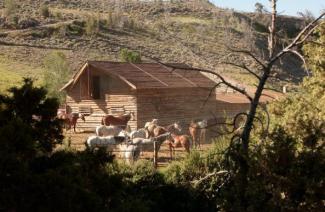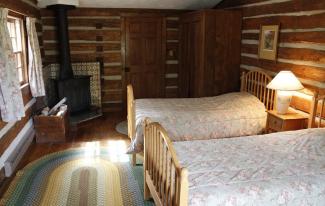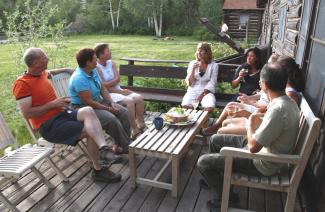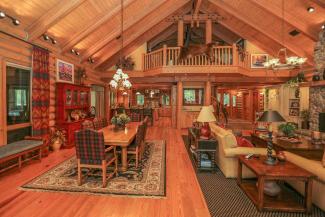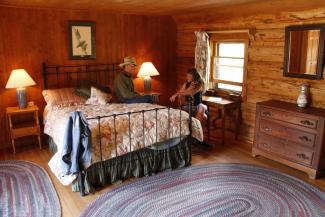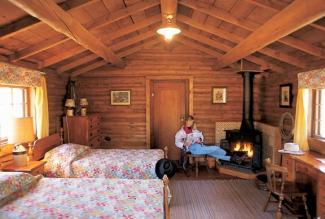 Infos tarif
2024 PRICE * / PER PERSON:
In double shared bedroom: 3150 €
Non rider with a rider: 2000 €
Single bedroom supplement: 350 €
Jackson Hole airport transfers: on quotation, about 250 US$ per transfer to be paid directly.
Booking fee: 15 €
* Prices may be revised down or up depending on the exchange rate $/€.
THE PRICE INCLUDES: 
The equipped horse rental, guide, taccommodation, meals, drinks during the meals, 10% gratuity, the financial guarantee of your payments by our travel agency deposit.
THE PRICE DOESN'T INCLUDE:
Individual insurance, drinks out of meals, transfers from / to Jackson airport, flights, all that is not indicated in "the price includes".
INSURANCE:
A civil liability and travel insurance (assistance/repatriation) is compulsory. A cancellation insurance is strongly recommended.
A payment by credit card can make you benefit from its possible insurance (check your contract).
We offer to Europe Union, Switzerland, Liechtenstein, Norway residents: the Chapka insurances.
Cap Security: full insurance with cancellation. Cap Cancellation: cancellation only.
See prices & information
FLIGHTS :
Flights are not included because it is more interesting to book directly your ticket: a transport package included is generally more expensive with agency commissions. However, we are at your disposal to help you find the best prices or to offer you a flight included package on request (free service).
How to book
HOW TO BOOK :
By booking with Cap Rando, you get the benefit of the French travel agency law, one of the strictest in the world: an unlimited financial guarantee for all your payments !

BOOKING PROCEDURE:
1. CHECK THE AVAILABILITY, PRICE, DISCOUNT:
Check the availability and price (depending on the type of accommodation and after possible discounts) by contacting us through the availability & quote request form or by phone +33 (0)483431321, whatsapp +33(0)609520324, or e-mail: contact@horsebackridingvacations.eu
If you already have received the confirmation of the availability and the price, you can proceed directly to your booking:

2. BOOKING:
Fill out the online registration form: https://www.horsebackridingvacations.eu/form/booking-form
If you are registering and paying for several riders, you can add riders on the form.
If you have difficulty with the online form or if you prefer:
- Download the Excel file
- Download the Open Office file
To be completed, saved on your computer, and sent by email as an attachment.

3. INSURANCES:
Cap Rando is covered for its professional civil liability: GENERALI contract n ° AL974010.
To register on a Cap Rando holiday, you must be covered by an individual liability insurance covering your activity, individual accident, assistance, repatriation, and possibly cancellation (strongly recommended not to lose your payment in case of cancellation for a reason covered by a cancellation insurance).
We offer to Europe Union & Switzerland citizens (only) to subscribe the "Cap Security" insurance from Chapka Insurance. This covers you for cancellation, interruption of stay, individual accident, assistance 24h / 24h, repatriation, medical expenses abroad, luggage insurance, civil liability. You can also only subscribe a "Cap Cancellation" cancellation insurance if you have insurance covering other risks. 
See all information about our cancellation policy and Chapka insurance offer.
For non Europe Union citizens: if you pay by credit card, depending on your card, you may be fully covered: check your contract.
The US citizens can subscribe directly an insurance for instance on: https://www.axatravelinsurance.com/

4. PAYMENT:
- For a stay starting at more than 60 days: It is requested at registration: 30% of the price of the stay, the payment of the insurance possibly subscribed, the transport possibly requested, the booking fees. The balance is to be paid 60 days before the start date of the stay.
- For a stay starting at less than 60 days: Full payment is requested upon registration.
- For a stay starting at less than 21 days: Full payment by credit card or instant transfer is requested upon registration.
- If these are the last places available: Payment by credit card or instant transfer is requested.
You can pay:
- By credit card on our secure payment website: You will be directed to the payment link after completing the online booking form.
- By bank transfer: Our bank information will be sent to you after reception of your booking form.
Your payments are guaranted by our GROUPAMA travel agent bond.
If you book a trip through Cap Rando, you have the guarantee not to loose any payment. 
The French law is the strongest and requires all French travel agencies to have an unlimited financial guarantee for their customers in case of financial failure.

5. CONFIRMATION:
You will receive a confirmation file and contract with the invoice and all practical information within 24 hours after reception of your registration form and payment.

6. CANCELLATION POLICY:
See the cencellation policy: cancellation conditions.
Please note: Any stay may be canceled in the event of insufficient bokkings to ensure the stay up to 21 days before the starting date. In this case, a replacement stay may be offered to you, if it does not suit you: full refund is guaranteed without compensation. We advise you to book refundable transports.