Horseback trail ride in the heart of Ireland. For six days, you will be discovering Ireland's beautiful nature and colourful history on horseback. Your horse will be carrying you about 150 km from County Galway which is situated in the Midwest of Ireland westwards through the rural areas of County Clare into the unique Burren region and on to the rough Atlantic coast overlooking the spectacular Cliffs of Moher.
Image programme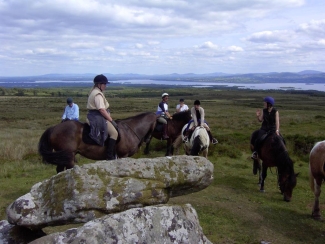 Programme intro
HORSEBACK TRAIL RIDE IN IRELAND
INDICATIVE ITINERARY *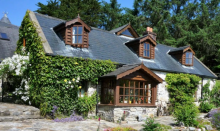 Day 1 - Saturday - Transfer to our equestrian centre. Transfer from Shannon airport to Whitegate approx. one hour 30 minutes. You will be staying here for the first four nights. On the arrival day you can just relax and recover from your journey, or take a stroll on the walking trails around our property. For the more adventurous among you, there is also the possibility to go on a guided boat tour to historic Holy Island with its monastic settlement of the 9th century. In the evening, you will get to know all your fellow riders for this week. You will have dinner in the tastefully restored 300-year-old farmhouse in our riding Centre by candlelight and turf fire.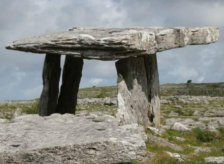 Day 2 - Sunday - After breakfast you will be brought to the start of the trail, where your guide will allocate the horses according to your experience. Every rider can then get used to his horse for the week by brushing and tacking up - don't worry there are always lots of helping hands around you! We will then leave for an easy ride across the extensive areas of bog land. There we might see local farmers cutting and drying the turf in the traditional way. A Neolithic dolmen - with the legendary name Oisin`s and Grainne`s Grave - beside the track proves that this area was already mystified about 5000 years ago. Much more recent (about 9th century) are the ruins of the monastic settlement on Holy Island, which we can easily spot by the typical round tower. We finish the first half day ride on one of our fields where the horses stay overnight and we drive back to the guesthouse for lunch. For the afternoon riders and horses take a rest and enjoy a relaxing evening.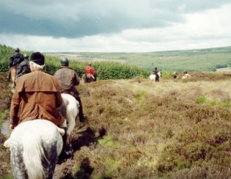 Day 3 - Monday - Today's ride brings us across huge areas of heather and bog land with fascinating views over the majestic Lough Derg and River Shannon. Along the track we will be passing old farm ruins and miles of stonewalls and your guide will tell you about Irelands most significant incident in history: About 150 years ago many farms and villages where left because of the Famine. This was the time of the severe potato blight, which destroyed for a couple of years the sole source of food supply for the rural and poor Irish peasant and their livestock. In addition to that a Typhus- and Cholera epidemic enforced the disaster, leading to a flood of thousands of people emigrating to other countries. After our lunch break in the forest we will head on along the surrounding peaceful trails through the Slieve Aughty Mountains and ride past some rural farms to a new overnight field for the horses.
Day 4 - Tuesday - Leaving the sheltered pasture we are heading this morning for the top of the hills overlooking endless woods and grazing land to the north, west and south. Long before we get there we can spot way under us the sandy shores of Lough Graney where we are heading for. After lunch our trail ride goes along the water and then we will be splashing right across the refreshing lake with our horses! The ride in the later afternoon takes us through typical farmland of rural Ireland with its juicy green fields and the endless old stone walls surrounding the peacefully grazing sheep and cattle.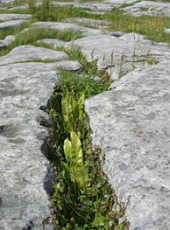 Day 5 - Wednesday - Today's lovely wood tracks take us further westwards overlooking Glandaria (the valley of the Kings) the wide fertile valley of the River Shannon, where hundreds of years ago Irelands kings preferably used to settle. After the lunch break near a typical mountain river we will cross the boggy uplands. County Clare unfolds all around us up to the in the distance rising hills of the famous Burren National Park. On a clear day we will even catch the first glimpse of Galway Bay. This afternoon our horses will be transferred by lorry across the main road, to tomorrow's ride across the fascinating landscape of the Burren. You will be staying tonight in the charming village of Corofin with its countless pubs and great Irish music sessions.
Day 6 - Thursday - The totally different and unique scenery of the world renowned Burren will accompany us for the next two days. The moon like landscape of this limestone area bears not only an immensely colourful flora and fauna with a large number of very rare species, but also reveals a stunning variety of prehistoric settlements. Dolmens and Wedge Tombs line up next to Norman stone fort ruins and Celtic ring forts. With a beautiful view across the Burren landscape, we will enjoy our lunch. It is amazing how many eye-catching sites this at first sight so vast looking landscape can offer us. The next two nights you will be staying in the Lisdoonvarna area, which is famous for the traditional music in the pubs.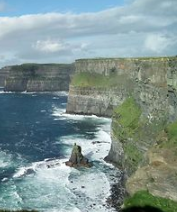 Day 7 - Friday - Today we head westwards through the Burren, learning about the impressive Poulnabrone Dolmen, and the extensive - and dangerous - cave systems in this special area. We lead our horse down along an old Irish famine green road, then rest for lunch overlooking the story telling rocky landscape. After the break we lead our horses up the last hill for the breathtaking view over the Atlantic Sea, the famous Aran Islands and the rugged Connemara Mountains. The extremely rough shore of County Clare stretches out way below us as we enjoy the last canters along the old stone walled tracks on Slieve Elva. In the glittering afternoon sunlight the impressive silhouette of the Cliffs of Moher rise in the distance. Near the ruins of Ballinalaken Castle our ride ends.
Day 8 - Saturday: After breakfast, you will be transferred back to the airport for your onwards journey.
* The itinerary might change due to weather conditions or circumstances beyond our control without prior notice.
MEETING: 
Saturday afternoon directly at the equestrian center or transfer from Shannon airport or Loughrea bus stop. Bus timetables: www.buseireann.ie

DEPARTURE: 
Saturday morning after breakfast. Transfer (departure after 9am) to Shannon airport. You can also take a Saturday morning line bus from Lisdoonvarna, via Ennis, to Shannon Airport. Bus timetables: www.buseireann.ie . Ticket price: about 20 €.

TRANSFERS:
Transfers from/to Shannon airport: ±55 € / person / each way (depending on the number of persons to pay locally).

FLIGHTS:
Flights are not included in our prices because it is generally more interesting to book your flights yourself, an inclusive flight package is generally more expensive with agency commissions. However, we are at your disposal to help you find the best rates or to offer you a trip including transport on request: free service.

RIDING LEVEL: 


You must be able to walk, trot, canter and galop outdoor on open spaces. Maximum weight: 85kg. Minimum age: 12 years.

GROUPS:
Usually maximum 8 riders.

GUIDE:
English and German speaking guide.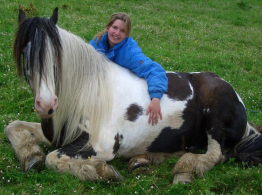 HORSES:
Irish horses, trail ride horses. 

TACK:
English saddles.
ACCOMMODATION: 


In comfortable hotels and guesthouses. Single bedrooms available with supplement.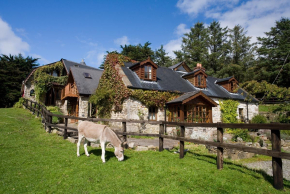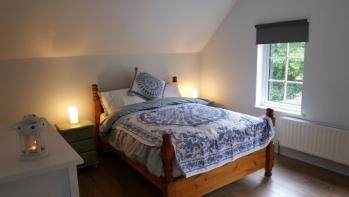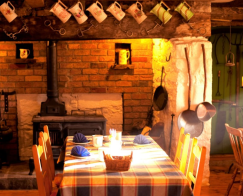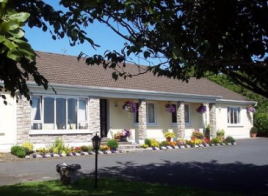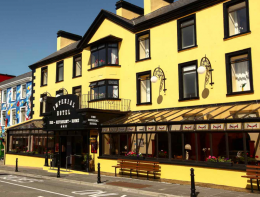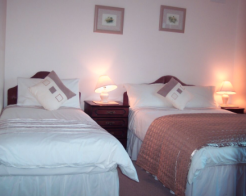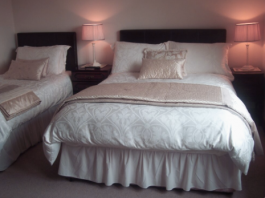 MEALS: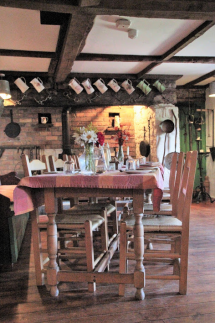 Enjoy the hearty Irish breakfasts. Picnics are prepared and brought by assistance vehicles on riding days. In the evening, dinners are taken in local b&bs and inns, and you can enjoy the local pubs.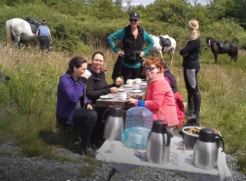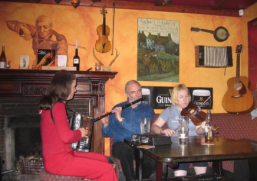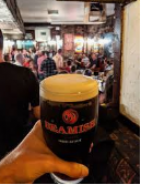 LUGGAGE TRANSFERS: 
Luggage is transfered each day by car.
Infos tarif
2024 PRICE / PER PERSON:
2025 € / person in 2-3 person bedrooms
Single bedroom supplement *: 210 €
Transfers from/to Shannon airport: ±55 € / person / each way (depending on the number of persons to pay locally).
Booking fees: 15 €
* If you book in shared bedrooms and if there is no other rider to share bedrooms with you, the single supplement will be applied.
THE PRICE INCLUDES:
Horse and tack rental, guide, assistant, accommodation, all meals, all sight seeing trips and entry fees, financial bond for your payments by our travel agent guarantee.
THE PRICE DOESN'T INCLUDE: 
Flights, individual insurance, drinks, visits, tips, transfers from/to Shannon airport, transports, all that is not indicated in "PRICES INCLUDE".
INSURANCE:
A civil liability and travel insurance (assistance/repatriation) is compulsory. A cancellation insurance is strongly recommended.
A payment by credit card can make you benefit from its possible insurance (check your contract).
We offer to Europe Union, Switzerland, Liechtenstein, Norway residents: the Chapka insurances.
Cap Security: full insurance with cancellation. Cap Cancellation: cancellation only.
See prices & information
FLIGHTS:
Flights to/from Ireland are not included because it is more interesting to book directly your ticket: a transport package included is generally more expensive with agency commissions. However, we are at your disposal to help you find the best prices or to offer you a flight included package on request (free service).
Infos calendrier
HIGHLY DEMANDED TRAIL RIDE AND DEPARTURES QUICKLY FULL : TO BOOK LONG IN ADVANCE !
How to book
HOW TO BOOK :
By booking with Cap Rando, you get the benefit of the French travel agency law, one of the strictest in the world: an unlimited financial guarantee for all your payments !

BOOKING PROCEDURE:
1. CHECK THE AVAILABILITY, PRICE, DISCOUNT:
Check the availability and price (depending on the type of accommodation and after possible discounts) by contacting us through the availability & quote request form or by phone +33 (0)483431321, whatsapp +33(0)609520324, or e-mail: contact@horsebackridingvacations.eu
If you already have received the confirmation of the availability and the price, you can proceed directly to your booking:

2. BOOKING:
Fill out the online registration form: https://www.horsebackridingvacations.eu/form/booking-form
If you are registering and paying for several riders, you can add riders on the form.
If you have difficulty with the online form or if you prefer:
- Download the Excel file
- Download the Open Office file
To be completed, saved on your computer, and sent by email as an attachment.

3. INSURANCES:
Cap Rando is covered for its professional civil liability: GENERALI contract n ° AL974010.
To register on a Cap Rando holiday, you must be covered by an individual liability insurance covering your activity, individual accident, assistance, repatriation, and possibly cancellation (strongly recommended not to lose your payment in case of cancellation for a reason covered by a cancellation insurance).
We offer to Europe Union & Switzerland citizens (only) to subscribe the "Cap Security" insurance from Chapka Insurance. This covers you for cancellation, interruption of stay, individual accident, assistance 24h / 24h, repatriation, medical expenses abroad, luggage insurance, civil liability. You can also only subscribe a "Cap Cancellation" cancellation insurance if you have insurance covering other risks. 
See all information about our cancellation policy and Chapka insurance offer.
For non Europe Union citizens: if you pay by credit card, depending on your card, you may be fully covered: check your contract.
The US citizens can subscribe directly an insurance for instance on: https://www.axatravelinsurance.com/

4. PAYMENT:
- For a stay starting at more than 60 days: It is requested at registration: 30% of the price of the stay, the payment of the insurance possibly subscribed, the transport possibly requested, the booking fees. The balance is to be paid 60 days before the start date of the stay.
- For a stay starting at less than 60 days: Full payment is requested upon registration.
- For a stay starting at less than 21 days: Full payment by credit card or instant transfer is requested upon registration.
- If these are the last places available: Payment by credit card or instant transfer is requested.
You can pay:
- By credit card on our secure payment website: You will be directed to the payment link after completing the online booking form.
- By bank transfer: Our bank information will be sent to you after reception of your booking form.
Your payments are guaranted by our GROUPAMA travel agent bond.
If you book a trip through Cap Rando, you have the guarantee not to loose any payment. 
The French law is the strongest and requires all French travel agencies to have an unlimited financial guarantee for their customers in case of financial failure.

5. CONFIRMATION:
You will receive a confirmation file and contract with the invoice and all practical information within 24 hours after reception of your registration form and payment.

6. CANCELLATION POLICY:
See the cencellation policy: cancellation conditions.
Please note: Any stay may be canceled in the event of insufficient bokkings to ensure the stay up to 21 days before the starting date. In this case, a replacement stay may be offered to you, if it does not suit you: full refund is guaranteed without compensation. We advise you to book refundable transports.
CLIMATE IN IRELAND:
Ireland's climate is mild, humid and variable with abundant rainfall and few extreme temperatures. Ireland's climate is defined as a temperate oceanic climate, with generally hot summers and cool winters. The circulation of the Gulf Stream offers Ireland a milder climate than other temperate oceanic climates at similar latitudes. The prevailing wind blows from the southwest and breaks on the high mountains of the west coast. July and August are the hottest months, with average daily temperatures of 14 to 16 ° C, while average daily maximums in July and August vary from 17 to 18 ° C near the coast, at 19 to 20 ° C inside the ground. The sunniest months are May and June, with an average of five to seven hours of sunshine per day. During the summer months, and particularly towards the end of July / beginning of August, thunderstorms can develop.
Coast temperatures, +2 to +5 ° on average inland:



Rain:

GUEST REVIEWS
Eric - France - July 2023
Everything was top !
Accommodation (very comfortable)
Horses (stable, comfortable, easy, powerful, neat)
Route (varied, various paces, landscapes, long but reasonable stages.)
Group of homogeneous level (good)
Organization (perfect)
Security (strict++, even beyond that sometimes but I assume they know what they are doing)
Excellent cuisine, especially at the equestrian center and the stopover restaurants (important..); a small reservation on the restaurant run by a Frenchman (service and dishes) I don't know which village but for me it was good enough. The others were more severe on this restaurant. Nothing prohibitive however, far from it.
The lodgings are very comfortable and we are very well received there.
Riding supervision (young guides, whose job it is not, very serious and caring; know how to make themselves respected, that's good.)
Only one small detail should warn people that there are no saddle bags (rain gear, water bottle), even if we found Nicola at each stop for lunch with our belongings. I could have brought mine. But we are in the detail. But on this kind of long ride it seems essential to me.
One word: perfect.
The organizer, very nice, is everywhere at once, no hiccups. Very professional.
So thank you.
I won't be long in going back with you.
Open to any proposal.
Good for you and thank you.
Eric
Brigitte - France - April 2022
Manon our equestrian guide with Amelie: two wonderful professionals !
Our hosts responsible for the structure so considerate, a warm welcome, an organization, an accompaniment every day for the logistics at the top ! Wonderful horses in great shape, a magical accommodation with our hosts and the other nights reserved in hotels and bed & breakfasts for nights of optimal comfort with always the kindness and welcome of the Irish. I had a waking dream of a week without forgetting our chef who concocted excellent menus for us, a staff always present, smiling to make our stay even more pleasant. Thank you very much to everyone !
I formed a very good team with my mare 'Kiwa' Gaelic name 'Caoirahe'.. full of character, independent, adventurous, very sweet, how sad to leave her. All the horses were magnificent.
I recommend this ride to everyone ! With our two guides we formed a very nice team of riders, two Americans, three Germans and me, magnificent landscapes, well-chosen paths for the three gaits, beautiful Ireland and already a lot of nostalgia to be back ...I thinking of going back with Cap Rando: Very well organized, quick contacts for any information.
A big thank-you.