HORSE RIDING HOLIDAYS IN CAPPADOCIA

Discover the incredible beauty of Cappadocia on horseback. Between canyons and lunar landscapes, Cappadocia offers unusual landscapes and among the most spectacular in the world. Crossing the countless valleys and mountains on horseback, allows riders to discover the breathtaking beauty of the region.
Listed as a UNESCO World Heritage Site, the region of Cappadocia is the result of incredible volcanic eruptions and ancient human activity.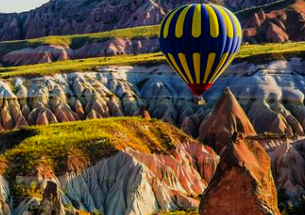 On horseback in Cappadocia, you will explore a variety of landscapes of canyons, mountains, orchards and vineyards, rock tunnels and, of course, the famous Valley of the Sword and the Red Valley: a whole unique geological formations specific to Cappadocia.
Villages dot the landscape. You will notice that the houses, the churches, the monasteries: have been harmoniously carved into the rocky surface of the natural reliefs.
Don't miss the hot air balloon ride (optional) early in the morning and travel with the wind over the magical landscape of Cappadocia at sunrise! A spectacle not to be missed with the sun illuminating all the colors of the rock and creating an exceptional atmosphere.
Body

Horseback Riding in Cappadocia: Discover the unique landscapes of Cappadocia on horseback. Cappadocia is the result of incredible volcanic eruptions and ancient human activity. You spend 5 to 6 hours a day on horseback, exploring a land of beautiful scenery. Starting from the ranch, depending on the version, the route takes you to "geological" Cappadocia. From the peasant Cappadocia of the south to the spectacular valleys of the north: the unusual rocks, the green canyons, the high plateaus, the steppe, the vineyards and the orchards... follow one another to form a varied landscape. Along the way, the work in the fields punctuates the seasons, the villages reflect the Anatolian way of life, and the troglodyte churches bear witness to the region's rich past. The ride takes place in the Cappadocia National Park. You will discover the legendary Turkish hospitality in the typical guest rooms or hotels selected for the quality of their welcome.
The route of this horseback riding trip in Cappadocia is a 6-day loop on horseback in 'geological' Cappadocia. An active version for this ride ! Enjoy lively paces in the heart of this exceptional region. Landscapes of dreams between canyons, agricultural plains and geological "sculptures" typical of Cappadocian landscapes: incredible slopes of clay and rocks, creating a landscape straight out of a western film. Also discover the culture and traditions: villages, monasteries ... and Turkish hospitality. Accommodation is in character guest houses in the most beautiful villages of Cappadocia, in front of which the horses spend the night. This progressive trail ride will satisfy the appetites for discovery of active and fit riders who are sufficiently independent with their mount.
AND SEE ALL OUR EQUESTRIAN VACATIONS IN TURKEY :