Horseback riding in Italy : Discover Italy on horseback with Cap Rando. We have selected for you the most beautiful equestrian trips in Italy, and the best professionals, in Tuscany and in Sicily. Few providers offer itinerant equestrian trips, rather horseback rides with return every night to the same accommodation. Our passion for traveling on horseback has pushed us to offer you the most beautiful horseback trips in Italy.
Body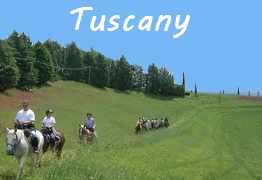 For many of us, Tuscany is the essence of Italy. Over the centuries, travelers have come to visit the cities of Florence, Siena and Arezzo, as well as the charming towns of Montalcino and San Gimignano. Our horseback trips in Italy, and in particular in Tuscany, will take you through the beautiful Italy countryside, with terraced vineyards, cypress paths and vast wooded areas. As a rider, you are particularly privileged, off the beaten track to explore the world of Dante, Galileo and Leonardo da Vinci. The climate in Tuscany is very mild. Spring is a delightful time, when trees and flowers bloom, the air is warm and the nightingales sing day and night. Autumn brings beautiful colors as farmers are busy harvesting olives and grapes. Spring and autumn are the times for these superb horseback rides in the heart of Italy.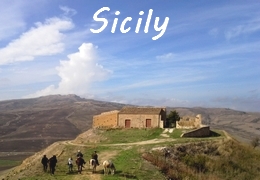 Sicily is the largest island in Italy, separated from the mainland by the Straits of Messina and surrounded by the Ionian Sea, the Tyrrhenian Sea and the Mediterranean Sea. This is one of the pearls of southern Italy We invite you to discover the nature and traditions of Italy and Sicily on horseback. Nature seems to have given all its wonders to this land: mountains, hills and especially the sea, with its incredible colors, crystal clear waters and the beauty of its seabed. Here, the Mediterranean Sea, with its many small islands scattered around the coast of Sicily - The Aeolian Islands, Egadi and Pelagie, Pantelleria and Ustica - offer unique and intense landscapes, scents and flavors of untouched nature. And its great volcanoes are symbols of the irresistible beauty and vitality of this incredibly charming region of Italy. A fascinating region of Italy with valuable archaeological sites that tell the origins of Trinacria (ancient name of Sicily) ... A unique place for horseback rides in Italy.