Two days horseback trail ride to discover the heart of Camargue, it's wild lands, white horses, black bulls, plenty of birds and the magnificent flamingoes.  Their is no better way than riding to discover the Camargue. 
 
Image programme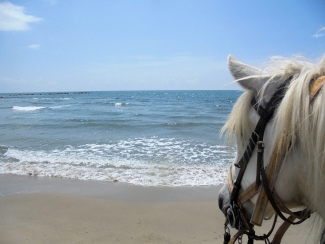 Programme intro
INDICATIVE ITINERARY: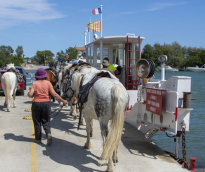 Saturday:  Meeting at 9 am. You will go out for the day, along side the "Petit Rhône" river, dammed in order to protect Camargue. Cross the river on a ferry platform with the horses, and head towards the natural reserve "Domaine du Grand Radeau". The story of this private property will be related to you once there…! You will visit this wild place, discover its beach and pine tree forest as well as its rich fauna. Picnic lunch on the beach, and optional swim during lunch break ! You will then ride back to the Mas trough the inner lands. 
Sunday: Ride to the Saintes-Maries-de-la-Mer today. Between inner land and marsh, you will ride on pleasant riding trails, and discover the different "levels" of Camargue, all the way to the seashore. Pique-nique lunch at the "Bouvao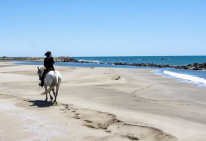 d'Aubanel", under la laupio…translation of these Provencal words will be given to you by your guide…! On the afternoon, you will ride on the beach and through the natural reserve of "Les Impériaux". You will discover very rich flora and fauna, as about 350 different species of migrating birds can be found in this protected area. The ride ends up at the "Pointe de Cacharel". Transfer back to the Mas. End of the program. Transfer to the Pioch Badet bus stop.
* Indicative itinerary: may be changed if necessary without any compensation.
MEETING:
Saturday 1 at 9 am at the equestrian center.
Coming by train: Arles train station, then bus to Pioch Badet (Arles - Saintes-Maries-dela-Mer line n° 50: see schedule). Ticket price: about 3 €. Pick-up at the bus stop and free transfer to the equestrian center.
You can also arrive at Montpellier or Nimes and take a taxi to the equestrian center in Camargue.
Coming by plane: Montpellier or Nimes airport, then taxi to the Equestrian center (cost about 120 €).
DEPARTURE: 
Sunday afternoon after the day ride. Free transfer to Pioch Badet. Bus to Arles train station: see shedule.
Taxi to Montpellier or Nimes train station or airport (cost about 120 €).
RIDING LEVEL:


You must be able to walk, trot and canter.

GUIDE:
Professional licensed equestrian guide, English speaking.

HORSES: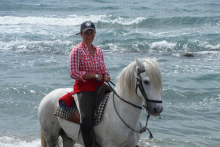 Mostly Camargue horses, well balanced, trail ride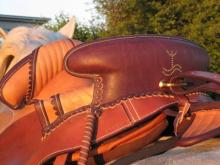 professionals.

TACK:
Camargue & trail ride saddles.

 
ACCOMMODATION:


At the equestrian center, in a typical and simple Camargue farmhouse. 2 bedrooms for 2 people with private bathrooms and two single beds, 1 bedroom for 3 people with private bathrooms and 3 single beds, 1 chalet for 3 people with 1 double bed and 1 single bed (shared bathrooms outside the chalet).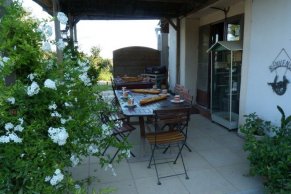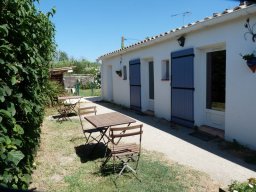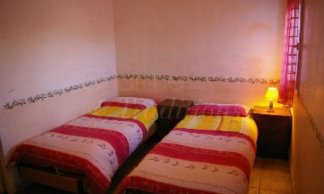 ​​​​​​ ​​​​​​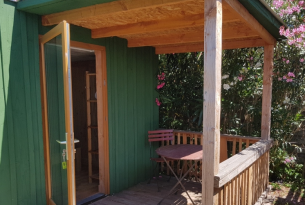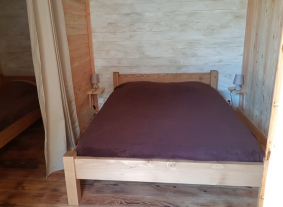 ​​​MEALS:
In the evening, authentic, family cuisine is offered to you at the guesthouse table. Picnics carried in the saddlebags or brought by an assistant (depending on the number of participants).
Infos tarif
PRICE / PER PERSON:
380 € in 3 person bedroom
390 € in 2 person bedroom
Booking fees: 15 €
THE PRICE INCLUDES:
Equipped horse rental, full board accommodation, drinks during meals, transfers from / to the Pioch Badet bus stop, the financial guarantee of your payments by our travel operator deposit.
THE PRICE DOESN'T INCLUDE:
Drinks out of meals, individual insurance, tips, anything not indicated in "the price includes".
INSURANCE:
We offer to Europe Union & Swiss citizens (only) Chapka insurances:
Cap Security: full insurance with cancellation. Cap Cancellation: cancellation only.
See prices & information
How to book
HOW TO BOOK :
By booking with Cap Rando, you get the benefit of the French travel agency law, one of the strictest in the world: an unlimited financial guarantee for all your payments !

BOOKING PROCEDURE:
1. CHECK THE AVAILABILITY, PRICE, DISCOUNT:
Check the availability and price (depending on the type of accommodation and after possible discounts) by contacting us through the availability & quote request form or by phone +33 (0)483431321, whatsapp +33(0)609520324, or e-mail: contact@horsebackridingvacations.eu
If you already have received the confirmation of the availability and the price, you can proceed directly to your booking:

2. BOOKING:
Fill out the online registration form: https://www.horsebackridingvacations.eu/form/booking-form
If you are registering and paying for several riders, you can add riders on the form.
If you have difficulty with the online form or if you prefer:
- Download the Excel file
- Download the Open Office file
To be completed, saved on your computer, and sent by email as an attachment.

3. INSURANCES:
Cap Rando is covered for its professional civil liability: GENERALI contract n ° AL974010.
To register on a Cap Rando holiday, you must be covered by an individual liability insurance covering your activity, individual accident, assistance, repatriation, and possibly cancellation (strongly recommended not to lose your payment in case of cancellation for a reason covered by a cancellation insurance).
We offer to Europe Union & Switzerland citizens (only) to subscribe the "Cap Security" insurance from Chapka Insurance. This covers you for cancellation, interruption of stay, individual accident, assistance 24h / 24h, repatriation, medical expenses abroad, luggage insurance, civil liability. You can also only subscribe a "Cap Cancellation" cancellation insurance if you have insurance covering other risks. 
See all information about our cancellation policy and Chapka insurance offer.
For non Europe Union citizens: if you pay by credit card, depending on your card, you may be fully covered: check your contract.
The US citizens can subscribe directly an insurance for instance on: https://www.axatravelinsurance.com/

4. PAYMENT:
- For a stay starting at more than 60 days: It is requested at registration: 30% of the price of the stay, the payment of the insurance possibly subscribed, the transport possibly requested, the booking fees. The balance is to be paid 60 days before the start date of the stay.
- For a stay starting at less than 60 days: Full payment is requested upon registration.
- For a stay starting at less than 21 days: Full payment by credit card or instant transfer is requested upon registration.
- If these are the last places available: Payment by credit card or instant transfer is requested.
You can pay:
- By credit card on our secure payment website: You will be directed to the payment link after completing the online booking form.
- By bank transfer: Our bank information will be sent to you after reception of your booking form.
Your payments are guaranted by our GROUPAMA travel agent bond.
If you book a trip through Cap Rando, you have the guarantee not to loose any payment. 
The French law is the strongest and requires all French travel agencies to have an unlimited financial guarantee for their customers in case of financial failure.

5. CONFIRMATION:
You will receive a confirmation file and contract with the invoice and all practical information within 24 hours after reception of your registration form and payment.

6. CANCELLATION POLICY:
See the cencellation policy: cancellation conditions.
Please note: Any stay may be canceled in the event of insufficient bokkings to ensure the stay up to 21 days before the starting date. In this case, a replacement stay may be offered to you, if it does not suit you: full refund is guaranteed without compensation. We advise you to book refundable transports.
GUEST REVIEWS
Caroline (France) – July 2023
Wonderful stay in the Camargue. Supervision at the top with Caroline who is an excellent guide. The ride is of high quality, the horses are wonderful. The landscapes are magnificent, I recommend this ride.
Farandole was a top mare for this 2-day ride. Very comfortable. The saddles are very comfortable.
Great food and room. Quiet, good bedding. Very positive!
I really enjoyed this stay. I thank the whole team for the welcome :)
Cap Rando services: Very practical, responsive. I highly recommend.
Heather (U.S.A.) – Fevrier 2022
Extremely welcoming at the equestrian center! Our guide Carolyn was very knowledgeable about the area and the horses, and made the trip very enjoyable. The staff at the center were also great to talk with and made delicious food. I saw several other tours while out on the trail and I was happy to be with our group. Our horses were very well treated, and my horse was an appropriate fit for my experience level. A wonderful trip, and I absolutely intend on going again! This trip was the best way to fully experience Camargue, hands down, and the ride was not your usual trail ride where the horses only do their route. The horses had fantastic personalities and spunk. Thank you for a great experience !
Martine (France) – Octobre 2018
Ambiance très sympathique, chevaux bien mis, promenade en toute sécurité, hébergement très propre et lit confortable, très bon accueil, belle découverte de la Camargue sauvage. Services Cap Rando : très bonne réponse à une changement de date.
Martine (France) – Octobre 2018
Ambiance très sympathique, chevaux bien mis, promenade en toute sécurité, hébergement très propre et lit confortable, très bon accueil, belle découverte de la Camargue sauvage. Services Cap Rando : très bonne réponse à une changement de date.
Martine (France) – Octobre 2018
Ambiance très sympathique, chevaux bien mis, promenade en toute sécurité, hébergement très propre et lit confortable, très bon accueil, belle découverte de la Camargue sauvage. Services Cap Rando : très bonne réponse à une changement de date.
Dany (France) – Juin 2018
Très bon accueil sur le centre et son équipe de pro, les chevaux au top, les paysages féeriques, le rêve en somme. Dommage que nous n'ayons pas su à l'avance le lieu où nous allions car nous y aurions passé une nuit de plus, ce qui nous aurait bien arrangé venant de loin. La chambre petite mais très confortable et le repas un régal. Un havre de paix dans une nature généreuse. Les chevaux sont tous en excellent état. Merci pour cet excellent séjour à notre guide pour son professionnalisme et son grand savoir sur les rites et traditions Camarguaises qui nous a fait découvrir une région sauvage où la nature, la faune, la flore ont toutes leur place dans un décor de rêve inoubliable.
Nathalie (France) – Mai 2018
J'ai réservé un week-end de randonnée en Camargue et je recommande fortement Cap Rando. L'organisation était top, le service remarquable et les personnes très arrangeantes.
(France) – Avril 2018
Nous sommes ravies de notre séjour. L'accueil était parfait, les gens passionnés, simples, accueillants sans pour autant être "trop touristiques". Juste ce qu'il faut. Un grand merci à eux ! Mon cheval était excellent. Bon de l'hébergement. Je recommande le centre de tourisme équestre pour la qualité de son accueil, de ses programmes de randonnées, de la convivialité de toute l'équipe ainsi que de son professionnalisme. Je retournerai avec plaisir en séjour chez eux !!! Merci à Mr Simonot de Cap Rando pour sa disponibilité et sa réactivité.
Sylvie (Belgique) – Septembre 2017
Bonjour,
Quelques jours se sont écoulés depuis notre retour de week-end. Nous avons été enchantées. Réellement. Nous avons découvert la vraie Camargue, rencontré des personnes généreuses et entières. Les paysages étaient magnifiques, les chevaux au top, un guide super.
L'équipe va nous manquer, son gratin dauphinois aussi. Nous parlons déjà d'une prochaine fois, et au même endroit. Merci pour votre orientation. Nous avons chacune réalisé un rêve d'enfance, et vous y aurez contribué. Merci.
Les 4 jeunes belges.