A horseback journey that takes you from the foot of the southern slopes of the Luberon to the foot of the Mont Ventoux: the "Giant of Provence". A ride among the scents of Provence and the Upper Provence ! 
Horseback ride in Provence and Upper Provence. All the landscapes described by Peter Mayle in his famous "A Year in Provence" novel and movie !  You will ride in the heart of Provence, from the Luberon Nature Park to the Mont Ventoux Nature Park, in Drome Provencale. Horseback riding of light and scents, halfway between the Alps and the Mediterranean. A horseback ride that allows you to discover a great diversity of landscapes, changing every half day !
Image programme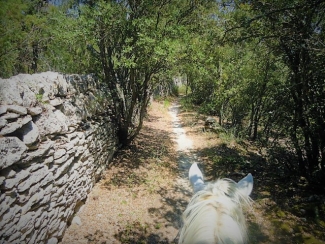 Programme intro


HORSEBACK TRAIL RIDE IN PROVENCE
INDICATIVE ITINERARY *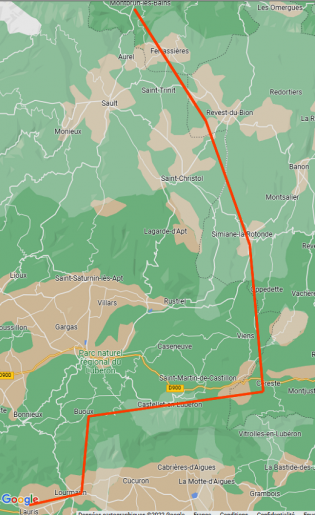 Day 1: Meeting from 7 p.m. at Lauris in the Luberon. Free transfer from Aix en Provence center station, Aix en Provence TGV or Marseille Provence airport. Dinner and night in a comfortable bed and breakfast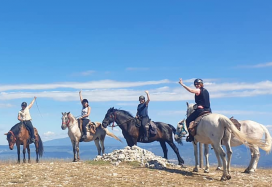 Day 2: Lauris - Buoux. Following the foothills of the southern side of the Luberon mountain range, you will reach Lourmarin, a famous village where the famous British novelis Peter Mayle used to leave. Picnic near the village, before mounting the crests of the Luberon to discover a wonderful view: the peaks of the Alps to the north and the Mediterranean sea to the south when the weather is clear ! Night in a stone auberge, lost in the heart of the Luberon with a swimming pool. On certain dates, in case of unavailability of the hostel, the riders can be transferred to Lauris, the horses and the guide stay at the hostel.
Day 3: Buoux – Cereste. Through the prehistoric sites of the "Gorges de l'Aigebrun". Pass through a very pretty provincial village to offer the horses a drink at the fountain. Picnic under the oaks, then follow bridleways though the perfumed garrigues to reach Cereste. Night in an inn in the heart of the village.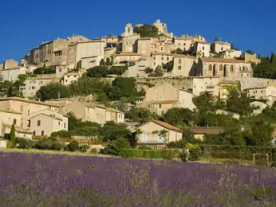 Day 4: Cereste – Simiane-la-Rotonde. After a pause to discover the priory of Carluc dating from the 11th century, you will ride towards Oppedette. Cross the superb village, typical to Haute-Provence, perched on the cliff. Opportunities for some great gallops on the way to Simiane. Night in a "chambre d'hotes" (bed and breakfast).
Day 5: Simiane-la-Rotonde – Le Revest du Bion. After breakfast, chance to have walking tour in Simiane before leaving with your horse. Picnic under the chestnut trees, their leaves used to wrap the delicious goats cheese a speciality from Banon, which you shall taste accompanied with a "Cote de Luberon" wine. Ride through fields of lavender and sage, before arriving at the guesthouse. On your arrival, you can choose: swimming in the pool of the guesthouse or strolling and shopping in Sault, capital of lavender in Provence !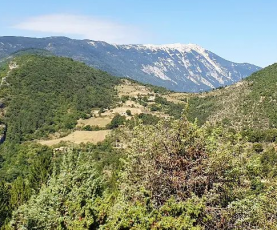 Day 6: Le Revest-du-Bion - Montbrun les Bains. Departure on horseback through moors and forests. Picnic near Sault. In the afternoon, we set off on horseback towards Aurel, a charming medieval village at the foot of the Mont Ventoux. This afternoon, the colors of the lavender (cutted in July), fields of cereals and the shadows of the foothills of Mont Ventoux will perhaps make you want to imitate the many painters who have fallen in love with this region. Arrival at the end of the afternoon in Montbrun-les-Bains, facing the Mont Ventoux, surrounded by green hills and dominating a pretty little plain planted with fragrant lavender: one of the most beautiful villages in France. Transfer of riders by minibus, horses by truck, to return to Lauris and spend the last evening. 
Day 7: End of the ride after breakfast. At 9:30 am, free transfer to Aix en Provence tgv station or Marseille airport.
* Indicative itinerary: may be changed if necessary (weather, exceptional fire risk, accommodation availability, ...)
MEETING:
Sunday afternoon at your accommodation in Lauris at 7pm. Free transfer from Marseille airport (5 pm), Aix en Provence TGV station (5:30 pm), Aix en Provence center train station (5:45 pm). No transfer from Marseille center train station (take the bus shuttle to the airport).
* Please note: the shuttle cannot keep groups waiting, especially if your train or plane is late: plan to arrive ahead of the meeting time to avoid having to take a taxi in the event of a delay.

DEPARTURE:
Saturday morning after breakfast. At 9:30 am, departure of the free transfer to Aix-en-Provence TGV station (±10:30 am), Marseille airport (±11 am). No transfer to Aix center (take the bus shuttle from Aix tgv) and Marseille center train station (take the bus shuttle from the ariport).
* Please note: no departure possible before 9:30 am, plan a train or plane departure sufficiently after the scheduled arrival time to avoid having to take a taxi. Tgv train: not before 11 am, flight: not before 12:30 pm. Caution: tgv called "inoui" (low cost), require a registration 30 mn ahead at the train station.

LOW COST FLIGHTS TO MARSEILLE:
Many low cost companies serve Marseille airport: see the low cost companies and connections
RIDING LEVEL:


To participate and enjoy this trip, you must be comfortable at the three gaits (walk, trot, canter) outdoors on balanced horses. This ride requires a good equestrian level. Maximum weight: 90kg.

RYTHM:
5 hours a day on horseback on average: 2-3 hours in the morning, 2-3 hours in the afternoon, with a long break of around 2 hours at noon. You will ride the three paces: walk, trot, and canter when the terrain allows.

GROUP SIZE:
4 to 8 riders with the guide.

GUIDE & ASSISTANT:
1 qualified guide speaking French and English + 1 professional assistant ensuring luggage transports and preparing lunch buffets.

HORSES: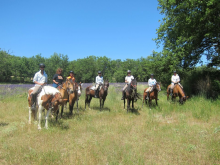 Essentially crosses of Spanish, Arab, French breed. Horses are allocated according  to each rider weight, height, riding level and experience. All our horses are trail riding "professionals". Living throughout the year in a herd, trail riding is their only work activity. For these reasons, they are well-balanced gentle, yet wilfully engaged.




TACK:

Comfortable trail ride saddles equipped with saddle bags. Trail ride saddles are especially designed for long rides as well as for the gaits employed on this type of terrain. The saddles are comfortable for both the horse and the rider.
 CAVALERIE: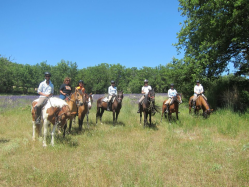 Croisements locaux, de taille moyenne, sélectionnés pour leur caractère et adaptés au type de randonnée que nous proposons. Tous nos chevaux sont des «professionnels» de la randonnée: ils ne font que cette activité. Ils ne sont jamais enfermés en box, ils vivent toute l'année en troupeau, hors saison de novembre à mars en semi-liberté sur plus de 500 ha. Pour ces raisons, ils sont équilibrés, gentils et volontaires. Les chevaux sont attribués après discussion avec votre guide en fonction de votre taille, poids, niveau et expérience.
Our horses coming back from their winter field :
ACCOMMODATION:


In simple but comfortable accommodation, in hotels and guesthouses, most with swimming pools and private bathrooms. In 2 to 3 person bedrooms, single bedrooms with supplement.
Progressive Inn to Inn trail rides rcan' guarantee the same level of comfort every night: one of the pleasures of traveling on horseback is the variety ! We have chosen the accommodations for their location on the route and for the quality of their welcome. More or less comfortable, you will always have a memory: a good meal, a particularly pleasant atmosphere, or an exceptional setting. The price is not justified by high comfort accommodation, but by the high logistical on an online horseback riding trip.

INDICATIVE ACCOMMODATIONS (subject to availability):
Night 1: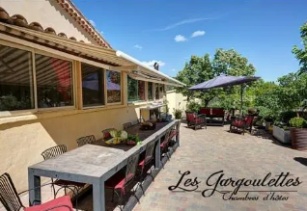 Les Gargoulettes
Night 2: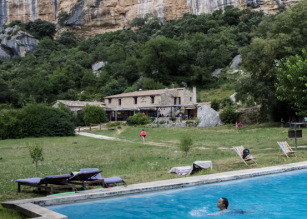 Les Seguins or: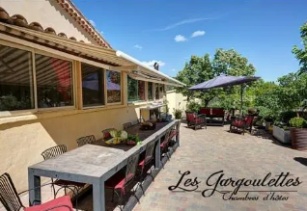 Les Gargoulettes
Night 3: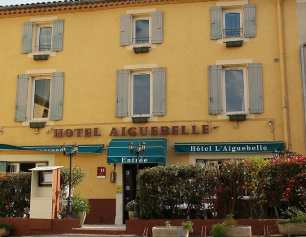 L'Aiguebelle
Night 4: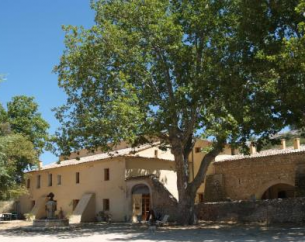 La Fontaine or:
Le Petit Labouret
Night 5:

Le Petit Labouret
Night 6: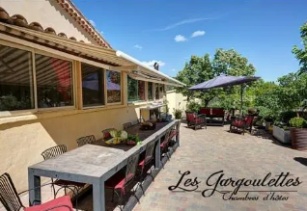 Les Gargoulettes
MEALS: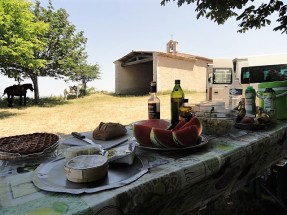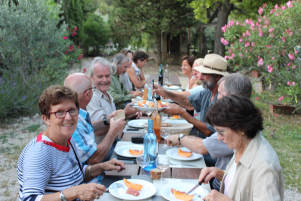 MEALS:
Breakfasts are traditional French breakfasts: hot drinks with bred, butter, marmelade, honey, cereals, fruit juice.
At noon, an assistant prepares hearty buffets (see photos). For small groups, some picnics can be taken in saddle bags.
Dinners at the host tables in the guesthouses, in local restaurants in the Camargue. Local cuisine, varied and refined.
Special diets can be adapted. Wine is included with meals.

LUGGAGE TRANSFERS:
Provided by the assistant in a minibus.
Infos tarif
2024 PRICE / PER PERSON:
In 2-3 person bedrooms: 1 700 €
Single bedroom supplement: 360 € *
* If you book in shared bedrooms and there is no one to share, the single bedroom supplement will be charged, refunded if a person wishing to share, subsequently registers.
Transfers from / to Aix center station, Aix tgv station, Marseille airport: free at fixed times.
Booking fees: 15 €
THE PRICE INCLUDES:
Equipped horse, guide, assistant ensuring the preparation of the lunch buffets and the transport of luggage by minibus, full board accommodation from day 1 dinner until day 7 breakfast, drinks during meals (table water and wine), transfer of horses and riders to return at the end of the ride to the starting point (online horse trip), free transfers from / to Marseille airport or Aix-en-Provence stations at the fixed days & times, the financial guarantee of your payments by our travel operator deposit.
THE PRICE DOESN'T INCLUDE:
Individual insurance, drinks out of meals and not included drinks (mineral water, sodas, hot drinks), any visits, personal expenses, tips, transfers out of the fixed days & times, all that is not indicated in "the price includes".
How to book
HOW TO BOOK :
By booking with Cap Rando, you get the benefit of the French travel agency law, one of the strictest in the world: an unlimited financial guarantee for all your payments !

BOOKING PROCEDURE:
1. CHECK THE AVAILABILITY, PRICE, DISCOUNT:
Check the availability and price (depending on the type of accommodation and after possible discounts) by contacting us through the availability & quote request form or by phone +33 (0)483431321, whatsapp +33(0)609520324, or e-mail: contact@horsebackridingvacations.eu
If you already have received the confirmation of the availability and the price, you can proceed directly to your booking:

2. BOOKING:
Fill out the online registration form: https://www.horsebackridingvacations.eu/form/booking-form
If you are registering and paying for several riders, you can add riders on the form.
If you have difficulty with the online form or if you prefer:
- Download the Excel file
- Download the Open Office file
To be completed, saved on your computer, and sent by email as an attachment.

3. INSURANCES:
Cap Rando is covered for its professional civil liability: GENERALI contract n ° AL974010.
To register on a Cap Rando holiday, you must be covered by an individual liability insurance covering your activity, individual accident, assistance, repatriation, and possibly cancellation (strongly recommended not to lose your payment in case of cancellation for a reason covered by a cancellation insurance).
We offer to Europe Union & Switzerland citizens (only) to subscribe the "Cap Security" insurance from Chapka Insurance. This covers you for cancellation, interruption of stay, individual accident, assistance 24h / 24h, repatriation, medical expenses abroad, luggage insurance, civil liability. You can also only subscribe a "Cap Cancellation" cancellation insurance if you have insurance covering other risks. 
See all information about our cancellation policy and Chapka insurance offer.
For non Europe Union citizens: if you pay by credit card, depending on your card, you may be fully covered: check your contract.
The US citizens can subscribe directly an insurance for instance on: https://www.axatravelinsurance.com/

4. PAYMENT:
- For a stay starting at more than 60 days: It is requested at registration: 30% of the price of the stay, the payment of the insurance possibly subscribed, the transport possibly requested, the booking fees. The balance is to be paid 60 days before the start date of the stay.
- For a stay starting at less than 60 days: Full payment is requested upon registration.
- For a stay starting at less than 21 days: Full payment by credit card or instant transfer is requested upon registration.
- If these are the last places available: Payment by credit card or instant transfer is requested.
You can pay:
- By credit card on our secure payment website: You will be directed to the payment link after completing the online booking form.
- By bank transfer: Our bank information will be sent to you after reception of your booking form.
Your payments are guaranted by our GROUPAMA travel agent bond.
If you book a trip through Cap Rando, you have the guarantee not to loose any payment. 
The French law is the strongest and requires all French travel agencies to have an unlimited financial guarantee for their customers in case of financial failure.

5. CONFIRMATION:
You will receive a confirmation file and contract with the invoice and all practical information within 24 hours after reception of your registration form and payment.

6. CANCELLATION POLICY:
See the cencellation policy: cancellation conditions.
Please note: Any stay may be canceled in the event of insufficient bokkings to ensure the stay up to 21 days before the starting date. In this case, a replacement stay may be offered to you, if it does not suit you: full refund is guaranteed without compensation. We advise you to book refundable transports.
GUEST REVIEWS
Dominique & Patrick (France) - August 2023
Too bad we couldn't see each other again before returning to Carcassonne but we wanted to thank you for this magnificent week in Haute Provence. Nothing to say except that it was perfect, splendid weather and marvelous landscapes with nice willing horses and in great condition, without forgetting Magali, Pierrot and his daughter Violette who were guides and assitants as efficient as they were friendly. In addition the opportunity to get acquainted with four other charming riders. In short: nothing to regret except that this week passed so quickly but it makes you want to renew as soon as possible a ride with Cap rando
Thank you for everything, best regards
Patrick and Dominique