A week horse riding in the Camargue, which will offer you to discover: its scents and colors, its contrasts between marshes and Mediterranean beaches, Camargue horses and bulls. Regional Natural Park and Biosphere Reserve, this flat territory, offers many different environments and hosts many plant and animal species. The Camargue is a migratory stopover for birds: 150,000 in transit each year. All year roundv you can admire many flamingos. This week on horseback will allow you to discover this very particular territory and its traditions: you will participate on horseback in the work of the bulls with a guardian (local cowboy) in a Camargue manade (local ranch) !
Image programme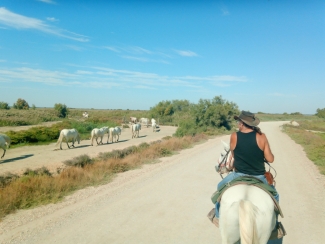 Programme intro
INDICATIVE ITINERARY: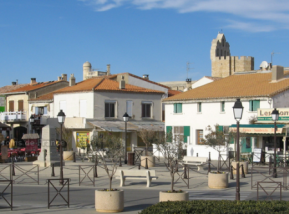 Monday: Meeting at the equestrian centre, at 2 pm. Welcome coffee: first contact with your horse and equipment. Explanations of the traditional Camargue riding. A short riding tour for the adaptation of the rider and his horse. Free dinner (not included): you can have your dinner in a restaurant 5 minutes from your accommodation, or in Saintes Maries de la Mer 15 minutes by car, to enjoy one of the many lively restaurants in the village after a swim at the beach or a shopping break. If you do not have a car, you can share a car with other riders or ask for a taxi to Saintes Maries de la Mer. Return and overnight at the Mas.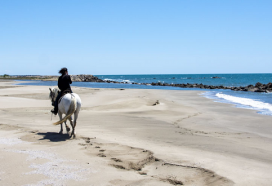 Tuesday: You are riding to the Saintes-Maries-de-la-Mer. Between inner land and marsh, you will ride on pleasant riding trails, and discover the different "levels" of the Camargue, all the way to the seashore. Picnic lunch at the "Bouvao d'Aubanel", under la laupio… translation of these Provence words will be given to you by your guide…! On the afternoon, you will ride on the beach and through the natural reserve of "Les Impériaux". You will discover very rich flora and fauna, as about 350 different species of migrating birds can be found in this protected area. The ride ends up at the "Pointe de Cacharel". Transfer back to the Mas. Dinner and night at the mas.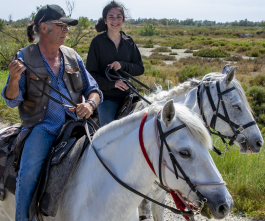 Wednesday: A half-day ride this morning, to keep discovering the surroundings: reedbeds, traditional Camargue huts, manades (Camargue ranches) and vineyards. After lunch, free afternoon to Saintes Maries de la Mer. Dinner (not included) in Saintes Maries de la Mer. Back to the Mas. From/to Saintes-Maries-de-la-Mer: with your car, shared car, or a taxi.
Thursday: You will go out for the day, along side the "Petit Rhône" river, dammed in order to protect Camargue. Cross the river on a ferry platform with the horses, and head towards the natural reserve "Domaine du Grand Radeau". The story of this private property will be related to you once there…! You will visit this wild place, discover its beach and pine tree forest as well as its rich fauna. Pique-nique lunch on the beach, and optional swim during lunch break ! You will then ride back to the Mas trough the inner lands. Dinner and night at the mas.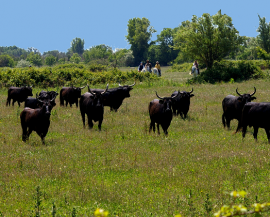 Friday: Breakfast at 8:30 am. Departure for a half-day discovery of a manade around 9:30 am. Ride to the herd, where the guardian will introduce you to a herd of Camargue bulls and show you the art and the way of sorting the bulls in their natural environment. Return to the farmhouse for lunch. End of your equestrian stay in the Camargue after lunch.
* Indicative itinerary: may be changed if necessary.
MEETING:
Monday at the equestrian center at 2 pm.

COMING BY TRAIN:
Arles train station, then bus to Pioch Badet (Arles - Saintes-Maries-de-la-Mer line see schedule). Ticket price: about 3 €. Pick-up at the bus stop and free transfer to the equestrian center. 

COMING BY PLANE:
Montpellier or Nimes airport, then taxi to the Equestrian center (cost about 100 €). Departure: taxi to Montpellier or Nimes airport (about 100 €).
Marseille airport: train to/from Arles.Rendez-vous en Camargue le lundi au centre équestre à 14h. Arrivée en train à la gare d'Arles ou la gare de Nîmes et correspondance pour Arles, puis car pour Pioch Badet. Transfert gratuit depuis l'arrêt de cars de Pioch Badet (ligne de cars Arles - Saintes-Maries-de-la-Mer): see shedule. Taxi depuis les gares et aéroports de Nîmes ou Montpellier. Train de l'aéroport de Marseille à Arles puis car de Arles à Pioch Badet. Possiblité d'arriver la veille au soir avec supplément.
DEPARTURE: 
Friday after lunch. Free transfer to Pioch Badet bus stop. Bus to Arles train station. See schedule
RIDING LEVEL:


This ride is offered only to good riders, comfortable at the three paces outdoors (walk, trot, canter) on balanced horses.

GUIDE:
Professional licensed equestrian guide, English speaking.

HORSES: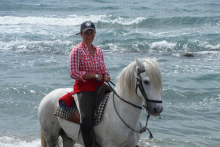 Mostly Camargue horses, well balanced, trail ride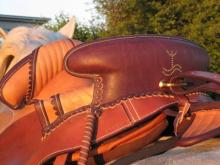 professionals.

TACK:
Camargue & trail ride saddles.
 
ACCOMMODATION:


At the equestrian center, in a typical and simple Camargue farmhouse. 2 bedrooms for 2 people with private bathrooms and two single beds, 1 bedroom for 3 people with private bathrooms and 3 single beds, 1 chalet for 3 people with 1 double bed and 1 single bed (shared bathrooms outside the chalet).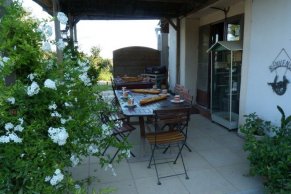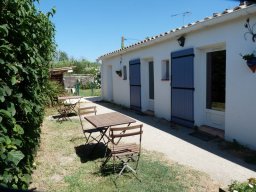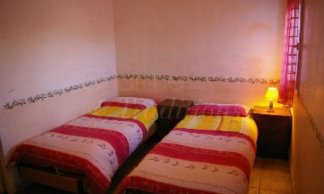 ​​​​​​ ​​​​​​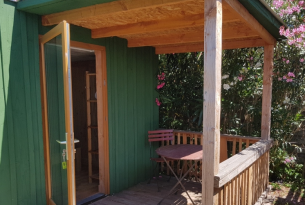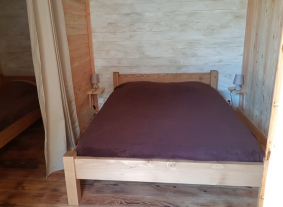 ​​​MEALS:
In the evening, authentic, family cuisine is offered to you at the guesthouse table. 2 dinners are free (not included): you can go in one of the many lively restaurants in Saintes-Maries-de-la-Mer (by taxi if you don't have a vehicle, 50 € per person round trip). Picnics carried in the saddlebags or brought by an assistant (depending on the number of participants).
Infos tarif
In triple bedroom: 850 €
In 2 person bedroom: 900 €
Single bedroom: not available
Booking fees: 15 €
THE PRICE INCLUDES:
The equipped horse, the guide, the equestrian activities described in the program, full board accommodation except 2 evening meals, drinks during meals at the equestrian center,  the activity with the guardian (local cowboy) and bulls, free transfers from / for the Pioch Badet bus stop, the financial guarantee of your payments by our travel operator deposit.
THE PRICE DOESN'T INCLUDE:
Two free evening meals at Saintes-Maries-de-la-Mer and transfers to the restaurant if you do not have a car, drinks out of meals and in restaurants (free meals), individual insurance, anything not indicated in "the price includes ".
INSURANCE (if you don't already have one):
We offer to Europe Union & Swiss citizens (only) Chapka insurances:
Cap Security: full insurance with cancellation. Cap Cancellation: cancellation only.
See prices & information
How to book
HOW TO BOOK :
By booking with Cap Rando, you get the benefit of the French travel agency law, one of the strictest in the world: an unlimited financial guarantee for all your payments !

BOOKING PROCEDURE:
1. CHECK THE AVAILABILITY, PRICE, DISCOUNT:
Check the availability and price (depending on the type of accommodation and after possible discounts) by contacting us through the availability & quote request form or by phone +33 (0)483431321, whatsapp +33(0)609520324, or e-mail: contact@horsebackridingvacations.eu
If you already have received the confirmation of the availability and the price, you can proceed directly to your booking:

2. BOOKING:
Fill out the online registration form: https://www.horsebackridingvacations.eu/form/booking-form
If you are registering and paying for several riders, you can add riders on the form.
If you have difficulty with the online form or if you prefer:
- Download the Excel file
- Download the Open Office file
To be completed, saved on your computer, and sent by email as an attachment.

3. INSURANCES:
Cap Rando is covered for its professional civil liability: GENERALI contract n ° AL974010.
To register on a Cap Rando holiday, you must be covered by an individual liability insurance covering your activity, individual accident, assistance, repatriation, and possibly cancellation (strongly recommended not to lose your payment in case of cancellation for a reason covered by a cancellation insurance).
We offer to Europe Union & Switzerland citizens (only) to subscribe the "Cap Security" insurance from Chapka Insurance. This covers you for cancellation, interruption of stay, individual accident, assistance 24h / 24h, repatriation, medical expenses abroad, luggage insurance, civil liability. You can also only subscribe a "Cap Cancellation" cancellation insurance if you have insurance covering other risks. 
See all information about our cancellation policy and Chapka insurance offer.
For non Europe Union citizens: if you pay by credit card, depending on your card, you may be fully covered: check your contract.
The US citizens can subscribe directly an insurance for instance on: https://www.axatravelinsurance.com/

4. PAYMENT:
- For a stay starting at more than 60 days: It is requested at registration: 30% of the price of the stay, the payment of the insurance possibly subscribed, the transport possibly requested, the booking fees. The balance is to be paid 60 days before the start date of the stay.
- For a stay starting at less than 60 days: Full payment is requested upon registration.
- For a stay starting at less than 21 days: Full payment by credit card or instant transfer is requested upon registration.
- If these are the last places available: Payment by credit card or instant transfer is requested.
You can pay:
- By credit card on our secure payment website: You will be directed to the payment link after completing the online booking form.
- By bank transfer: Our bank information will be sent to you after reception of your booking form.
Your payments are guaranted by our GROUPAMA travel agent bond.
If you book a trip through Cap Rando, you have the guarantee not to loose any payment. 
The French law is the strongest and requires all French travel agencies to have an unlimited financial guarantee for their customers in case of financial failure.

5. CONFIRMATION:
You will receive a confirmation file and contract with the invoice and all practical information within 24 hours after reception of your registration form and payment.

6. CANCELLATION POLICY:
See the cencellation policy: cancellation conditions.
Please note: Any stay may be canceled in the event of insufficient bokkings to ensure the stay up to 21 days before the starting date. In this case, a replacement stay may be offered to you, if it does not suit you: full refund is guaranteed without compensation. We advise you to book refundable transports.
GUEST REVIEWS
Pascale (France) - July 2023
Well done course. Beautiful canterss in an extraordinary natural setting.
The 2 coaches Aurelys and Caroline were brilliant, especially for trainees like me who had never ridden in the Camargue way.
The boss very well and the meals were rich in exchanges.
Thanks++
Annabel (UK)
I've dreamed about riding horses in the Camargue since I was about eight years old. It was a wonderful experience and I would certainly recommend this ride, particularly because of the quality of guiding/instruction, the condition of the horses, and the very well thought out sequence of rides.
We were made very welcome.
Most of our rides were guided by Carolyn. She and our other guide are highly skilful riders and they provided just the right amount of instruction for each of the guests.
The horses chosen for the guests appeared to be well matched with the previous experience of the riders. The series of rides was very cleverly sequenced in terms of increasing demand on the riding skills of the guests as the week passed. I was extremely impressed by the condition and fitness of the horses. My horse was willing and intelligent, a very pleasant companion for the week. I am a comparatively experienced rider and it was interesting to ride a horse which was new to the area. My husband's horse was called Vaccares. They were a perfect team !
The meals were good quality and I appreciated the care taken over my dietary restrictions. The rooms were clean and beds comfortable.
The booking arrangements with Cap Rando were well managed; exchanges of emails prior to our arrival were particularly helpful, especially since we booked our holiday only a short while before we came.
Marion (France)
At the top, it feels good. Horse at the top in his head for the proposed walks. Kitchen available with fridge is a plus for an aperitif;), room quite correct. Successful discovery of the Camargue, beautiful encounters and discoveries, it makes you want to repeat this kind of stay with your horse to be even better.
Vladimir & Liudmila (Russia)
Hello Didier, Thank you! We booked a week of horseback riding in the Camargue with Cap Rando. You have selected the best place for our horse riding holidays in Provence: our best holidays !