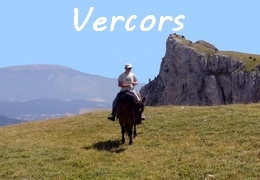 HORSE RIDING IN THE VERCORS

The Vercors, between Alps and Provence, is a vast wild limestone plateau and has long been difficult to access. Only a few mule tracks allowed climbing and entering this massif. A climatic crossroads between the Provence and the Alps: the variety of landscapes, fauna and flora protected by the Vercors Natural Park, make this region a paradise for riders. During the Second World War, the Vercors maquis was an important base for the French Resistance who took refuge in the Vercors massif, considered to be a real natural fortress ! A great historical and wild country for incredible horseback trail rides with breathtaking landscapes ...
See our rides

The Vercors, a vast limestone plateau has long been inaccessible. Only a few mule trails allowed to penetrate into the mountain. The Maquis du Vercors was a rural Free French …

7 days 6 nights 5 day ride or 13 days 12 nights 10 day ride 1 day rest
Dates

Please contact us or adjust your filters.