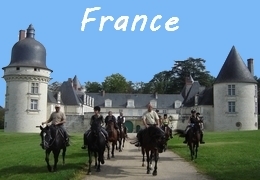 Equestrian holidays in France. France is renowned for being the first country to have developed equestrian tourism. Since 1987, Cap Rando is based in Provence and has become the horseback riding trip leader. Most of the riding holidays in Provence are organized with our horses and guides: Cap Rando "Organization" horseback trail rides.
Our experience and a high demand, has pushed us to make a selection of partners offering quality horse riding holidays in France: mostly in the South of France or in the Loire valley and Normandy.
For a great equestrian holiday in France, we have selected the best professionals and the most beautiful regions in France. Cap Rando "Selection": a quality label to discover the most beautiful landscapes on horseback in France with the best equestrian guides: Provence and Camargue, Corsica, Bordeaux, Champagne, Loire Castles, Normandy, Mont Saint Michel ... Discover the French "art de vivre", history, varied landscapes and gastronomy, traveling on horseback in France !
Choose your horse riding destination in France :

SEE BELOW ALL OUR EQUESTRIAN HOLIDAYS & TRIPS IN FRANCE :
List view
Grid view
Country

HORSEBACK RIDING IN FRANCE

France has a long equestrian tradition and while there are many different breeds in France, the horse you will ride will provide you a fantastic holiday. Your guide must be qualified, France knows the strictest regulations to guide your horseback holidays, he will have followed a long training and passed numerous exams.

France has an extraordinary network of equestrian trails and endless possibilities for relaxation, pleasure and discovery of French culture. Of course, French cuisine is always a highlight of your horse riding vacation. You travel on horseback with accommodation in lodges, country inns, castles ... always in warm atmospheres.

Horseback riding is very popular in the Loire, allowing you to discover the region's grandiose Renaissance castles. Provence, too, offers a range of horseback trips, mixing gastronomy and horseback riding with the magnificent landscapes that inspired Cezanne, Van Gogh and so many other artists. The Bordeaux region allows you to combine the pleasures of horseback riding with the discovery of the great wines of France. The Vercors, between the Alps and the Provence, Corsica, between the sea and the mountains, offer horseback rides in wild breathtaking landscapes !

Cap Rando, with our more than 30 year experience in the creation and organization of horseback trips in Provence, has selected the most beautiful horseback riding tours in France, mainly in the south of France, organized by the best horse travel professionals in France, chosen for the quality of their services. Cap Rando "Sélection" horseback riding: a quality label to discover the most beautiful regions of France on horseback.
Dates