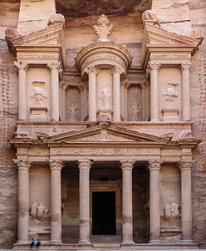 Horseback riding holidays in Jordan: Jordan is known for the ancient city of Petra, one of the Seven Wonders of the World, and for the Dead Sea: the lowest point on earth at 402 meters below sea level. Our service provider is one of the first to have created horse riding trips in Jordan.
Jordan is a romantic land, from Lawrence of Arabia to the hidden city of Petra. Cap Rando offers a fantastic opportunity to discover the Jordan treasures on horseback, far from the hordes of tourists, in magnificent places. Whether you are wandering around the hidden city of Petra, spending a lazy day swimming in the Dead Sea, or riding in this great equestrian Jordan, promises a mystical experience. Jordan is one of the most welcoming countries in the world. You will meet the locals who are happy to welcome you to their homes.
The Wadi Rum reflects a lunar landscape of ancient valleys and high eroded mountains emerging from white and pink sands. A scene straight out of the exploits of Lawrence of Arabia and the authentic setting of the movie, the Wadi Rum allows long canters on the highlands. Traveling along the old caravan routes allows you to discover a completely different world, with beautiful encounters with the desert Bedouins. You will live the life Bedouin life up to the Saudi border and the Disi mountains and discover the spectacular rock formations, and without a doubt the largest and most magnificent of the landscapes of the Jordan desert: an unforgettable horseback trip !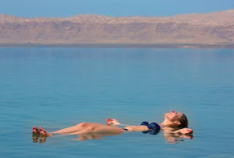 The Jordan horseback ride highlight is a visit to Petra, the crown jewel of Jordan's antiquities, which has been declared one of the Seven Wonders of the World.
Our equestrian trips in Jordan are offered to experienced riders: all Arab horses are very active and there are many long trots and canters in large spaces. Arabian horses were bred in the desert climate and are known for their endurance and speed. In Jordan, we work with a Bedouin family based in the Wadi Rum. We use their horses and they guide the trips: a real local experience !
CHOOSE YOUR COMFORT FOR YOUR JORDAN RIDE
3 types of accommodations are offered: in desert "Camps", in "Comfort" camps & hotels,  & in "Luxury" camps & hotels :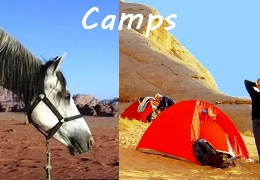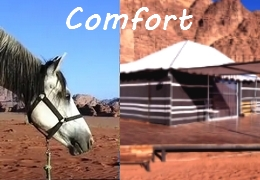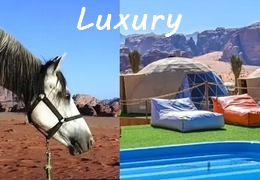 OR SEE ALL OUR JORDAN HORSEBACK RIDES BELOW :